Want a glimpse into my shopping cart? Here's how I'm feeding eight people on a budget.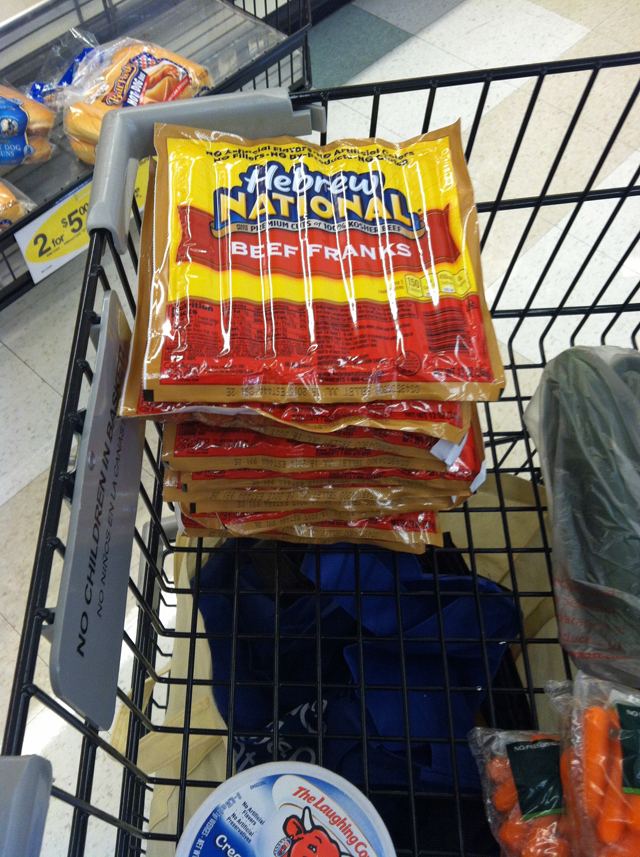 It's a good thing that I shopped sparsely last week. I made up for it this week. With a birthday in the fam and some good produce and Memorial Day sales, I did a fair bit of shopping. I'm not sorry though. I did some good stockpiling.
In my coupon days, we lived off our stockpile (aka full pantry). I would buy things on really good sales and fill the pantry. I might not have needed that item that week, but I knew it was a good deal and that we would eat it in the near future.
That last part is the key to successful stockpiling. Don't stock up on something you don't totally love. If it's a new-to-you item, buy one and try it. Then go back and buy more if you like it. Ask me how I know.
This week, there were those kind of sales on blueberries, cantaloupe, hot dogs, sour cream, and crackers.
As you read, keep in mind who and how I'm shopping:
My grocery shopping profile
To update you on my grocery geekiness:
I'm feeding eight people, ages 52, 42, 17, 14, 12, 10, 8, and 6. Five of those people are males. They eat A LOT!
I'm shooting for a budget of $1200, per the USDA food cost reports the last time I added up for people of our demographics. I live in Southern California where produce is cheap, but meat and dairy are not.
I'm trying to feed us mostly unprocessed foods, with a few "healthier" convenience items thrown in and a junk food splurge* here and there.
I work at home and teach six kids, so I don't have as much time for fiddling in the kitchen as I would like.
I no longer use coupons on a regular basis, though I do love the coupons that Ralphs offers.
I have at least ten grocery stores within 5.5 miles of my house. It is easy (for better or for worse) to stop at several stores to get the best deals.
We mostly eat at home. My husband often packs lunch and breakfast to work, but sometimes has lunch out. We eat out for a date once a week. FishPapa takes one child out to "dinner with dad" once a week. We eat out as a family on average once a week.
Obviously, your mileage may vary. But, I'm constantly amazed at how well we eat without spending a crazy amount of money.
Here's how the shopping went down this week:
Trader Joe's
After church on Sunday, we stopped at Trader Joe's. I was optimistic that it would be all I would buy for the week. Ha! These people can eat!
junk food cereal for the birthday boy $1.99
bran flakes for husband's lunch $1.99
Joe's O's $1.99
milk $3.29/gallon
Ak-mak $1.79
broccoli $1.79
frozen hash browns $1.69
corn tortillas $0.99
cucumbers $2.49
sugar snap peas $2.49
carrots $1.49
cashews $6.99
almonds $6.49
tomatoes $2.99
broccoli slaw $1.69
black beans $0.89
Orangina (birthday boy choice) $2.49 + $0.10 CRV
hot sauce $2.29
garbanzo beans $0.89
garlic $1.99
frozen chicken $7.99
flour $2.99
3-lb bag potatoes $1.69
organic bell peppers $2.49/2
Total spent at Trader Joe's: $79.29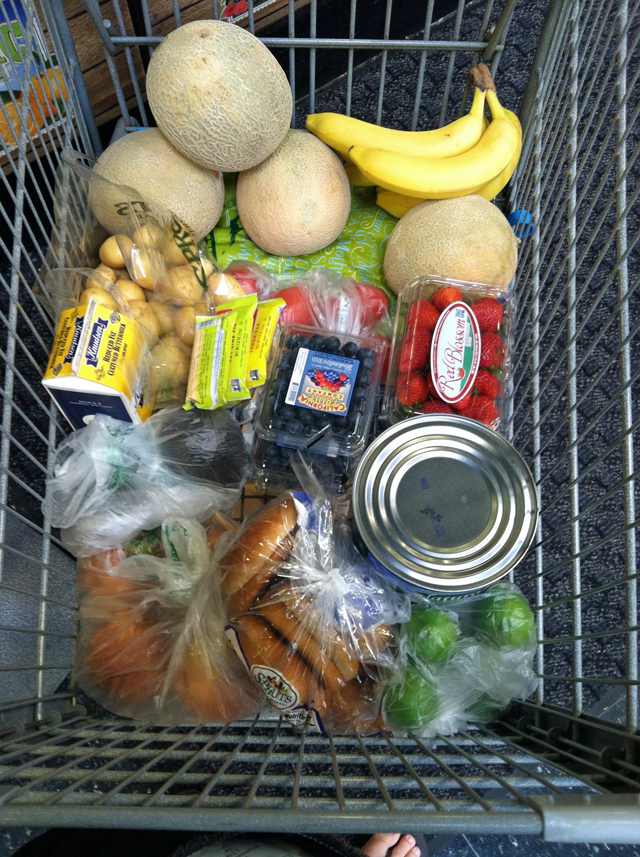 Sprouts
But then Sunday afternoon when I was prepping vegetables for the week and chicken for my husband to take to work, I realized there were a few more things I wanted, particularly more melon and blueberries. So, I jetted off to Sprouts and filled my cart.
strawberries $2.250
blueberries $0.88/package
melon $0.88/each
avocados $0.77/each
large avocados $1.77/each
limes 3/$1
romas $0.88/lb
bananas $0.69/lb
yukon gold potatoes $0.99/lb
larabars for hubby's lunch $1.25/each
buttermilk $2.59
chicken drumsticks $6.13
burger buns $2.50
Total spent at Sprouts: $47.33
Ralphs
I was so sad when the checker at my favorite Ralphs told me that they had scored the lowest in the district since their customers weren't filling out that dumb survey they give you when you leave. I filled out the dumb survey this week. Ha!
We also stocked up on a few things. You may notice a few items that you don't normally see in my shopping cart, like all the junk food. FishBoy11's birthday was this week. Part of our birthday tradition is that the celebrant gets to choose the menu. We also went to Legoland on his birthday, which means a few extra snacks. 'Nuf said.
It wasn't too long ago that Memorial Day sales were out of this world amazing. This is no longer the case, at least in my neighborhood, but I did stock up on ice cream and hot dogs. I prefer uncured or at least kosher hot dogs, like Hebrew National. The regular price is about $5.99. This week they are $2.97. I got 8 packs of those and 2 packs of an uncured, nitrate-free brand to compare. Those were $3. Hot dogs are off the table unless they are this price or lower.
I also found quite a few packages of crackers marked down in the clearance aisle. I stocked up on a few boxes because summer will come and my children's appetites will double. I have no idea why, but it happens every year.
Here's the price breakdown of my Ralphs purchases. The *items were special for the birthday boy's menus:
*fruit snacks $2.50
*doritos $2.50
tortilla chips $1.25
Rykrisp crackers on clearance $1.79
*applesauce $2.29
*cake mix $2.19
*special k bars $2.99
Daisy sour cream, $2.29
Breyer's ice cream $2.50
*Laughing Cow cheese $3 with digital coupon
club soda $0.79 (for Cherry Limeade) + $0.10 CRV
tomatoes sauce $1.59
cucumbers $0.99/each
avocado $0.99/each
baby carrots $1.69
Melba toast on clearance $0.89
organic black beans $1.00
lime juice $3.99 (for Cherry Limeade)
cherry juice $3.99 (for Cherry Limeade)
*uncured deli turkey $4.49
Hebrew National $2.97
OM uncured hot dogs $3
*bakery sourdough $4.49
Total spent at Ralphs: $98.59
Sprouts
The weekly ads start on Wednesday, but I get them in the mailbox on Monday. I've been counting all week on the 42-hour sale/sausage extravaganza at Sprouts. I needed a few other things* that would have been cheaper elsewhere, but time was of the essence on Friday morning with a messy house and company on the way.
cherries $1.98/lb
green onions and cilantro $0.48
green bell peppers $0.68
zucchini $1.29/lb
portabellas $1.24
red bell peppers $0.98
seedless watermelon $1.98
sweet corn $0.20 each
potato chips $0.99/bag
*eggs $4.49/18-count
*milk $3.49
*whipping cream $3.99
sausage $2.99/pound
lean ground beef $3.99/pound
chicken legs $0.99/pound
Total spent at Sprouts: $70.84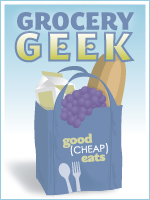 This made this week's total run higher than last week's, but with company who I want to spoil and birthdays, I'm good. I think we're set to be under budget for the month, anyway, so that's cool.
Weekly grocery expenses $296.05
May to date: $817.61
I'll be sharing next week's meal plan in the newsletter again this weekend. Sign up here if you haven't already.