I know how interesting it is to peek into someone else's grocery cart, so the Grocery Geek is back! Here's how I grocery shopped this first week of May.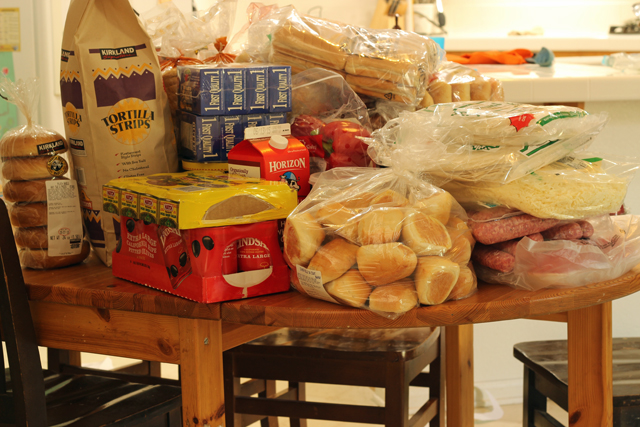 Costco, part A
I first started posting my grocery shopping when we were deep in debt and I had just discovered coupons. You can read those old Grocery Geek archives over on Life as MOM. As I realized that the two sites needed to be streamlined a bit more, I started posting those grocery reports over here to Good Cheap Eats.
I've been a little sporadic in sharing the grocery shopping over the last few months because I've really struggled in my time management. It takes a lot of time to lay out the groceries and take a picture and then track down my receipts for the exact prices on things and then type it all up. Sorry for being lazy.
Nevertheless I'm back.
My grocery shopping profile
To update you on my grocery geekiness:
I'm feeding eight people, ages 52, 42, 17, 14, 12, 10, 8, and 6. Five of those people are males. They eat A LOT!
I'm shooting for a budget of $1200, per the USDA food cost reports the last time I added up for people of our demographics. I live in Southern California where produce is cheap, but meat and dairy are not.
I'm trying to feed us mostly unprocessed foods, with a few "healthier" convenience items thrown in and a junk food splurge* here and there.
I work at home and teach six kids, so I don't have as much time for fiddling in the kitchen as I would like.
I no longer use coupons on a regular basis, though I do love the coupons that Ralphs offers.
I have at least ten grocery stores within 5.5 miles of my house. It is easy (for better or for worse) to stop at several stores to get the best deals.
We mostly eat at home. My husband often packs lunch and breakfast to work, but sometimes has lunch out. We eat out for a date once a week. FishPapa takes one child out to dinner with dad once a week. We eat out as a family on average once a week.
Obviously, your mileage may vary. But, I'm constantly amazed at how well we eat without spending a crazy amount of money.
First week of May grocery shopping
This first week of May was a big stock-up week. I did a big round of freezer cooking and bought what I think we'll need for week two. I'm hoping that even my eggs, milk, and cheese last through the week. We shall see.
Here's how the grocery shopping broke down this week: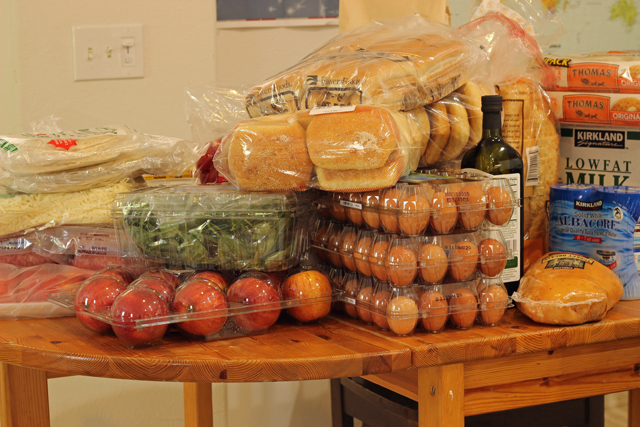 Costco, part B
Costco
FishBoy17 has been practicing for his driver's test. Lucky for me, that means he can take me shopping and drive the car as well as the shopping cart! We bought a lot of stuff because I was doing a big freezer cooking session. He about choked on the price tag. Costco does that to me, too. That does tell me I need to work in some meal planning and shopping into his own personal experience.
organic eggs $3.50/dozen
organic apples $10.99/dozen
Kirkland tuna $14.49/8 cans
burrito tortillas $3.49/2 dozen
soft taco tortillas $2.69/2 dozen
torta sandwich rolls $6.49/dozen
chopped green chiles $4.96/dozen cans
#10 can refried beans $4.49
organic juice popsicles $9.99/ginormous box
8 cans black olives $8.99
2 gallons milk $4.79
sea salt $2.79
3 dozen dinner rolls $4.49
organic spinach $3.79
4 packages bratwurst $13.99
cooked bacon* (yes, really) $7.99
5 pounds shredded mozzarella $10.69
avocado oil $9.79
dozen bagels $5.49
guacamole packs $10.99
2.5 pounds Tillamook cheddar $9.89
6+ pounds lean ground beef $24.45
2 dozen hot dog buns* $2.29
half gallon heavy cream $8.49
6 bell peppers $5.79
large Fage yogurt $6.39
2-pound loaves sourdough $3.69
large cooked turkey breast $16.08 (less than $4/lb)
4-pound packs of butter $8.49
ginormous bag of tortilla chips $3.49
4 packs of Thomas' English muffins* $6.79
2 loaves whole wheat bread $4.59
Is that all? Let me tell you. My children consume food at quantities that I cannot begin to explain. I've found that buying them food that is easy for the to prepare and making sure they have adequate protein has been really successful for us, particularly with teen boys. Knocks on wood, we haven't had the "typical" negative teen experiences that folks always warned us about.
Total Spent at Costco $299.44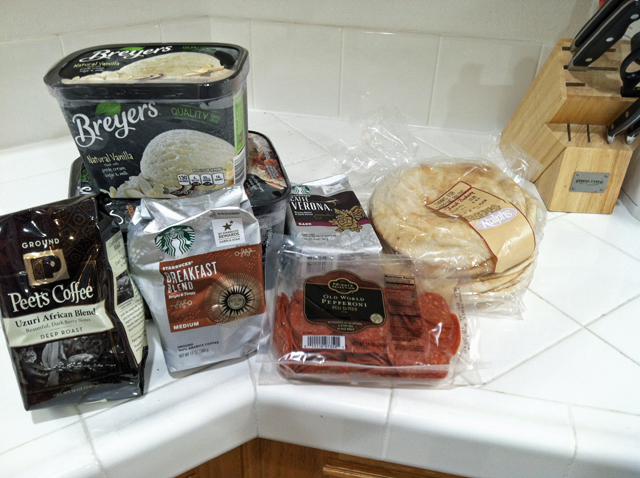 Ralphs
I couldn't find pepperoni or pita bread at Costco so I headed to Ralphs that night. Ice cream was on sale. 🙂 And so was coffee. I had two digital coupons and a paper coupon for the coffee which made it like $5. Unfortunately, I forgot to hand over my paper coupon. Wah. It expired that night which was the main reason I even went down the coffee aisle. Boo. I could have gone back, but I was too tired.
pita breads $2.99/dozen
pepperoni $6.99
ice cream $2.99/gallon
coffee $4.99/12-ounce package
Total spent at Ralphs $35.91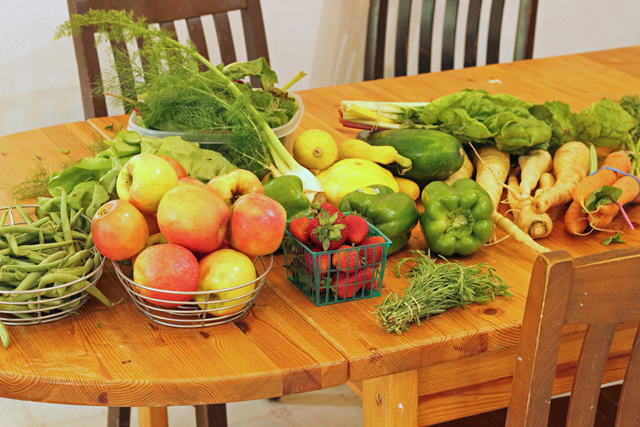 Abundant Harvest Produce
The box contained apples, green beans, butter lettuce, fennel, chard (baby and large), strawberries, summer squash, bell peppers, savory, parsnips, and carrots. Nothing too crazy, but I generally have a hard time using up parsnips and fennel.
After a very frustrating experience dealing with some mistakes that the delivery crowd made, I decided to end our membership to Abundant Harvest Organics. I don't need to go into it, but needless to say, I was disappointed.
This was our last box. My husband wondered if maybe they saved this one for me (knowing it was our last box) since it was so sad looking. Most of the apples were rotten by the next day — something that's never happened before.
I've done some research and found that the local CSAs now offer home delivery. We'll be looking into other options that are within our county.
Total spent on the large box $43.55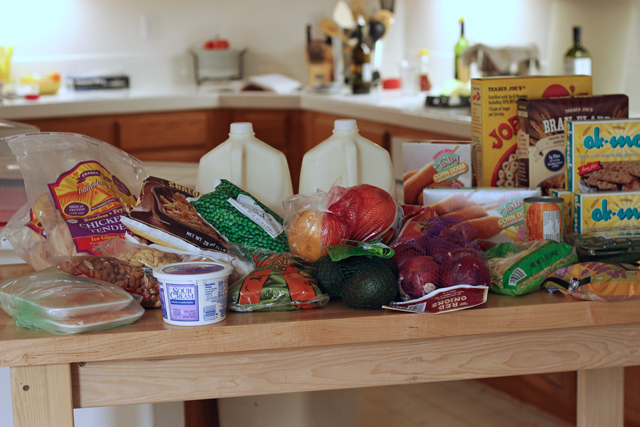 Trader Joe's
I planned out the meals for the next week and rounded out my shopping with a quick trip to Trader Joe's.
red onions (2 lb) $1.69
frozen chicken tenderloins $7.99/2.5-pound bags
low fat milk $3.29/gallon (Costco is certainly cheaper!)
boxed cereal $1.99/box (my husband takes a box to work)
shredded hash browns $1.69
frozen peas $1.29
sour cream $1.69
ak-mak crackers $1.79/box
breakfast sausage $2.99/package
cucumbers $1.99/lb
cashews $6.99
almonds $6.49
corn dogs $3.29
string cheese $3.99
frozen oj $2.99
red grapefruit $3.99
broccoli slaw $1.69
avocados 4ct $3.29
snap peas $2.49
I think if I had to choose a store for variety, quality, and pricing, it would probably be Trader Joe's. But, it's not the closest to home and it's bulk pricing just can't compare to Costco. But, it's so nice! Love it.
(Also notice that I pretty much avoid all the novelty foods at TJs. That's the only way I can make it work in the budget. The tenderloins are my splurge because they ALWAYS taste great.)
Total spent at Trader Joe's $92.40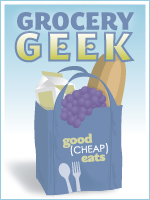 So, I did A LOT of shopping already this month. I'm hoping that what I bought plus what we had already will last several weeks. The freezer is AS FULL AS IT COULD POSSIBLY GET. Plus, there's ice cream.
We have two birthdays and two other special occasions this month plus company coming. So, we'll see how long this lasts. I splurged on the baked goods this month. It's so much cheaper to bake it myself, but I need a little margin and that's how I'm getting it.
Total spent so far this month: $471.30
So that's the Grocery Geek report. Let's see how far we can stretch what I've bought. I'll be sharing next week's meal plan in the newsletter this weekend. Sign up here if you haven't already.
And stay tuned for the report on this week's freezer cooking over on Life as MOM.