Good Cheap Eats is six years old today! Enter to win a collection of cookbooks to help you eat well and spend less.
THIS GIVEAWAY IS NOW CLOSED. CONGRATS TO THE WINNER, bryan_ashleybell@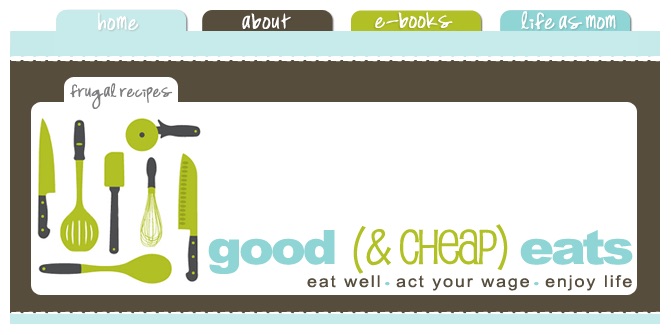 If you're an old timer, you might recognize the header from Good Cheap Eats, circa 2009. Things have changed, eh?
Today marks the sixth anniversary of Good Cheap Eats, the blog. I started it on blogger one day in 2009, unbeknownst to my husband. Blogging was a hobby back then that consumed a lot of my time. Possibly too much. I didn't want him to get mad at me for starting a second blog.
Back then, I was only hoping that I could create a career from it. Turns out the experiment worked!
Six years later, I've been able to keep two blogs running, find some equilibrium when it comes to my work schedule, and have three cookbooks published — with a fourth on the way. Who knew?!
I'm super thankful that this home business of recipe development and food writing has come to fruition. It had been a dream of mine back when I was in college, but I honestly never really thought it could happen back in 1990.
Also, the internet didn't really play a part in everyday life back then. My! How times have changed.
You have played a big part of all this. Thank you! I am so thankful for you to read, cook, and chat with me about all things yummy, delicious, and easy on the wallet.
Win a cookbook!
So, as part of the celebration, I'm giving away a collection of cookbooks! Obviously, your purchase helps me, so thanks again!
One winner will win the pack of these books:

Just fill out the form below to be entered in the giveaway.
This promotion is open until Sunday, April 19, 2015 at 8 pm PST and is limited to US residents, 18 years or older. One entry per person. Friends and family of Jessica Fisher are ineligible for entry. Please enter only once. The winners will be chosen randomly. This post will be updated with the beginning of the winner's email address. The prize for this promotion is provided by and shipped by me, however, I will not be held responsible for unclaimed or undelivered prizes.
Disclosure: I received a review copy of the book. All opinions are my own.