How did the first week of the Pantry Challenge go for you? Here's my update for eating down the pantry.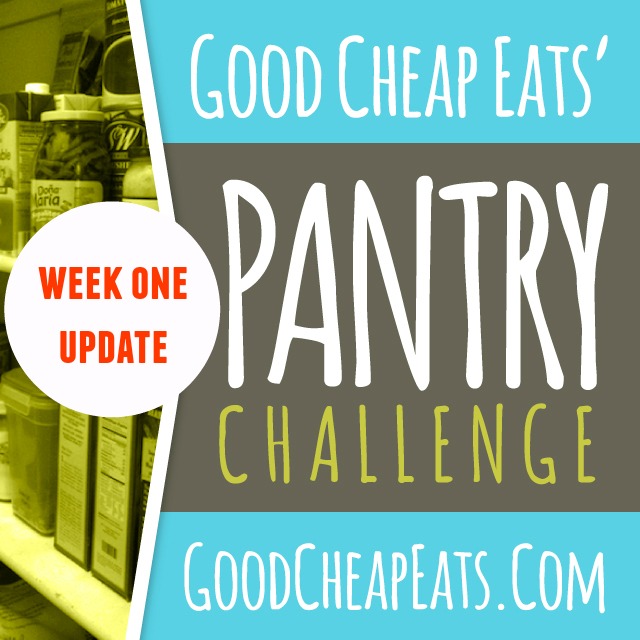 A Pantry Challenge is a fixed season (a month or a few days) during which you focus on eating up what you have instead of going out to buy more. All too often we go shopping because we're bored or lack inspiration, not because we truly lack something.
When I was a newlywed, I was a serial overbuyer. Instead of using what we had, I regularly went to buy more. We'd go out to eat instead of eating what was in the packed-to-the-gills fridge. Weekly I threw away food that I had forgotten I had. It made me sad, but I was so ignorant.
It wasn't until about thirteen years later; my husband had been unemployed for several weeks (he was a general contractor) and we realized we were up to our ears in debt. Rather than charge more on the card, we decided to make do with what we had.
That first month I thought I was so fancy because I only spent $300 on groceries. In 2007, $300 could go pretty far to feed a family of six, but I had no clue. Eight years later, I've got a clue! And I'm so happy about it. We're able to eat well without wasting or overspending. It takes a lot of planning and exertion to cook from scratch and remake leftovers into something new.
I still chucked some leftovers this week. Sad. But, I know that we are learning and getting better with our resources.
So, here we are into our second week of the Pantry Challenge. This is my fifth year in a row of doing this whole usewhatchagot thing. If you're just joining us, check out this post about the Pantry Challenge.
Week One Meals
That's what my fridge looked like yesterday morning. That's pretty empty by FishFam standards. We were out of eggs, lettuce, and almost out of milk. Running low on salt, too. Those are necessities around here.
I don't think that my family really minds the Pantry Challenge. It hasn't impeded our eating habits, but it's only the first week. That said, we still have quite a few items to get us through for quite some time, but a few purchases to make things easier are sometimes called for.
We had some great meals during week one, recipes that were based on ingredients we already had. They didn't all go according to plan, but it worked nonetheless:

Week Two Meals
Groceries So Far
I actually made five stops for groceries this week. At each stop I tried to buy as little as possible, but I ended up needing to go more often. Hopefully, this next week will be better. Here's the Grocery Geek report in short: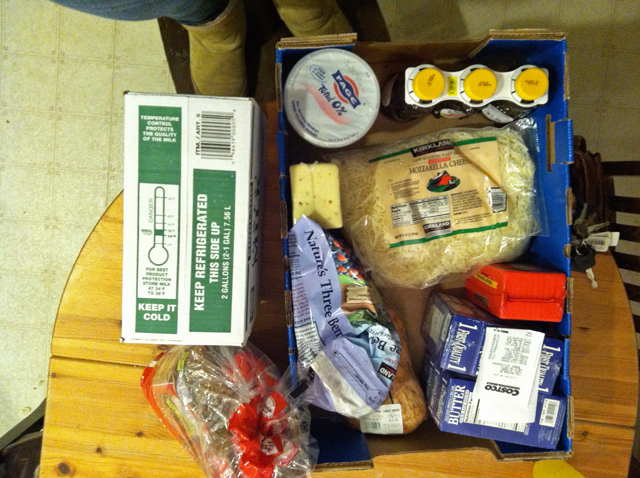 Costco
I headed to Costco on Sunday for milk, yogurt, cheese (mozzarella, pepper jack, and cheddar), butter, honey, turkey breast, honey, frozen berries, and wheat bread.
Total spent: $100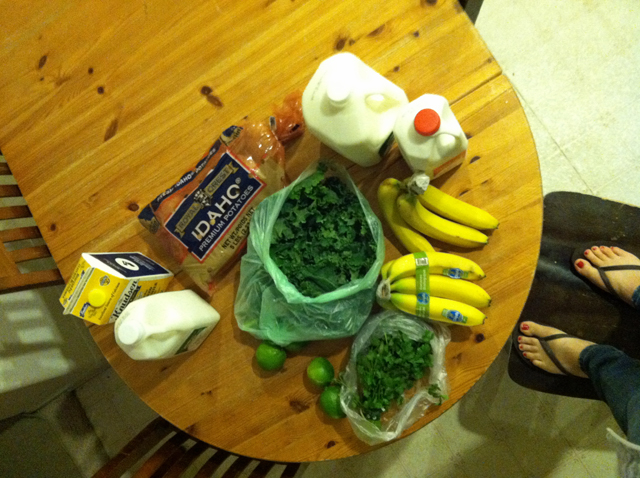 Sprouts
At Sprouts I bought milk (two different kinds as well as an extra small one for FishPapa to take to work), buttermilk, bananas, limes, potatoes, kale, and cilantro.
Total spent: $24
Walmart (not pictured)
After the movies one night, I stopped at Walmart for broccoli, eggs, and bananas.
Total spent: $7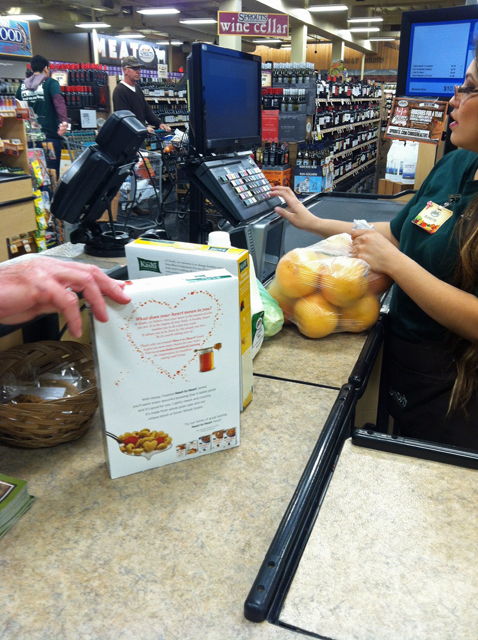 Sprouts (again)
I wanted to go for lettuce and 20-cent grapefruit. My husband wanted cereal and milk. That's what he eats at his break and lunch most days. (And yes, I love it that he's willing to be so frugal!)
Total spent $12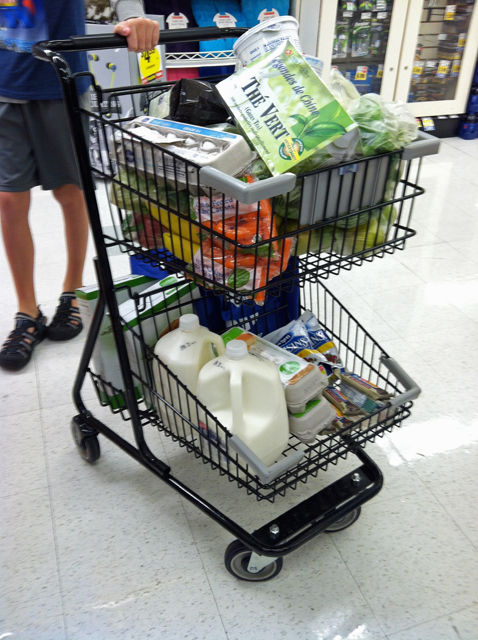 Ralphs
Going into Week 2, I wanted some provisions. I wrote a list and stuck to it, except for the clearance buys: Craisins for 79cents and 49-cent energy bars that FishBoy17 bought off me. I knew he would want them.
FishBoy12 was my escort and did a great job checking the list. We bought milk, FishPapa's cereal, eggs (1 dozen was free with digital coupon), salt, lettuce, kale, coffee, mushrooms, cake mix (free with digital coupon), green tea, tomatoes, peppers, carrots, broccoli, pears, bananas, and yogurt.
Total spent: $73
MTD spending: $225
So far in the Pantry Challenge, I've spent $225. I will probably need to buy cheese, tortillas, eggs, milk, and lettuce again before the week is over.
I foresee the biggest challenge being keeping up with all the kitchen work. I hope to get some good prep work done today. The week promises to be busy: 3 doctor's appointments, 2 interviews, a business dinner, and regular life homeschooling 6 kids. Yikes! Say a prayer for me. I have no idea how this week will go down.
How's the Pantry Challenge going for YOU?
What challenges do you anticipate in the coming week? Meet you in the comments!