The following post is sponsored by Bruegger's Bagels. This giveaway is now closed. Congrats to the winners: waytoomanycats@ and emilypainterdavis@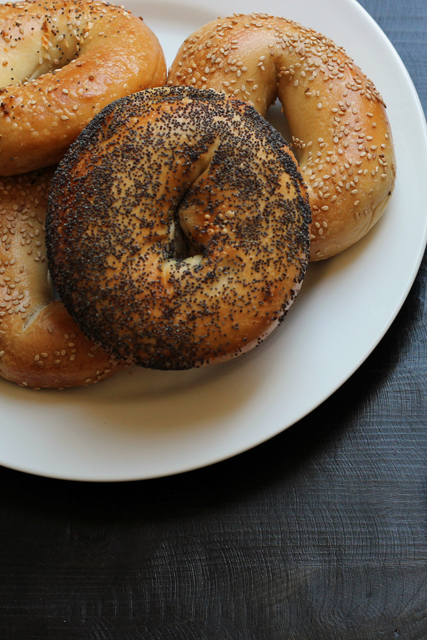 My people are HUGE bagel lovers. They always have been. They particularly love the bagels fresh from the bakery. Try as I might, I have not been able to perfect them at home.
You can guess how thrilled they were on Sunday when I brought home two dozen — still warm! — bagels from Bruegger's Bagels. My husband and sons, in particular, kept going back for more — and oohing and aahing about how great they were. Seriously.
Bagels are a precious commodity around here. One of the things that FishPapa really loved about these were that they didn't taste commercial or processed. They truly taste homemade. Breugger's are the real deal, New York style bagel.
Bruegger's launches its new "Behind the Taste" campaign today; it's a video series that celebrates traditional bakeries and the restaurant's commitment to the true process of bringing fresh ingredients from the farm, field and ocean to its storefronts. Check it out.
Here's the first peek behind the scenes:
I'm fascinated by this man who likely got a teenage job at Bruegger's and has stayed with the company for almost thirty years.
All I can say is that we're in love with these bagels. FishPapa's only disappointment about the experience is that the closest location is ten miles away! I have a sneaky suspicion that we'll be heading south a little more often.
I don't know about you? But, I'm hungry now. And all the bagels in my house are frozen. And uncut. Sheesh.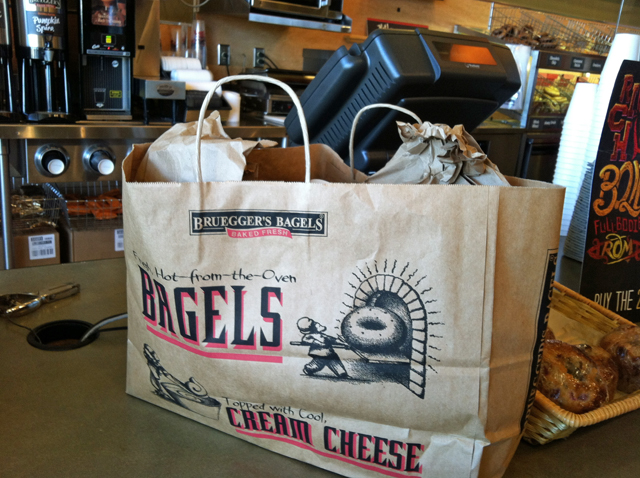 How 'bout a bagel?
This week two Good Cheap Eaters will each win a $25 gift card compliments of Bruegger's.
To Enter
Simply complete the information on the form below. Please know that the information is only being gathered for the purposes of mailing you your prize in the event that you are chosen as the winner. This information will not be sold, traded, or given away.
This promotion is open until Sunday, January 11, 2014 at 8 pm PST and is limited to US residents, 18 years or older. One entry per person. Friends and family of Jessica Fisher are ineligible for entry. Please enter only once. The winners will be chosen randomly. This post will be updated with the beginning of the winner's email address. The prize for this promotion is provided by and shipped by Bruegger's Bagels and/or its representatives. Jessica Fisher and Good Cheap Eats will not be held responsible for unclaimed or undelivered prizes.