This month our family is participating in a Pantry Challenge. We're focusing on using up what we have in order to save money and time as well as to reduce waste.
Sorry. Again no picture. It was a weird day. I slept in, took a 90 minute nap in the afternoon, and I'm ready to go to bed now at 8:40 pm. Weird.
My dental patients are back to themselves, except for the liquid diet. I think I may have to get them more supplies before Friday comes, but we'll see.
The day went well though.
Breakfast: Oatmeal with Toppings

Lunch: Sandwiches (almond butter/jam, tuna salad)

Dinner: Pancakes for the littles; smoothies/mashed potatoes/clam chowder for the big boys; date night for the parents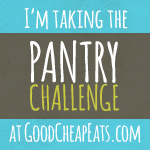 This post is part of the 2015 Winter Pantry Challenge. Read through the archives to catch up.