This month our family is participating in a Pantry Challenge. We're focusing on using up what we have in order to save money and time as well as to reduce waste.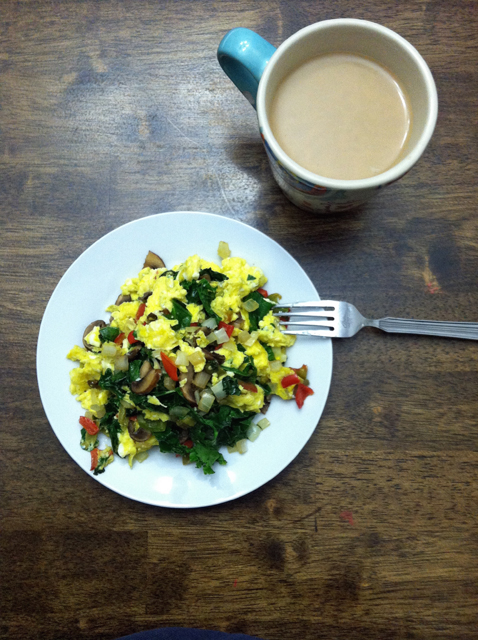 Today is Day Three already? Wow! Cool. Seeing as I started early, I'm not sure how that benefits me, but we'll see.
I was very happy to have one of my favorite breakfasts this morning: Greek Eggs. One of the keys to making it prettier than here is to cook the vegetables and the eggs on opposite sides of the pan. Once the eggs are cooked, fold in the veg. Super yum. I ate my breakfast early in the morning before the kids awoke. They had Corn Pancakes for breakfast. I took the Oatmeal Pancakes recipe from Not Your Mother's Make-Ahead and Freeze Cookbook and subbed in corn flour for the oat flour. Worked very well.
For lunch most of us had turkey sandwiches. My eldest is becoming a chef all on his own and made fried rice. I snatched a bite. It was amazingly good.
FishChick8 helped me make Lasagna and Salad at dinnertime. I had planned to make the Turkey and Spinach Lasagna with Feta Cheese (from Good Cheap Eats cookbook) with Beef, but when the time came, I decided to make a vegetable beef lasagna with a béchamel sauce instead. That recipe is also in the Good Cheap Eats cookbook. Yummy. We had Poorman's Caesar Salad with  Homemade Croutons and the dressing made with Homemade Mayonnaise.
My husband asked where I got the croutons and I gloatingly said, "From stale bread in the freezer." Booyah!
Breakfast: Greek Eggs, Pancakes

Lunch: Turkey Sandwiches, fruit

Dinner: Beef and Spinach Lasagna, Poorman's Caesar Salad (without the chicken but with Homemade Croutons)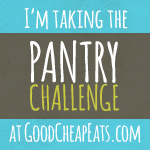 This post is part of the 2015 Winter Pantry Challenge. Read through the archives to catch up.