This month our family is participating in a Pantry Challenge. We're focusing on using up what we have in order to save money and time as well as to reduce waste.
Oops! I totally forgot to take a picture today! I blame this grunge that we have going. But we're two weeks in and surviving. The fam totally loved tonight's grilled fish supper. They claim that they could eat Caesar Salad every night. We shall see….
Breakfast: Oatmeal Bar

Lunch: Leftovers from last night with Quesadillas

Snacks: Hard cooked eggs

Dinner: Grilled Fish, Roasted Garlic Mashed Potatoes, Caesar Salad
We're halfway through. How ya doing?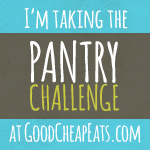 This post is part of the 2015 Winter Pantry Challenge. Read through the archives to catch up.