This month our family is participating in a Pantry Challenge. We're focusing on using up what we have in order to save money and time as well as to reduce waste.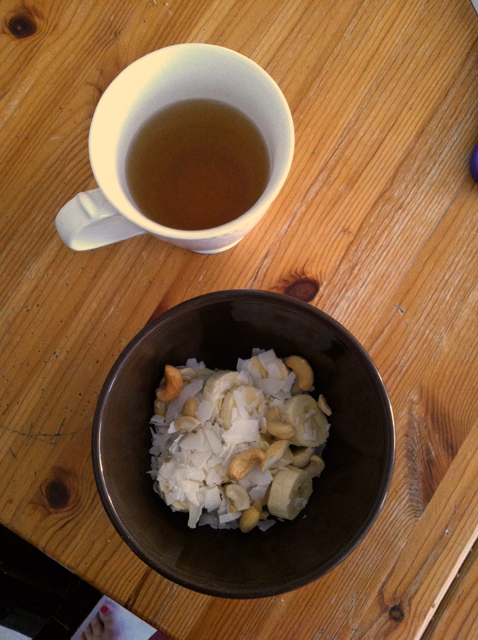 It's crazy to be walking into week three of the Pantry Challenge. So far it's been pretty easy, and we've eaten amazingly well. I confess that I am getting a little weary of not buying what I want. I made a small trip to Sprouts yesterday just for necessities, but already I feel like we're running low on things. I think tomorrow morning I need to reaccess and build a new meal plan.
Today the kids had granola and hot cereal while I made a Monkey Salad. I won't be able to do this too many more times without buying more coconut chips and cashews, so it may not happen.
As it was Saturday and I made the kids do lots of chores and we hadn't eaten out all week and we're all still hacking away, I ordered Chipotle online which was a fun little celebration midway through the challenge.
For dinner I made a Sheet Pan Supper with chicken, Italian sausage, onions, mushrooms, and peppers. We had rice and Caesar Salad as well. I was craving something sweet for dessert so I took one of those Mix and Match Muffin Mixes and doctored it up with frozen fruit and sugar to make a Fruit Buckle of sorts. We will make it again with more fruit. We're running low on lots of fruits and veg.
I'll be back in the morning with the Week Two Update and a chance for you to share your progress. See you then!
Breakfast: Granola, hot cereal, Monkey Salad

Lunch: Chipotle

Dinner: Chicken, Sausage, Veg, and Rice, Caesar Salad, Fruit Buckle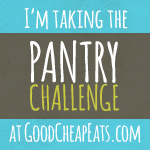 This post is part of the 2015 Winter Pantry Challenge. Read through the archives to catch up.