Enter to win one of three copies of the Good Cheap Eats cookbook. This giveaway is now closed. Congrats to the winners; savingmoney.info@, junkmailreceiverperson@, breckashley@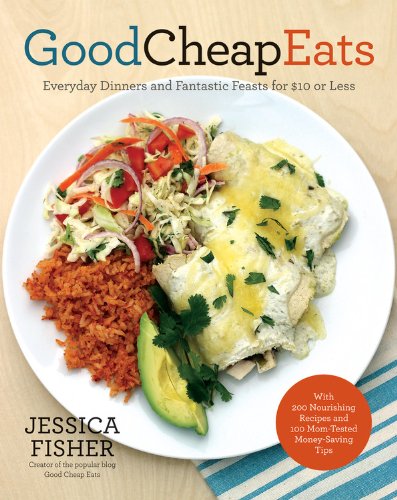 I don't know about you, but I'd like to start the year right — and lower our grocery bill a tad bit. After having done the whole USDA Food Cost Analysis for our family to see that the most frugal plan would have us at $1189.20/month. Wow!
Now I know why it's been tough to keep to my goal of $900/month to feed the 8 of us. Food has certainly been getting more expensive. And my kids seem to get hungrier every day.
However, if we pay attention and make wise choices, we can still eat well without going broke. The recipes and money saving strategies in my cookbook Good Cheap Eats can help us both do that.
This book is chock full of some of my family's favorite meals. Please don't let the $10 price tag concern you. Most dinners in the book don't come close to the ten buck limit. In fact, I can often feed our ginormous family for that price. Rest assured that this book WILL help you lower your grocery bill.
Happy New Year!
To celebrate the new year and fresh starts, I've got three books to giveaway. If Santa didn't deliver this year, here's another chance.
Three Good Cheap Eaters will win a copy of Good Cheap Eats: Everyday Dinners and Fantastic Feasts for $10 or Less.
To Enter
Simply complete the information on the form below. Please know that the information is only being gathered for the purposes of mailing you your prize in the event that you are chosen as the winner. This information will not be sold, traded, or given away.
This promotion is open until Monday, January 5, 2014 at 8 pm PST and is limited to US residents, 18 years or older. Friends and family of Jessica Fisher are ineligible for entry. Please enter only once. The winners will be chosen randomly. This post will be updated with the beginning of the winner's email address. The prize for this promotion is provided by and shipped by the Harvard Common Press and/or its representatives. Jessica Fisher and Good Cheap Eats will not be held responsible for unclaimed or undelivered prizes.
PS. I'll also be giving away a few cookbooks at the Pantry Challenge Kick-off Party on Facebook on Sunday night. Be there or be square. 😉