The 2015 Pantry Challenge is coming soon! Join me as we use up what we have and get a good start on reducing the grocery budget in the new year.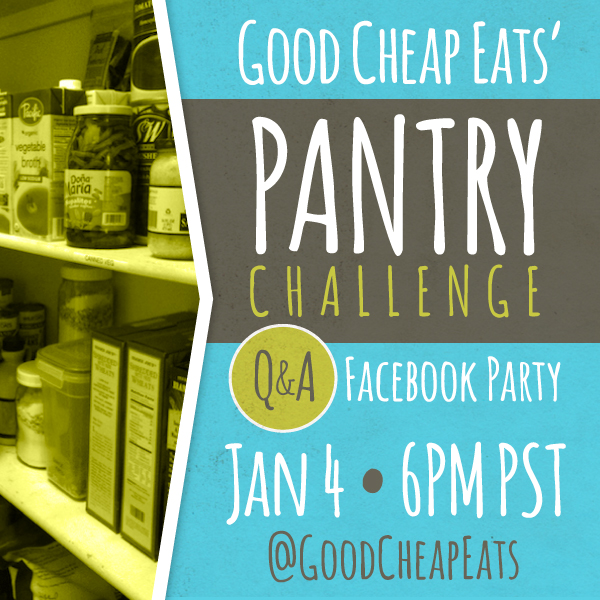 Hey Good Cheap Eaters!
I'm giving you a heads up about the Pantry Challenge, starting January 4th. I hope you'll join me!
Our family does a Pantry Challenge about twice a year where we focus on using up what we have so that we can waste less food and save more money. It's a great way to start the new year and offset any excess we might have experienced over the holidays.
Join the Pantry Challenge.
If you'd like to take the Pantry Challenge, mark your calendars for January 4. That's when I'll be starting our family's challenge. I'll be live blogging it every evening, posting what we ate and how folks felt about it. This year, we're going to see how low we can go for the entire month.
1. Get ready.
There are a few things that you can do to get ready. Mainly, get your mindset ready. But, then practically do this:
Read these past prep posts to learn more about this project:
2. Follow along here and elsewhere.
If you don't already subscribe, you can sign up for email alerts here from the site. Feedburner will send you a short email every day there's something new on the blog.
I'll be hosting a party on Facebook on the 4th. Its purpose is to help YOU plan for a great month of eating up what you have without your family knowing it! Ha! That is, indeed, part of the challenge. Follow the Good Cheap Eats Facebook page so you won't miss it.
On instagram, I'm jessicagfisher. You can follow along there. I'll be using the #pantrychallenge hashtag.
If Pinterest is your game, you can follow my Pantry Challenge board.
Follow Jessica's board Pantry Challenge on Pinterest.
3. Think about your goals for the challenge.
I'll be sharing my goals for the challenge about this time next week. Think about what your goals might be:
to use up what you have
to save money
to make it easier to move
to get rid of ingredients you don't want to buy anymore
to downsize
You'll have an opportunity to share your goals and plans here on a daily basis, so start thinking how you want us to keep you accountable.
Are you up for the Pantry Challenge?