Here's my weekly report of what I spend on groceries for a family of 8. We focus on mostly whole foods, few processed items, and organics when it fits the budget.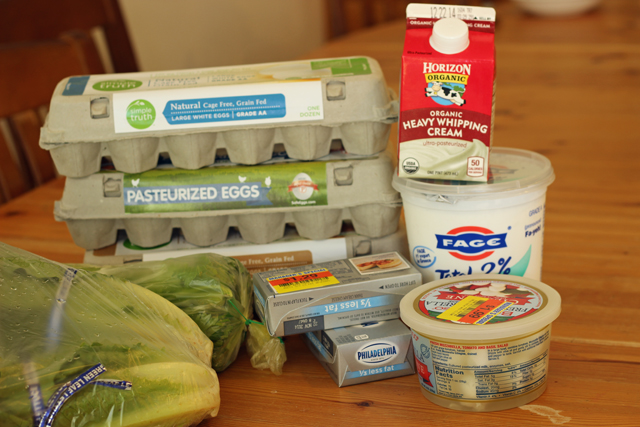 We go through eggs and yogurt like it's going out of style. I know, we could raise chickens and make our own yogurt, but the property managers wouldn't like the first, and my family doesn't love the second. We are huge Fage fans, and I just can't get homemade to taste the same.
FishPapa's go-to snack at work or home is Fage with maple syrup. Have you tried that? Super yum.
Anyway, grocery shopping is a blur this week. I don't remember where I went, what I did, or what we ate. Hmmm…. my brain must be maxing out its bandwidth. Here's the photo diary of it all.
Ralphs
Ralphs is my favorite of the "regular grocery stores". They have great mark-downs, good sales, and a decent selection of organic/more natural products. There are two stores within three miles of my house so I get my pick. Here's what I bought:
pasteurized eggs  $3.69
cage-free eggs $3.29
marked down cream cheese $1.25
marked down fresh mozzarella $1.99
lettuce $0.99
organic celery $1.69
whipping cream $4.99
Fage $5.99
Total spent = $31

Trader Joe's
Trader Joe's is my spot for most meats, baked goods (if I buy them), cereal, and other packaged items. They have a GMO-free guarantee which I appreciate and pretty decent prices. Their ice-glazed frozen chicken is way tastier than grocery store chicken and it's typically cheaper, too.
flour tortillas $1.99
corn tortillas $0.99
whole wheat bread $2.99
pasta $0.99
cereal $1.99
broccoli $1.79
organic bell peppers $3.99
ground turkey $2.99/lb
frozen chicken breast 2.5# for $6.99 (2.80/lb)
frozen vegetables $1.29 to $1.99
shredded cheddar $3.49
hot pepper sauce $1.99
tater tots $2.29
salsa verde $1.99
org tomato sauce $1.49
rice 3# for $3.29
baby carrots 1.5# for $1.49
tortellini $1.99
sunflower seed butter $4.99
mushrooms $1.69
Total spent = $96
Abundant Harvest Organics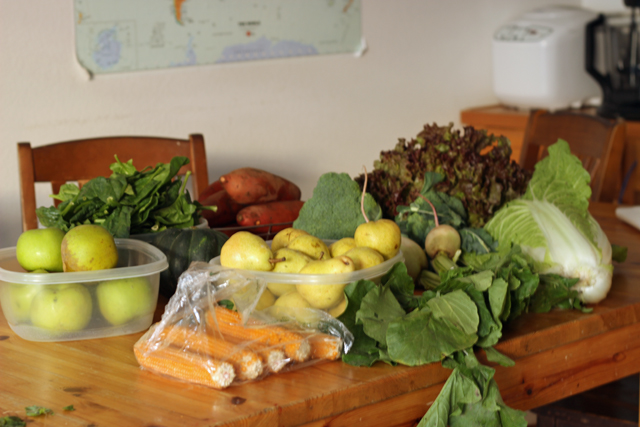 We have been subscribers to Abundant Harvest for three years now? Some weeks I love it; some weeks I don't. The weather has been so weird here this year that the produce has been all over the map. This week's selection looked good, though not great, and included things that we regularly use: pears, popcorn, apples, cabbage, spinach, watermelon radishes, sweet potatoes, lettuce, and broccoli.
Total spent = $43
Weekly total $170
Total Month to Date $1037
My target for the month is around $1000. The month is almost over; our budget is, too, obviously. A lot of the proteins I bought are still in the freezer, so I might not need to buy a lot this week other than random stuff for Thanksgiving. My mother-in-law is handling the main dish and we're bringing sides and desserts. We need milk, eggs, and yogurt, I'm sure. Not going to sweat it, though. We haven't eaten out much this month, so we're good there.
How's the grocery budget going at your house?