I feed a small army of eight. This is how I do it without going broke. We try to buy natural organic groceries when we can and still save money on food costs through wise shopping.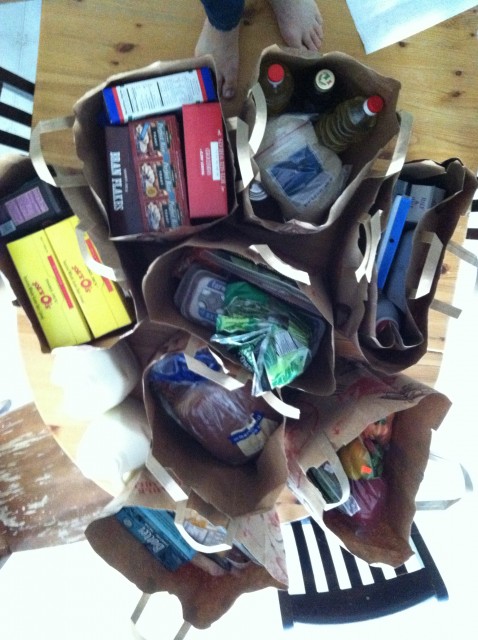 This week signified the end of the party. My kids got back into school. My husband went back to work. And I had to confess, "Dorothy, we're not in Europe anymore." Our European vacation is really over.
It's slow going getting back into a groove, especially when the month is dotted with birthdays, doctors appointments, and holiday preparations. I like to think of life in weeklong chunks. But when one week's routine is broken, I want to throw in the towel on the whole week.
Looking at the coming six weeks that promise no routine whatsoever, I guess I better come up with a different plan! At least we're eating….
I did do a bit more stocking up this week compared to last week, but I've yet to fire up the deep freeze. I'm hesitant to do so, actually. It is a 17 year old freezer and I'm not sure how energy efficient it is. Gonna need to do some testing. Also, just using the side-by-side for the moment helps me not to overbuy. Buying less saves me more. Until I'm ready to do a really big freezer cooking session, I think I'll wait.
Finding butter on sale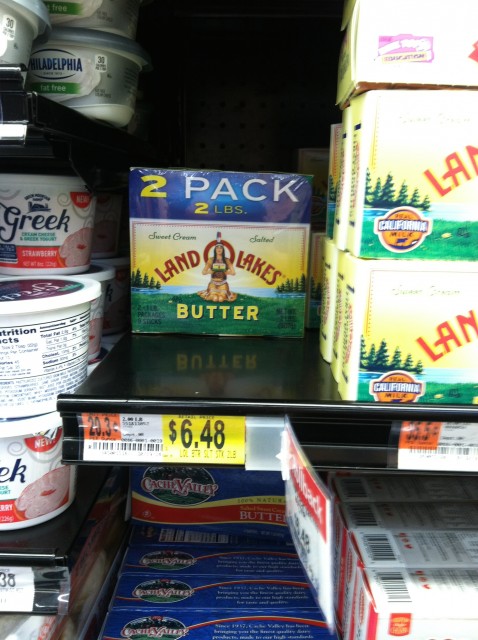 In other news, many readers warned me that the price of butter had gone up, even at Costco. I picked up a couple packages here and there for $3.99 which is a typical non-sale price around here. My friend Amy had posted on Facebook that Dillons/Kroger had it on sale for cheap, but when I checked Ralphs/Kroger, they were calling $3.99 a sale.
Aside: this is the same store that called $8.49/pound bacon a "sale". We're going to need to talk, Ralphs.
So, at Walmart this week when I saw Land O' Lakes 2-pound packs for $6.48, I snatched up all they had, which was six pounds. We don't use margarine or peanut butter at our house, so butter is a go to, especially when there are the best chocolate chip cookies in the world to be made.
Here's how the shopping went down since my last report:
Ralphs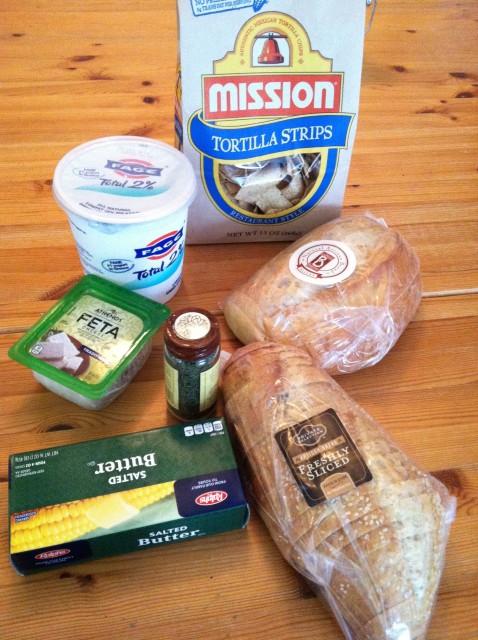 I do like Ralphs for their marked down items. They have great online coupons. They send me coupons I'll actually use. And their sales are often really good.
Obviously, this wasn't a super big stop, just bopped in for a few things. I bought 2% Fage on a whim last week and now I'm hooked! I liked the fat-free, but oh my! The 2% is amazing.
yogurt $5.99
butter $3.99
feta cheese $3.99
marked down breads $1.49
summer savory $3
tortilla chips $2
Total spent: $23
Trader Joe's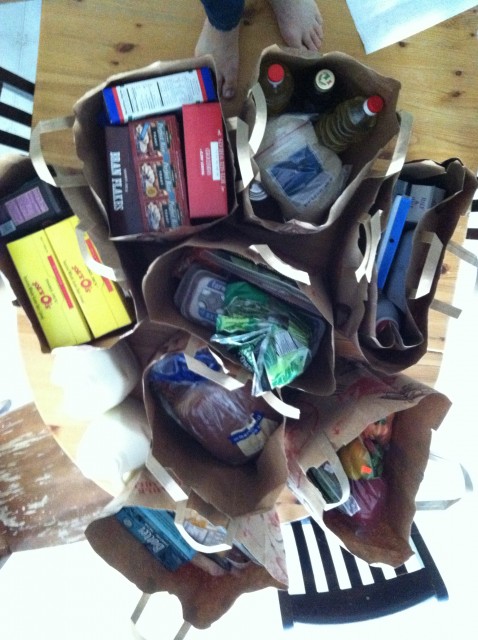 I went to Trader Joe's earlier in the week and stocked up things to test out a new $70 meal plan I'll be posting tomorrow on Life as MOM. I spent more than $70 since I feed 8 people instead of 4. Plus, we needed some breakfast and lunch stuff, too.
My husband eats cereal every day at work — his choice. But, he's contemplating taking a load of freezer burritos to mix things up a bit.
cereal $1.99 to $2.69/box
spices $1.99/bottle
sweetened, condensed milk $2.99
shelf-stable whipping cream $1.29
lasagna noodles $2.29
flour $2.99
jam $2.99
cocoa powder $2.49
macaroni $0.99
jasmine rice $3.29
coconut oil $5.99
cashews $6.99
almonds $6.49
olive oil $7.99
yeast $0.99
sunflower oil $3.99
fire-roasted tomatoes $1.69
olives $1.49
shepherd's bread $2.99
corn tortillas $0.99
flour tortillas $1.99
frozen organic green beans $1.99
salmon $6.74
eggs $1.99
milk $3.49
bag frozen chicken $6.99
organic romaine hearts $1.99
baby carrots $1.49
sour cream $1.99
cream cheese $1.69
cheddar $2.50
shredded cheese $3.49
gruyere $5.75
bacon $4.99
butter $3.99/lb
broccoli $1.79
organic bell peppers $3.99
organic power greens $1.99
mushrooms $1.69
onion $0.69
half and half $2.69
buttermilk $1.99
kefir $2.99
Fage $3.59
mozzarella $4.49
ground turkey $2.99/lb
Total spent = $190
Walmart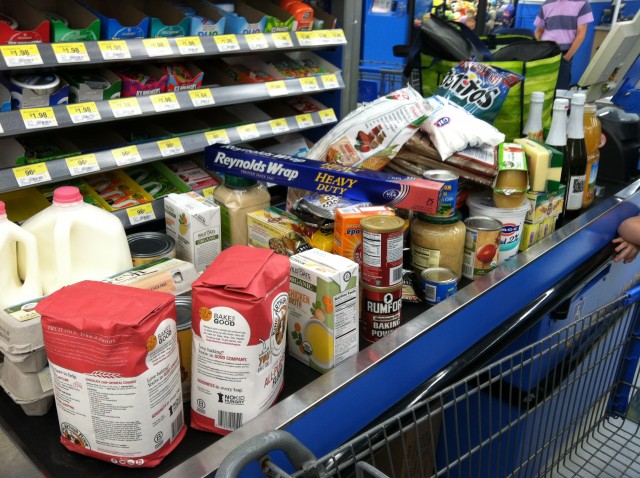 With two birthdays in the next week and the desire for chocolate chip cookies raging, I went to Walmart to restock the baking cupboard as well as pick up birthday items and fill in a few gaps in the pantry. This is when I bought the aforementioned butter. Here's what else I got:
lime juice $1.98
pineapple juice $2.98
sparkling cider $2.88
chips $2.50 – for nachos which is proving no longer to be a cheap eat
masa $2.88/4 lb
organic sugar $3.98/3 lb
powdered sugar $2.18/2 lb
applesauce $2.47
jack cheese $8.42
brown sugar $2.00/2 lb
butter $6.48/2 lb
fate $6.48
marshmallow creme $1.28
white beans $1.98
diced tomatoes $1.38
green chiles $1.54
sauerkraut $2.28
organic applesauce $2.47
chocolate chips $2.48
organic chicken broth $1.98
baking soda $0.82
baking powered $2.14
dulce de leche $2.72
milk $3.78
eggs $3.24
flour $3.48
canned pumpkin $2.88
Total spent = $153
Weekly total $366
Total Month to Date $527
My target for the month is around $1000. We've got lots of special occasions; we're starting with nothing since we emptied things out for our trip; I'm feeding five men/boys. If we go over a little, I'll be okay with that, all things considered.