After a month of shopping in French and English grocery stores, the grocery geek is home! And ready to fill up the fridge.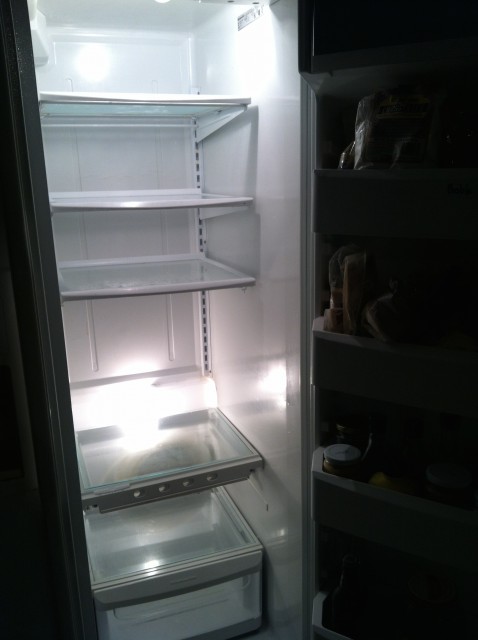 This is what I woke up to on Wednesday morning: a very empty refrigerator. Look at all this lovely white space! I was loathe to fill it up, but kids gotta eat, you know?
We flew in from London on Tuesday night. We'd been gone for a month, so the cupboard really was bare. I've got plenty of stories — and recipes — to share from our month in France. We ate very well and are bringing home some diet changes that I think will be good for us. I lost weight and inches eating French food and walking every day. I'd like to keep a good thing going!
Right before we left, I froze anything that lingered: half bottles of jam, minced ginger, half a loaf of bread, bags of shredded cheese. The deep freeze was empty and unplugged, all the random bits stashed in the side-by-side.
I cobbled together breakfast for the kids — who were WIDE AWAKE by 5 am — from the bread, jam, butter, and some of those French toasts that come in a box. Yes, I carted most of my leftover groceries home from France since I couldn't bare to waste them!
Time to restock.
I didn't want to go full bore and fill things to the brim. One, it would be expensive. Two, I like all that white space. I took a quick inventory of what we had, browsed the grocery ads for loss leaders and headed out to the stores.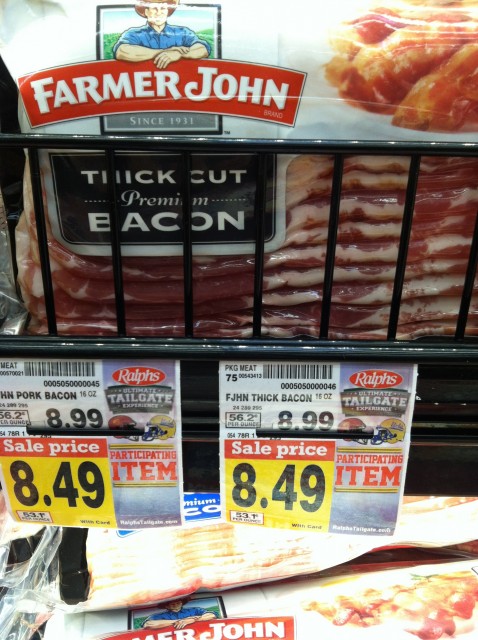 I was a bit taken aback by the high price of bacon. Before I left it was between $4 and $5/pound. Now it's up to $9! Heavens! I've heard that butter has gone up, too, but I didn't need butter, so I didn't even look at the prices. It should be an interesting holiday season if that is the case.
On the flip side, I was pleased to find a few bags of organic chips on clearance for a quarter a bag. We're trying to maintain the French style of eating in courses, so I thought these would work well for a small aperitif item. I also grabbed some clearance breads to stash in the freezer. Day-old bread goes so well in so many things!
I shopped two stores (Ralphs and Sprouts) in the space of 90 minutes. Of my favorite regular stores, these are the two that are closest. I allotted myself a $250 budget on food this week. Here's how it went down: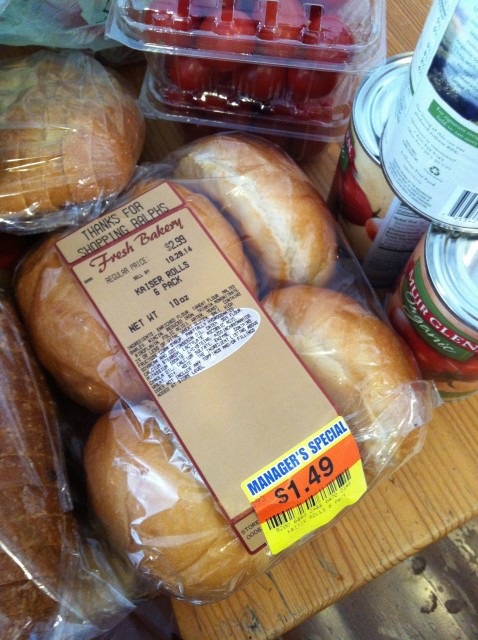 Ralphs
bone-in pork shoulder roast $1.99/pound
pork country strips $2.49/pound
canned beans (large) $1.59
milk $3.49/gallon
organic green pepper $1.50
broccoli $0.99/pound
cauliflower $0.99/head
pears $0.99/pound
bananas $0.69/pound
marked-down mushrooms $0.99
organic fuji apples $0.99/pound
organic garbanzo beans $1/can
Fage yogurt (large) $5.99
organic half and half $2.79/pint
cage-free eggs $3.29/dozen
marked down breads $1.29 to $2.29/package
organic pop chips $0.25/bag
Total spent = $64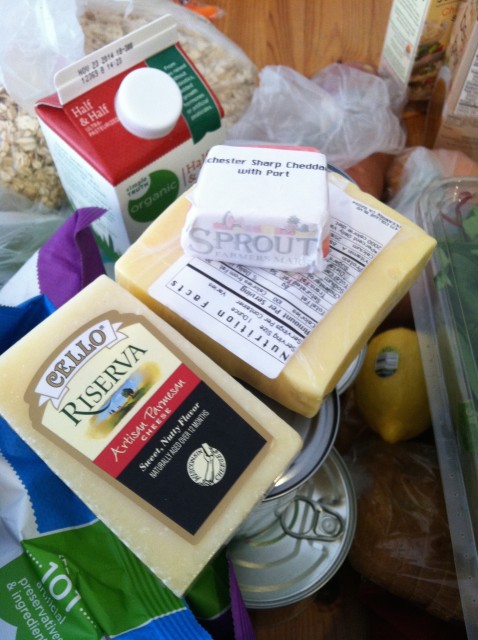 Sprouts
Since I wasn't going to Costco where I typically buy cheese, I picked up smaller pieces from Sprouts. The smaller amount will get us through until I can buy it at what I hope will be a better price. I also got fairly strong varieties of cheese so that I could easily get by with less.
Although I know homemade broth and stock is better and cheaper than commercial, for the sake of expedience, I picked up a few cartons of Pacific organic broth. There was a special deal when you bought five items, you got $3 off. This worked out pretty well for packaged broth.
I also found bacon ends on sale for half the price of the pretty bacon.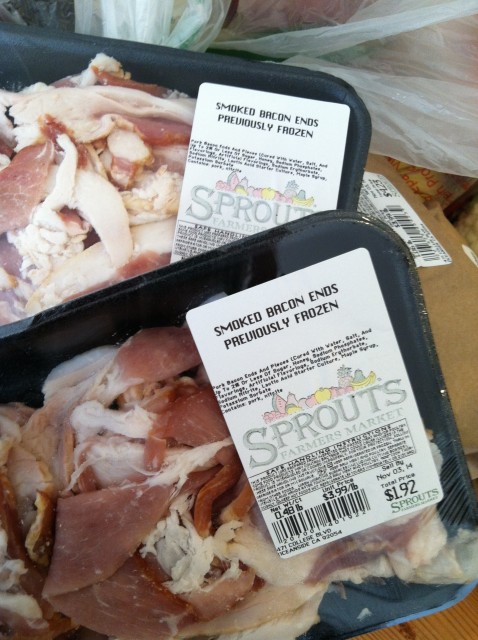 baby carrots $0.99/pound
russet potatoes $1.50/5-pound bag
baby yellow potatoes $2.99
cilantro $0.33/bunch
garlic $0.33/head
grape tomatoes $1.50/box
jalapeños $0.99/pound
green onions $0.50/bunch
lemons $0.50 each
organic jonagold apples $1.49/pound
organic super greens $4.99/large box
organic cucumbers $0.99 each
red yams $0.99/pound
yellow onions $0.49/pound
yellow squash $0.88/pound
organic ramen noodles $0.99/package
organic canned tomatoes $1.50/can
organic tomato sauce $1.50/can
organic broths $1.46 to $2.15/carton (there was a special promotion when you bought 5 items)
assorted small portions of cheese $1.70 to $3.50
rolled oats $0.69/pound
bacon ends $3.99/pound
lean ground sirloin $3.99/pound
pork sausage $3.99/pound
chicken breast $2.99/pound
chicken legs $0.99/pound
Total spent = $97
Week's grocery total = $161
It wasn't a bad week. How's the grocery saving going for you?