Win one of three copies of Good Cheap Eats each week in November. This giveaway is now CLOSED. Congrats to the winners: kidney626@, Sheilanardelli@, carmenkraft18@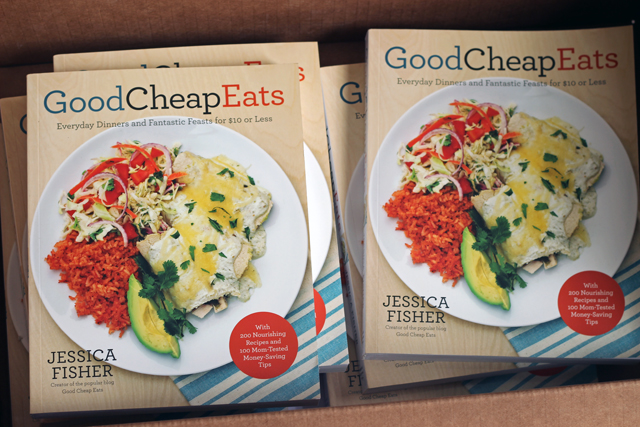 This month, we're sharing a dozen copies of Good Cheap Eats with readers. Last week's winners are posted here.
As the holiday season approaches, so does the temptation to go overboard in grocery spending. You know how that is, right?
With Good Cheap Eats: Everyday Dinners and Fantastic Feasts for $10 or Less at your fingertips, you can help keep a steady ship. Here's your chance to win a copy!
Win a Copy of Good Cheap Eats
This month here on Ye Olde Blog, I will be posting weekly cookbook giveaways. Each week of November we'll be giving out THREE copies of the book. If you already own a copy, consider entering so that you can give away the copy you win as a gift.
One prize per household for the month. I'll announce the winners each week so you'll have a chance to enter again if you didn't win. Please enter only once per week. And if you've already won, tell your friends so they can enter and win.
To Enter
Simply complete the information on the form below. Please know that the information is only being gathered for the purposes of mailing you your prize in the event that you are chosen as the winner. This information will not be sold, traded, or given away.
This promotion is open until Monday, November 17, at 8 pm PST and is limited to US residents, 18 years or older. Friends and family of Jessica Fisher are ineligible for entry. Please enter only once. The winners will be chosen randomly. This post will be updated with the beginning of the winner's email address. The prize for this promotion is provided by and shipped by the Harvard Common Press and/or its representatives. Jessica Fisher and Good Cheap Eats will not be held responsible for unclaimed or undelivered prizes.