Planning a month of meals at once is a great way to save money as well as time.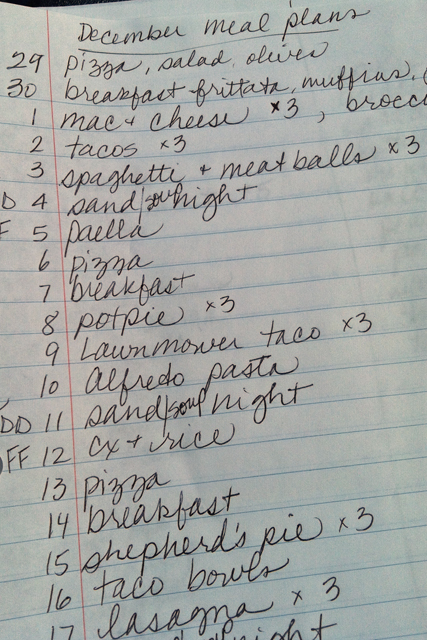 Sometime in the last few weeks my family and I were brainstorming ways that we can make our household move more smoothly. Over and again we landed on the topic of food. They are willing both to cook as well as to make freezer meals, so kitchen patrol and specifically, effective meal planning, will be our first line of defense.
Yesterday on the three-hour drive home from the in-laws', I planned out the meals for the month. I know that sounds crazy to some people, but it really works for our family. I've done monthly meal planning since my kids were very little. Not every month, of course, but typically in the winter months when there's less daylight and we tend to be home bound more often.
I worked this December's meals around a regular routine:
Sunday – breakfast for supper

Monday – casserole

Tuesday – tacos or other Mexican fare

Wednesday – pasta 

Thursday – soup/sandwich/salad

Friday – French Fridays

Saturday – Pizza night
Having a pattern for meal planning keeps me sane while maintaining variety at the same time.
I also decided that we'd make triple batches of any dish that is freezer-friendly. In this way, I can start building a stockpile of freezer meals without spending a large chunk of time to do it.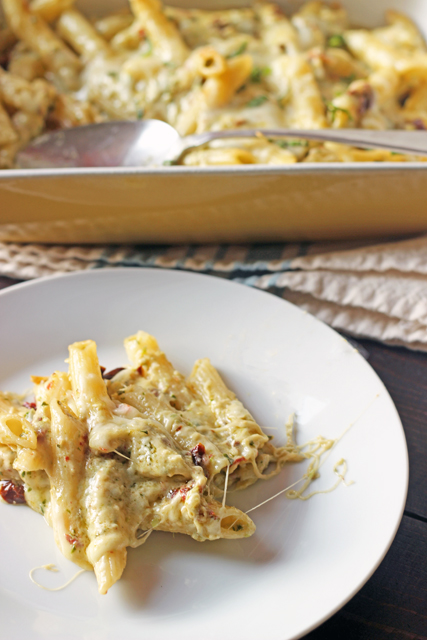 Here's what the month as a whole looks like. Asterisks (*) are for meals we'll be freezing:
Macaroni and Cheese*, Steamed Broccoli
Spaghetti and Meatballs*, Green Salad
Paella, Green Salad, Cheese Course
Chicken Potpie*, Green Salad
Lawnmower Taco*, Green Salad
Pasta with Alfredo Sauce, Steamed Vegetables
Salsa Verde Chicken*, Seasoned Rice Pilaf, Vegetables
Shepherd's Pie*, Green Salad
Taco Bowls, Fruit Salad
Lasagna*, Green Salad, Bread Sticks
Pork Medallions with Smashed Potatoes, Steamed Vegetables
Enchiladas, Mexican Rice, Green Salad
Taco Salad, Fresh Fruit
Tamales, Vegetable Rice Pilaf, Green Salad
Tri-tip, Cheesy Potatoes, Vegetables
Boules de Picolat, Potatoes, Green Salad
Got YOUR meal plan on?
Check out Meal Planning 101 if you need to refine your meal planning skills.