Did you preorder a copy (or two) of my new book, Good Cheap Eats? I've got another bonus feature waiting for you.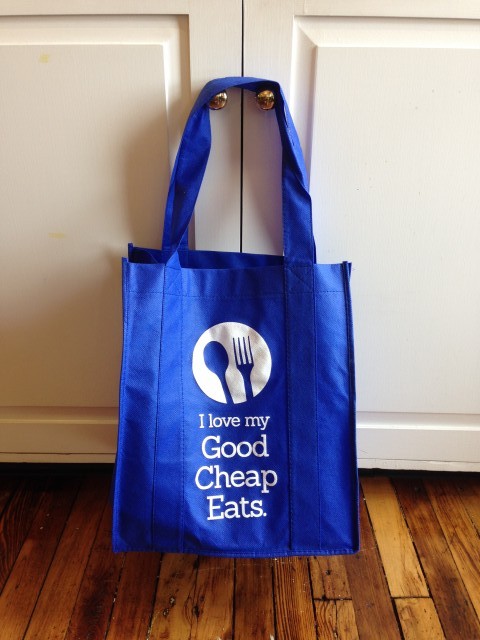 I have had so much fun dreaming up the bonus features to go along with my new cookbook, Good Cheap Eats: Everyday Dinners and Fantastic Feasts for $10 or Less.
First there was the weeklong meal plan; then there was the cooking with kids e-booklet. Last week I told you about the great book my friend Amy from Wine4.Me wrote to help you pair just the right wines with the menus in the book. Those resources will be emailed sometime during the week of the book shipping out. Please be patient while we get those emails delivered.
This week's bonus feature is probably one of my favorites!
I love my Good Cheap Eats.
I asked my good friend Joy to design a grocery bag with the GCE logo. This is what she came up with. I love it! I can't wait to go shopping!
The nice folks at my publisher, the Harvard Common Press are offering a free bag to folks who've preordered the Good Cheap Eats cookbook. Now, quantities are limited. There are only 50 bags to be given away and shipped to the US only, so you'll have to hurry.
If you've preordered the book, fill out the form below (or go here for the live form). Your bag will ship sometime next week when the book ships.
Leaving a comment on this post will NOT get you your preorder bonus — though I do love to chat with you. You have to fill out the form. Them's the rules. Thanks again for your support! I can't wait for you to have a copy of Good Cheap Eats in your hot little hands.