This month I'm doing a Pantry Challenge. For two weeks, I'm focusing on using up what we have to save money and time and to reduce waste.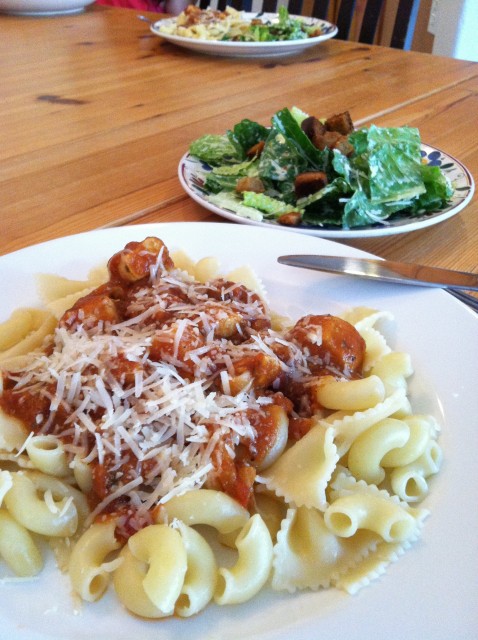 QUICK update tonight since I've just spent the last four hours on book edits. Whew. It was a fine day.
Breakfast was a bar for the kids: granola, blueberries, cereal, yogurt, milk, and bananas. I made another round of scrambled eggs, onions, and feta cheese. Feta is one of my splurges and I definitely don't want it to go to waste.
The kids had quesadillas for lunch with apples. I had a phone call over lunch and someone burned the quesadillas, so I ended up having a breakfast bowl from the freezer. One of the ones I reviewed here. Very tasty.
For dinner, I used a bag of bread crusts to make croutons to top homemade Caesar Salad. I also combined two different tomato recipes from the freezer (chicken tikka masala and a roasted vegetable sauce and just put it all together over pasta. It was good and no one knew about my Indian-Italian mashup.
Breakfast: Breakfast Bar

Lunch: Quesadillas and Apples

Dinner: Pasta and Caesar Salad with Homemade Croutons
This post is a part of the Summer 2014 Pantry Challenge where we're trying to save money on food by using up what we have. I'll be posting daily updates on how the challenge is going.