This month I'm doing a Pantry Challenge. For two weeks, I'm focusing on using up what we have to save money and time and to reduce waste.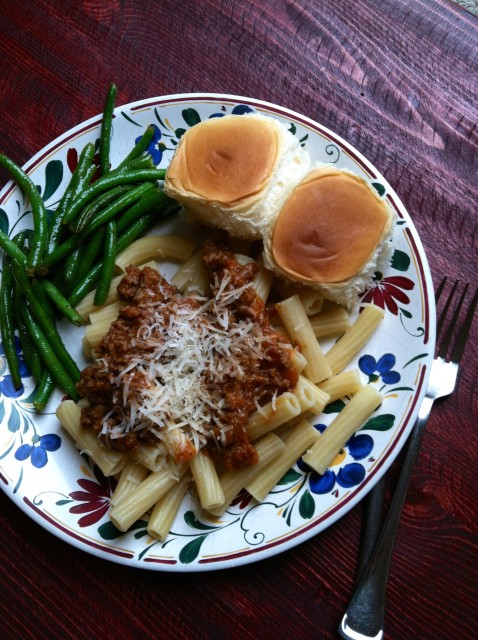 Happy Day 10 of the Pantry Challenge! I'm starting to see a little room in the deep freeze, but not too much in the small freezer. I need to get a bit more serious about these random bits.
Since we've been doing old standby recipes for many meals, it's been easy to let the boys do the cooking. One handled the bacon and toast for BLTs today and another made the pasta sauce for tonight's supper. I could get used to this!
It's a nice bonus when they say "I don't know how," I can just direct them to a cookbook — that I wrote. Bwahaha!
Breakfast: Hot Cereal, Eggs

Lunch: BLT's and baby carrots (Bacon and bread from the freezer)

Snacks: Whole Wheat Snickerdoodles (from the freezer)

Dinner: Rigatoni and Meat Sauce, Green Beans, Rolls (meat, sauce, green beans, and rolls from the freezer)
This post is a part of the Summer 2014 Pantry Challenge where we're trying to save money on food by using up what we have. I'll be posting daily updates on how the challenge is going.