How we feed our family of 8 a healthy diet on a budget with one child's nut allergy, three boys who play hockey, one little girl who loves to cook, and a karate ninja plus a mom who has an aversion to processed foods, and a dad who humors her.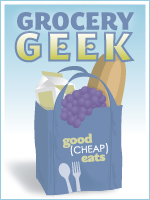 The kids (and perhaps my husband) are on the countdown until our sugar fast is done. They aren't truly "missing" anything, but I think they enjoy eating out. And since I don't want to be the sugar police everywhere we go, we aren't going anywhere. Only 15 days left; they'll live.
Plus, we're saving a ton of money eating at home and cooking from scratch.
A friend asked me what my long-term goals are. I think that we will use less sugar going forward. The texture of some baked goods is just better with sugar. But, we know where the difference is negligible or not even there, so those things we'll continue to do.
Since this diet challenge requires careful reading of labels, I've bought some new items. We really loved Trader Joe's corn tortillas that only contain 2 or 3 ingredients. The enchiladas we had this earlier week were amazing. I'll keep buying some of the new products I've found to replace the items that have added sugar that I had used previously.
Here's how the shopping went down this week:
Trader Joe's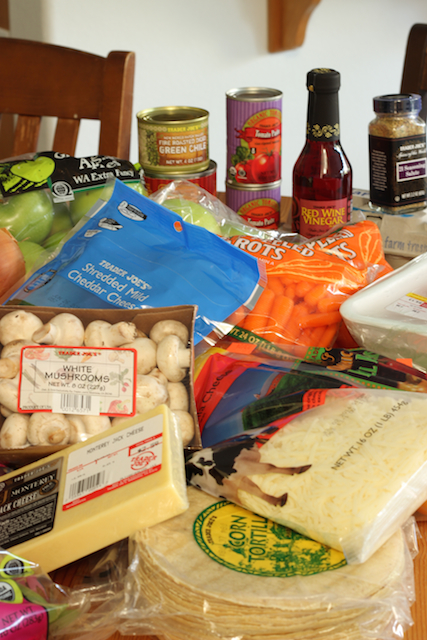 I have no idea why I took two pictures. Weird.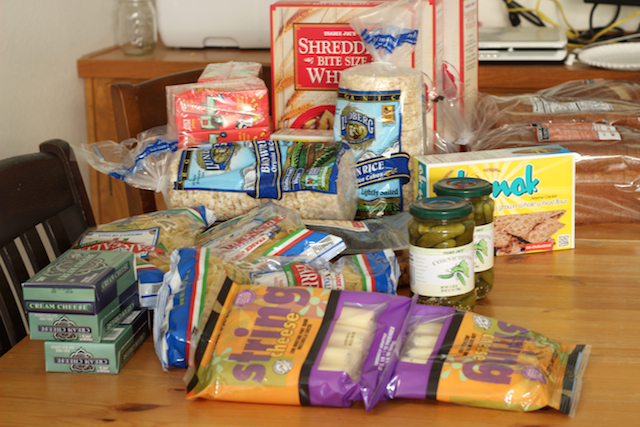 I tested out another This Week's Dinners for $70 or Less meal plan. I'll be posting that tomorrow on Life as MOM, Lord willing. You don't have to shop at Trader Joe's; there are no funky things. But, if you can shop it all at TJ's, I consider that a plus for TJ fans. It isn't a comprehensive store.
Anyway, some of this shopping was for the meal plan, some was for lunches and breakfasts and snacks. I bought more ingredients for homemade Larabars. I'm not thinking it pencils out, but we do like the taste better.
shredded wheat $2.69
apple juices for hockey snacks $3.49
string cheese $3.49
harvest bread $1.99
rbst-free cream cheese $1.69
organic tomato sauce $1.49
organic rice cakes $2.49
ak-mak organic crackers $1.69
pasta $0.99
organic apples 2# for $2.99
almonds $5.99
cashews $6.99
cornichons $2.69
dried cherries $5.99
mushrooms $1.69
organic snap peas $2.99
organic celery @2.29
organic romaine hearts $2.49
canned green chiles $0.79
jack cheese $3.99/lb
cheddar $2.99/12oz
mozzarella $3.99/lb
organic tomato paste $0.89
ground turkey $2.99/lb
21-seasoning salute $1.99
organic baby spinach $1.99
red wine vinegar $1.99
eggs $1.99
organic potatoes $3.99/5#
jumbo onion $0.69
corn tortillas $0.99
organic peppers $1.33 ea
Total spent $135
Unpictured Trader Joe's visit
milk $3.49
organic apples 2# for $2.99
freeze dried strawberries for a hockey goal treat $3.49
Trader Joe's knock off pirate's bootie for a hockey goal treat $1.99
cracker cuts cheddar for hockey night post-game treat $3.99
ak-mak organic crackers $1.69
sunflower seeds $1.99
If you notice the "hockey-costs-us-money" trend, you are right!
Total spent $29
Sprouts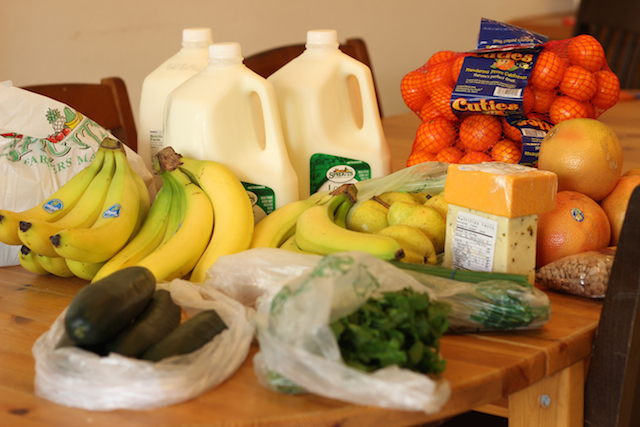 milk $3.49
cheddar $3.99/lb
pepper jack $3.99/lb
pinto beans dry $1.49/lb
drumsticks $0.99/lb
organic chicken as an experiment $3.49/lb
cilantro $0.33
green onions $0.33
cuties $2.88/3# bag
organic pears $1.50/#
organic cucumbers $0.77ea
pink grapefruit $0.49ea
bananas $0.69/lb
Total spent: $60
Produce Box from Abundant Harvest Organics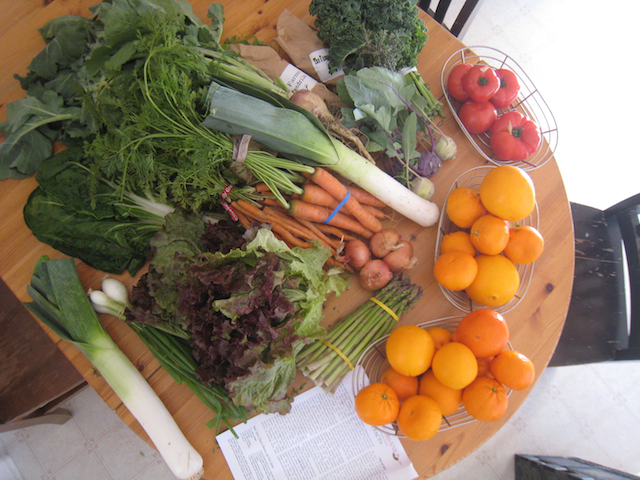 The box had leeks, scallions, lettuce, chard, asparagus, carrots, shallots, oranges, tomatoes, kohlrabi, very buggy kale (eww), rutabagas, and I added on mint and pea tendrils.
Total spent $48
Weekly total: $272
So, there we are for the week. It seems like a lot, but seeing as we've foregone our weekly dining budget (about $50 a week), I'd say we're doing okay. Plus, we're buying some specialty stuff for our sugar thing. (You can read more about our sugar fast here and here and how it's saving us money here.)
If I didn't write cookbooks, I think we'd probably spend less. But, I don't have the opportunity to eat from the pantry when I need to be more creative.
For those just tuning in, this is the post each week where I report real live grocery numbers. According to the most recent food cost data from the USDA says we should be spending between $1211 (thrifty) and $2422 (liberal) for a family of our size and composition. My current target is $900 for meals prepared and eaten at home. My husband eats some meals out for lunches on work days. We eat one meal out for date night as a couple. And our family eats about one meal out per week.
We are accommodating one child's nut allergies as well as one mom's aversion to processed foods. It's an interesting mix. An added wrinkle this month is that we are avoiding added sugar, allowing only honey and maple as sweeteners.
Since I'm currently working on another cookbook — buy the other two here — and testing out meal plans, there are some ingredients that I am buying that I wouldn't necessarily be buying this particular week. I typically buy things at rock-bottom prices and stock up. But because recipe development calls for a more generous and varied pantry, I have to supplement from time to time. I'm reporting those purchases in this weekly post so it does jack up our monthly spending a little bit.
So, that's the report.
How was YOUR grocery shopping experience this week?