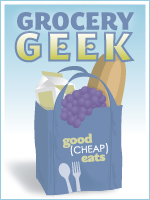 We are coming up against crunch time for me. I've got a summer FULL of deadlines that make me break out in a rash just thinking about them. I had a little emotional breakdown this week thinking of all that looms ahead of me. My husband and I put our heads together to see what could be taken off my plate. We decided grocery shopping could be one of those things.
So, starting Friday, we'll be sharing the responsibility. This means that our bill might go up and photos for these posts might be sporadic. I'm sure you understand. We'll keep plugging along and see how we fare at the end.
As for grocery shopping this past week, here's the report: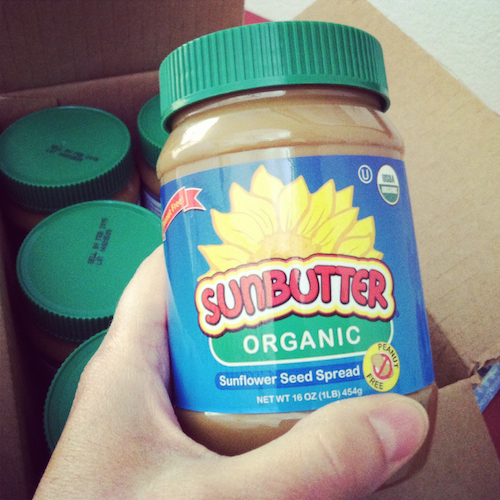 Amazon
I've been using Amazon's Subscribe & Save for about a year now, getting my toilet paper delivered every month so we never run out. Hallelujah. In the fall, I started using it for groceries. I didn't report those purchases because The Grocery Geek went on hiatus in the fall months. Here are the items that I've stocked recently
Bob's Red Mill Coconut Flakes (4-pack case): $10
Unsweetened, Organic Sunbutter (6-pack case): $34
Bob's Red Mill Whole Wheat Flour  (4-pack case): $15
Bob's Red Mill Whole Wheat Pastry Flour (4-pack case): $14
Total spent: $73
Trader Joe's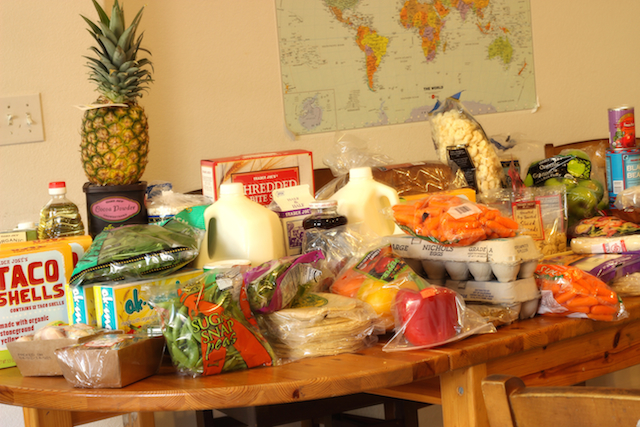 I have been trying to reduce my number of errands during the week, relying on Trader Joe's for the bulk of my purchases. It's not the cheapest game in town for everything, but it's reasonable with a quality I like. I did a big stocking up for recipe testing items so that I'd have them on hand when I needed them. They weren't always budget-priced because having it on hand was a priority over waiting for a sale.
vegetable broth $2.29
taco shells $1.99
ak-mak organic crackers $1.69
jalapenos $1.29/8 oz
sunflower oil $3.99/liter
salsa verde $1.99
organic rice cakes $2.49
corn tortillas $0.99
frozen naan $2.29*
golden raisins $2.69*
dried cherries $5.99
frozen chicken tenderloins $6.99
flour tortillas $1.99
organic tomato paste $.89
canned parmesan $2.69
cocoa powder $2.49
frozen tilapia $5.23
frozen cod $5.24
proscuitto $3.99
organic tomato sauce $1.49
black beans $0.89
hot pepper sauce $1.99
cheese $4.61
string cheese $3.49
organic all-fruit spread $2.99
organic sandwich pickles $2.99
cheese puffs $1.99
pomegranate juice $4.49*
crushed garlic in the jar $1.99
ground turkey $4.19
baby carrots $1.49
organic peppers $1.33 each
organic baby spinach $2.99
mushrooms $1.99*
snow peas $2.29*
harvest bread $1.99
organic granny smith apples $2.99/2 pound bag
almonds $3.69*
pineapple $2.99*
sourdough bread $2.99
half and half $2.29
eggs $1.99
milk $3.49
Total spent $230
Ralphs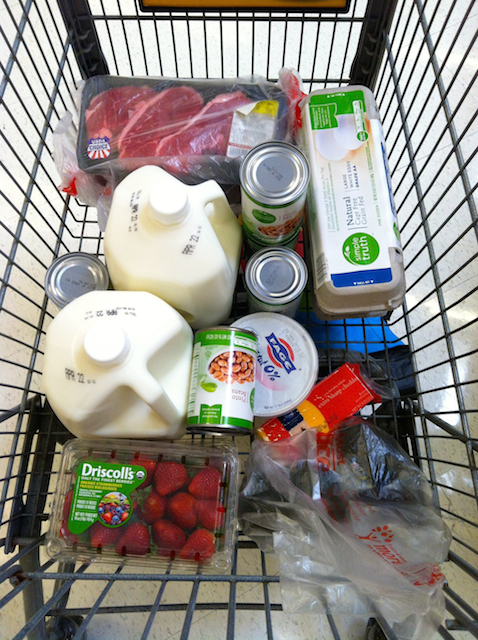 I made a quick trip into Ralphs for meat that was on sale. It wasn't a great price but, again, I needed it for a recipe I'm working on. That's my life right now.
cheese $2.50/8 oz. (i know. ugh)
milk $3.29
avocados $.98 each
organic strawberries $3.50
organic canned beans $1.00
fage $3.49
eggs $2.99
beef sirloin and tri-tip $4.97/pound (i know. ugh)
Total spent: $54
Costco
FishPapa made this run for me on his way home from work on Friday. He stuck to the list, bless his heart, and even alerted me to a really high-ticket item which we decided not to get. Love that man!
Here's what our Costco trip looked like. Mooo…..
milk $6.75/two gallons (NOT really that much cheaper than elsewhere. Humph!)
Tillamook sharp cheddar $3.51/lb
Tillamook medium cheddar $3.34/lb
ginormous container of Fage $6.39
butter $2.24/lb
salt $2.79
pinto beans $.79/lb
sour cream $4.45
sourdough bread $3.39/2# loaf
babybel $9.99 for LARGE bag
frozen organic berries $9.99
heavy cream, organic $7.39
Total spent $100
Weekly total: $457
MTD Total: $729
So, there we are for the week. If I didn't write cookbooks on tight deadlines, I think we'd probably spend less. But, I don't have the opportunity to eat from the pantry when I need to be more creative.
For those just tuning in, this is the post each week where I report real live grocery numbers. According to the most recent food cost data from the USDA says we should be spending between $1211 (thrifty) and $2422 (liberal) for a family of our size and composition. My current target is $900 for meals prepared and eaten at home. My husband eats some meals out for lunches on work days. We eat one meal out for date night as a couple. And our family eats about one meal out per week.
My guess is that we might be closer to national average this month, but all in the line of duty….
We are accommodating one child's nut allergies as well as one mom's aversion to processed foods. It's an interesting mix. An added wrinkle this month is that we are avoiding added sugar, allowing only honey and maple as sweeteners.
Since I'm currently working on another cookbook — buy the other two here — and testing out meal plans, there are some ingredients that I am buying that I wouldn't necessarily be buying this particular week. I typically buy things at rock-bottom prices and stock up. But because recipe development calls for a more generous and varied pantry, I have to supplement from time to time. I'm reporting those purchases in this weekly post so it does jack up our monthly spending a little bit.
So, that's the report.
How was YOUR grocery shopping experience this week?