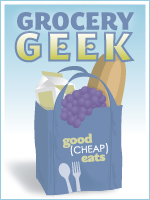 Sorry, no update last weekend, folks. It's been a crazy month so far. I'm just fighting the biggest fires and hoping that the rest just die down on their own.
Yesterday I posted on Life as MOM that I believe our sugar fast is helping us save money. I know we've hardly used our eating out budget, so I know there's that. I won't know until I get to the end of this post if my gut instinct is right or not.
So, here's the two-week update:
Sprouts
Early last week, I made a run to Sprouts. It was after being away for the weekend and I just wanted to make one stop. I didn't get rok bottom prices, but we got some basics to get us into the week:
buttermilk $3.99
eggs $3.49
milk $3.39
yogurt $3.49
canned black beans $0.89
pork tenderloin $2.99/lb
chicken $2.99/lb
cilantro $0.50
pears $0.98/lb
limes $1.99/bag
organic baby lettuce BOGO $3.49
carrots 5 # bag $2.98
grape tomatoes $2.99
bananas $0.69/lb
Total spent:$48
Produce Box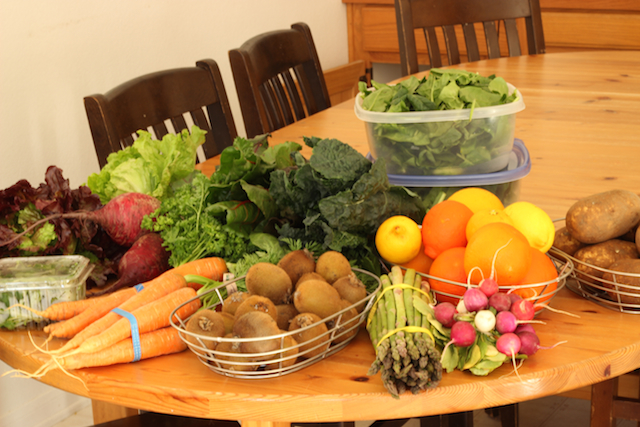 I've got the produce box set to deliver every other week. This gives me enough time to use it up and also not to be inundated with things I have to be creative with. I'll choose creative in a few months when life is slower.
The box was beautiful last week: mache, carrots, kiwi, asparagus, radishes, oranges and lemons, potatoes, kale, chard, spinach, lettuce, and beets. It's all gone now except a few carrots, a beet, and some potatoes.
Total spent: $45
Trader Joe's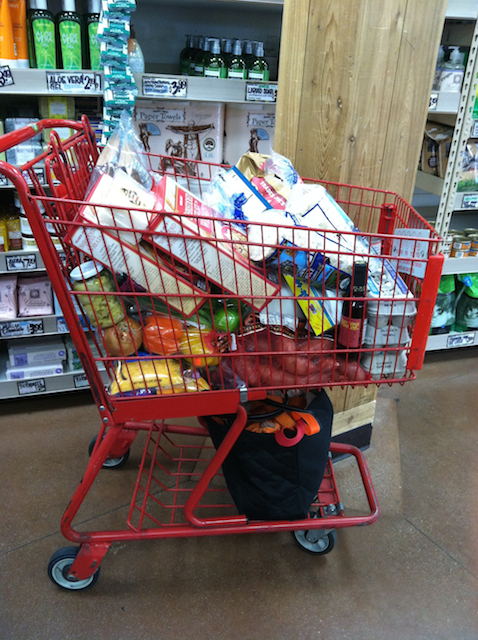 I did a fairly big restock at Trader Joe's last Thursday:
org rice cake $2.49
woven wheats $2.49
ak-mak crackers $1.69
shredded wheat $2.69
chips $2.99 (for substitute hockey snacks)
vinegar $1.99
eggs $1.99
milk $3.49
sunflower oil $3.99
organic pinto beans $1.09
olives $3.49
carrots $1.49
sweet potatoes $3.99/3# bag
artichoke hearts $2.69
organic apples $2.99/2# bag
harvest whole wheat bread $1.99
green onions $0.99
crumpets $2.29
mushrooms $1.69
cheddar $2.99
tortillas $1.99/doz
avocados $1.29
organic peppers $1.33 ea
string cheese $3.49
onions $0.69
Total spent: $97
Walmart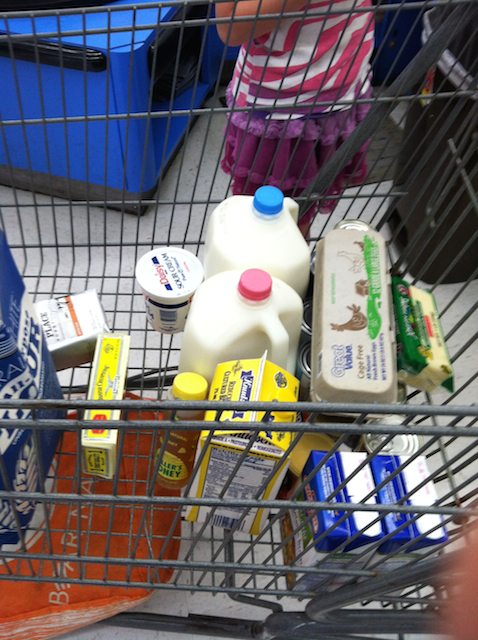 I did a minor stop at Walmart earlier in the week for butter, milk, eggs, flour, cheese, broth, honey, coffee, butter, and beans. A lot of this was for recipe testing.
baking powder $1.82
honey $3.94 – returning to the store since safety seal was broken
coffee $6.98
black beans $0.82
milk $3.20 and $3.65
buttermilk $3.98
butter $3.28
cheese $4.38
sour cream $1.98
hominy $0.74
org vegetable broth $2.88
eggs $2.97
flour $5.98
Total spent: $60
Sprouts (no picture)
Sorry no picture.
oats $0.99/lb – these ended up wasted in my two failed batches of granola. Ugh.
corn flour $1.99
chicken $1.99/lb
asparagus $1.98
cilantro $0.50
ginger $0.24
jalapenos $0.21
organic cabbage $0.25/lb
org green pepper $1.25
bananas $0.69
onions $0.88
Total spent $20
Sprouts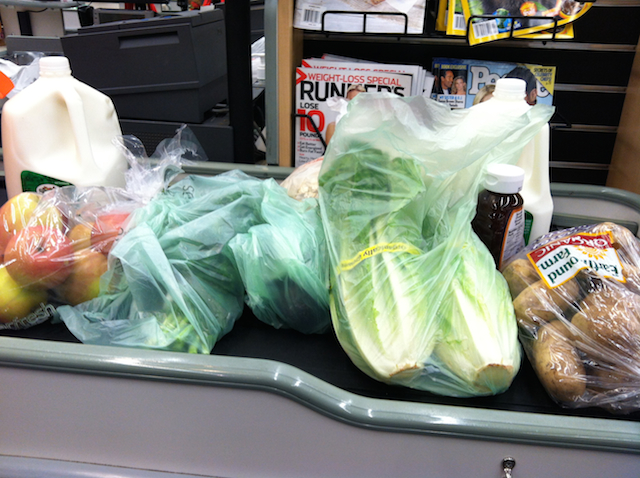 And again at Sprouts!
oats $0.69/lb – on sale now so I can redeem myself!
milk $3.49
honey $7.99 ouch
org potatoes $3.99/5# bag
org apples $4.99/3#bag
org romaine lettuce $0.98/head
organic kale $0.98/bunch
Total spent: $35
Costco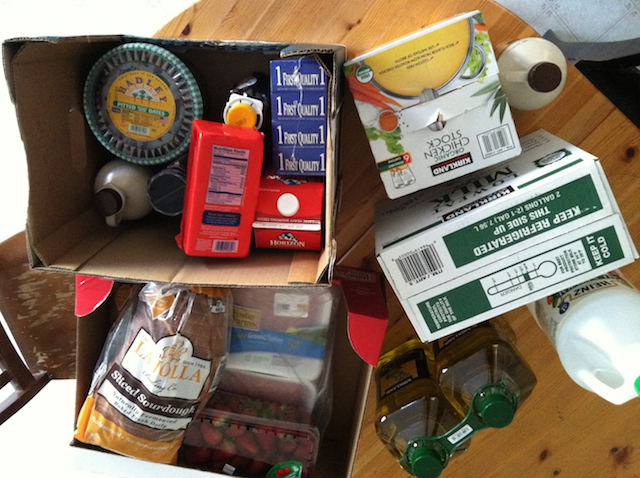 Clearly we are a milk family. More milk! I had my husband pick up the typical Costco purchases:
olive oil $22.99
organic chicken stock $11.99
milk $6.75/2 gallons
sourdough bread $3.39
organic strawberries $9.99/3# package
cheese $8.79/2.5#loaf
cream $7.29/half gallon
dates $7.29 for A LOT
ground turkey $15.90 for 4 packages
butter $8.49/4 pounds
chili powder $5.49
honey $11.69 for three honey bears
maple syrup $12.99 for 32 ounces
Frozen fruit (not pictured) $9.89 and $9.99
Total spent: $169
2-week total: $474
MTD Total: $622
So, I guess we're not doing horrible, especially for eating at home as much as we are. Sugar-free products are harder to find, and sometimes more expensive. But, we're eating well at home, for which I am really grateful.
For those just tuning in, this is the post each week where I report real live grocery numbers. According to the most recent food cost data from the USDA says we should be spending between $1211 (thrifty) and $2422 (liberal) for a family of our size and composition. My current target is $900 for meals prepared and eaten at home. My husband eats some meals out for lunches on work days. We eat one meal out for date night as a couple. And our family eats about one meal out per week.
We are accommodating one child's nut allergies as well as one mom's aversion to processed foods. It's an interesting mix. An added wrinkle this month is that we are avoiding added sugar, allowing only honey and maple as sweeteners.
Since I'm currently working on another cookbook — buy the other two here — there are some ingredients that I am buying that I wouldn't necessarily be buying this particular week. I typically buy things at rock-bottom prices and stock up. But because recipe development calls for a more generous and varied pantry, I have to supplement from time to time. I'm reporting those purchases in this weekly post so it does jack up our monthly spending a little bit.
So, that's the report.
How was YOUR grocery shopping experience this week?