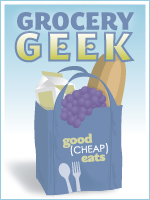 Here we are at the end of March. My fridge is bursting at the seams. I'm currently feeling a little anxiety about all that fresh produce that could go bad if I turn my back, even for a second. I've been shopping with the mind to make sure I have what I need to recipe test and feed voracious children.
But generally the week hasn't really obeyed my plans so this is par for the course.
I'm honestly feeling a little overwhelmed about the weekend and all it holds and all I should be doing. Spending extra time in the kitchen prepping veg is part of the plan. A tea party with my girls is, too. And a hockey game. And I've got that looming book deadline. June 1 will be here before I want it to. It's almost April!
It's so hard to divide my time rightly between kitchen, writing desk, and good life stuff.
At least we have groceries! Here's how the shopping went down this week:
Trader Joe's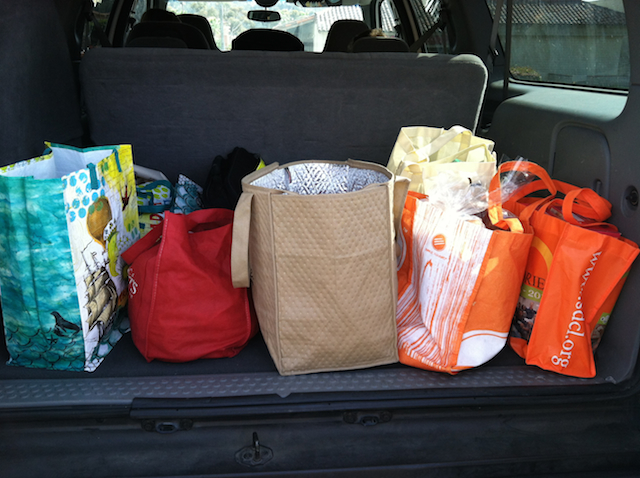 Last weekend after making the meal plan for the week, a couple kids and I headed to Trader Joe's. There are several locations near us, but each is a bit of a drive. I have to make my shopping worth the gas and time.
shredded wheat $2.69
chicken tenders $2.79/lb
sunflower oil $3.99
fage $3.49
harvest bread $1.99
unsweetened freeze dried strawberries (hockey boy treat) $3.49
tortillas $1.99
eggs $1.99
organic applesauce $2.49
string cheese $3.49
organic celery $2.29
almonds $3.69
bananas $0.19 each
proscuitto (unsweetened alternative to pepperoni on pizza) $3.99
cucumbers $2.49
brie $3.95
organic romaine hearts $2.49
organic bell peppers $1.33 each
green onions $0.99
organic carrots $0.79
bag limes $2.79
organic sugar snap peas $2.99
baby carrots $1.49
organic baby spinach $1.99
mushrooms $1.69
Total spent: $109
Sprouts unpictured
asparagus $1.98/lb
broccoli crowns $1.25/lb
tomatoes $0.98/lb
avocados $1.88
organic spring mix $4.99
bananas $0.69/lb
potatoes $0.99/lb
Total spent: $28
Produce Box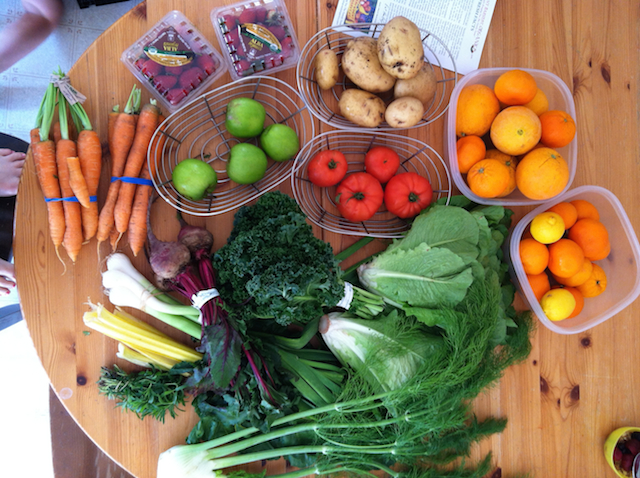 Our produce box from Abundant Harvest Organics was full of lovely things: carrots, chard, green garlic, beets, kale, fennel, romaine, oranges, tangelos, tomatoes, apples, strawberries, savory, and potatoes.
Spring is here!
Total spent: $44
Target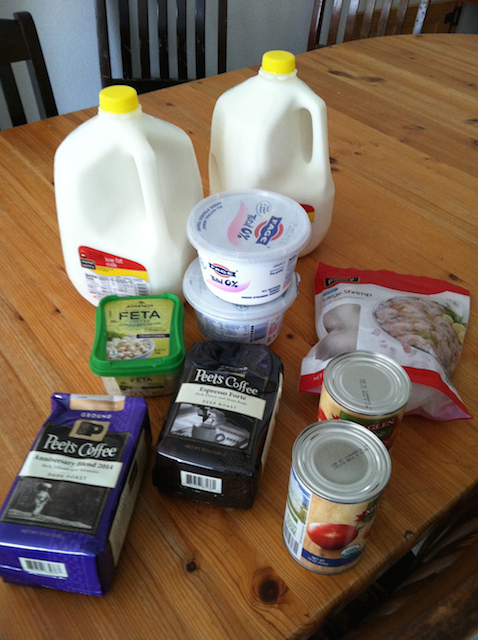 Midweek I took FishBoy13 clothes shopping this week because he's growing like a weed! While we were at Target, we got a few grocery items.
Peet's coffee $7.99
feta cheese $2.49
tomato sauce $1.37
shrimp $9.49*
fage $2.49
milk $3.59
Total spent: $43
Tomato sauce has been really tricky, so I splurged on the organic variety that doesn't have extra junk in it. The shrimp is for a recipe I need to test. It was delicious, but I didn't love the price.
Sprouts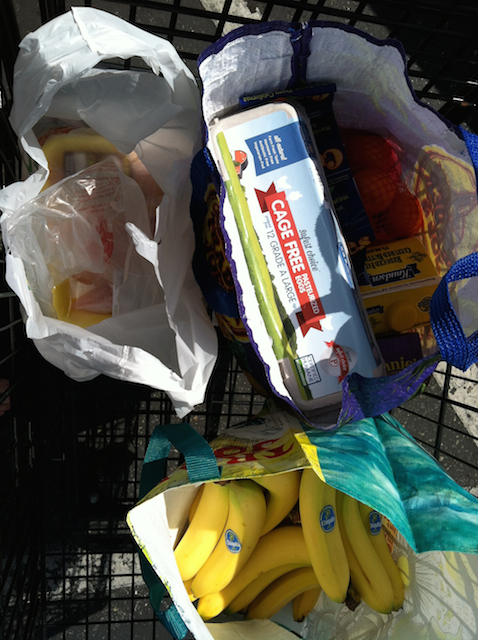 I  buy Safe Eggs for making mayonnaise and true caesar dressing. The kids didn't know that, so someone used them up for breakfast one morning, necessitating another purchase. I also stocked up on bananas, some miscellaneous produce purchases, and chicken.
buttermilk $3.99
pasteurized eggs $3.79
clearance crackers $0.99
chicken tenders $2.49/lb
cilantro $0.34
cuties $2.88/3#bag
bananas $0.69/lb
Total spent: $29
Weekly Total: $253
Total for March: $875
So, there we are for the month. Not too shabby considering almost every meal has been eaten at home and we're going without sugar. (You can read more about our sugar fast here and here and how it's saving us money here.)
For those just tuning in, this is the post each week where I report real live grocery numbers. According to the most recent food cost data from the USDA says we should be spending between $1211 (thrifty) and $2422 (liberal) for a family of our size and composition. My current target is $900 for meals prepared and eaten at home. My husband eats some meals out for lunches on work days. We eat one meal out for date night as a couple. And our family eats about one meal out per week.
We are accommodating one child's nut allergies as well as one mom's aversion to processed foods. It's an interesting mix. An added wrinkle this month is that we are avoiding added sugar, allowing only honey and maple as sweeteners.
Since I'm currently working on another cookbook — buy the other two here — there are some ingredients that I am buying that I wouldn't necessarily be buying this particular week. I typically buy things at rock-bottom prices and stock up. But because recipe development calls for a more generous and varied pantry, I have to supplement from time to time. I'm reporting those purchases in this weekly post so it does jack up our monthly spending a little bit.
So, that's the report.
How was YOUR grocery shopping experience this week?