Make Saint Patrick's Day special with some good, good food. Try one of these recipes for your Irish feast!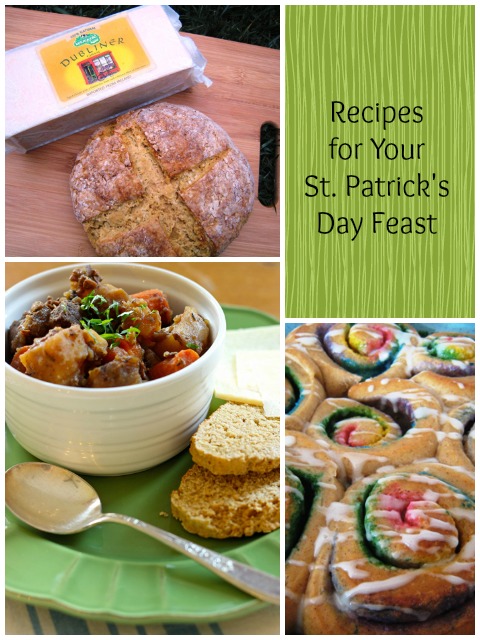 We're not Irish, nor do we pretend to be. But, based on pictures, we think the country is gorgeous. Based on history, we think that Saint Patrick was an amazing man, bring the truth of the gospel to the people of the Emerald Isle. We are even contemplating adding a stop to our European vacation.
Contrary to popular belief, corned beef and cabbage is NOT traditionally Irish. And I'm cool with that because corned beef is not my thing. But the following recipes are. Make one or three of them next Monday for supper and celebrate the luck o' the Irish.
Try one of these recipes for St. Patrick's Day!
Rainbow Cinnamon Rolls – Skip the Lucky Charms cereal and make these instead! These rolls are an adaptation of your typical cinnamon roll. But instead of a spicy filling, the spice is worked into the dough. And the dough, in turn, is rolled up with butter and colored sugars. If you want to make them a bit healthier, use a combination of whole wheat and unbleached flour.
Irish Stew – This stew is simple to make. It just takes a few minutes to brown the meat and saute onions on the stovetop, and then you finish it off in the crockpot. Delicious!
Guinness Beef Stew – This stew is similar to my traditional Irish Stew but is enhanced with a bottle of Guinness and a good dose of mushrooms. Those two riffs add amazing flavor to the dish, beefing up the richness and savory goodness.

Irish Soda Bread – This soda bread is super easy to mix up. No rising needed. Just mix up the dough, shape it, and bake. It is fantastic with stew and some Dubliner cheese.
Nanna's Apple Pie – If you don't have time to make a pie on St. Patrick's Day, you can easily do it ahead of time and freeze it unbaked. Just slip the pie into a gallon-size ziptop bag, remove the air, and place it in the freezer. To bake from frozen, place unwrapped frozen pie on a rimmed baking sheet and bake at 400 until juice is thick and bubbly, about 1 hour, 15 minutes. Cover edges with foil after 45 minutes baking to prevent burned edges. Also, if you love almonds, you'll love this version of Apple Pie with Almond Crumb Topping.
What do YOU have for Saint Patrick's Day?