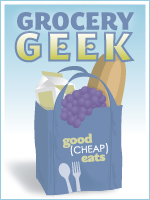 I know that February is a "short" month. I have no idea why three days seems to make such a difference, but it does. Regardless of fewer days of eating, I probably will spend our full allotment this month in terms of grocery money.
I was looking through the figures put forth by the USDA regarding average food costs for this post. I'm going with December's data since January's wasn't in yet. Predicted costs for our family could fall between $1211 (thrifty) and $2422 (liberal).
I remember one point last year, shooting for $900 a month, so I think I'm going to return to that target, especially with this cookbook to create. If we hit $1000 in a month due to recipe testing, I'm not going to feel bad.
That said, here's how shopping has gone down this month: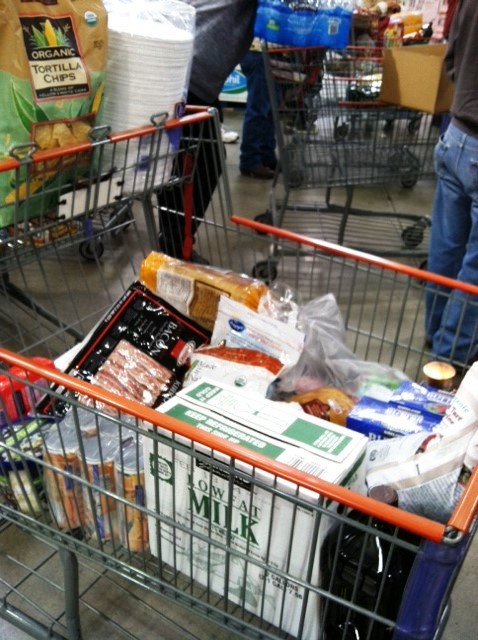 Costco
I braved Costco on Super Bowl Sunday. Oh, yes; yes, I did. I timed myself — just for kicks. I gathered all my purchases in 16 minutes. And then proceeded to wait another 16 minutes in line and in checking out.
I had my rebate check from last year, so I'm taking that $60 off the total of these groceries.
rbst-free milk
eggs
rbst-free butter
olive oil
salt
orange juice 6 for
bacon 4 pounds
sourdough bread 2 pound loaf
tortillas
chips
Tillamook cheese
blue cheese
nitrate-free turkey breast
frozen organic cherries
dried organic apricots
dried cranberries
organic ground beef
Total spent – $70
Trader Joes
Date night often includes a trip to Trader Joe's. Doesn't everyone's? Here's what we got:
bacon
pepperoni
almonds
cashews
bars
cereal
eggs
more milk (not pictured)
rice cakes
beans
bread
vinegar
flatbreads
Total spent – $79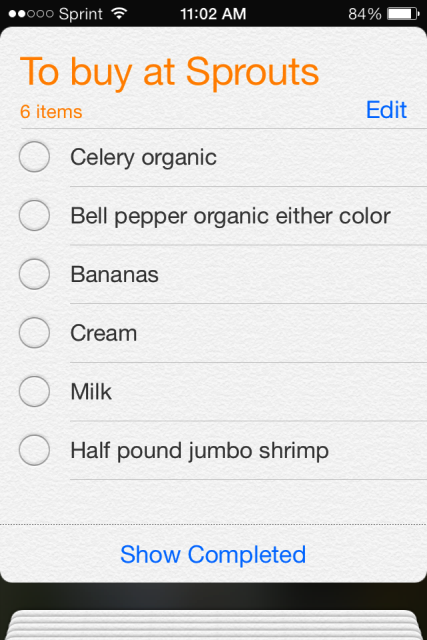 Sprouts
I sent Hubs this list from my phone. Most of the items were for recipe testing, except the bananas and milk. We always need bananas and milk. Sorry, no picture.
Total spent – $20
Target
More milk.
Total spent – $3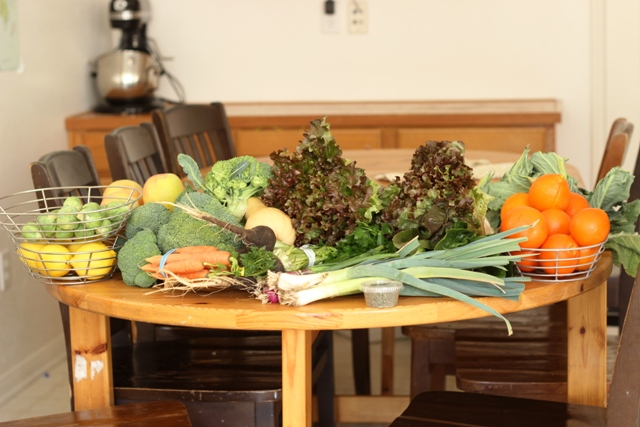 Produce box
Wednesday morning the produce box came bright and early. We got lots of winter crops: leeks, green onions, carrots, dried mint, parsley, brussels sprouts, lemons, apple, oranges, broccoli, butternut squash, lettuce, cauliflower, and chard.
Total spent – $44
February, to Date
So far this month I've spent $216.
I think it will be okay, but I really need to step things up on my cookbook project, so we'll see what next week holds. I ordered quite a few extra apples and oranges that were a good deal from Abundant Harvest Organics, so I know that will bump our bill up a bit. The kids have been asking that I make juice more often, and so there we are.
How are YOUR grocery geek adventures going?