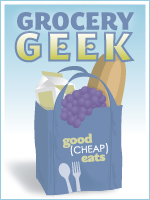 The weekend came and went last week and I didn't have time to post my Grocery Geek report. So, here's two weeks for the price of one. Since I didn't do much shopping since last week, it felt like we lived at the Hubbards' house today. I cleaned out the pantry and fridge earlier today. When FishPapa came home, he said he could hear an echo in the kitchen.
Tonight after our dinner date, we cruised by Ye Olde Trader Joe's for a refill. I'm working on some new printable meal plans to share over on Life as MOM as well as recipes for Cookbook #4. That means I bought a lot of stuff. Including three gallons of milk. Yikes! The kids are taking bets on how long that milk will last. I say we'll need more by Tuesday.
Anywho, here's the Grocery Geek report for the bulk of February:
Walmart
At Walmart I picked up the odds and ends I can't get at great prices elsewhere (rice and water chestnuts? Apparently) as well as the milk, eggs, and cream we needed.
Total spent: $15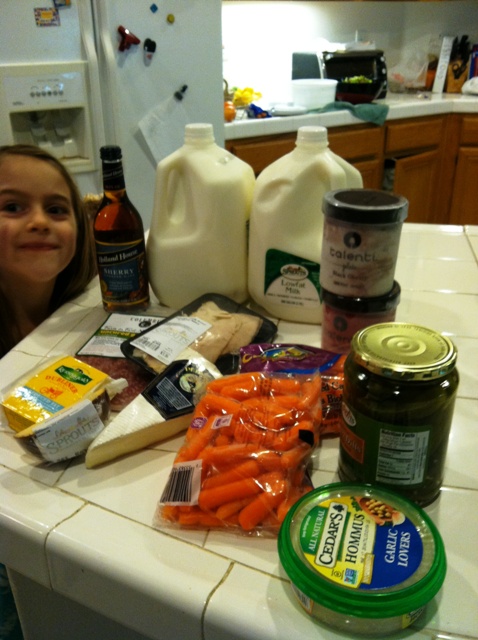 Sprouts
At Sprouts I grabbed a weird conglomeration of items. I'm not even sure why. I think so we could have some fun snacky foods.
Total spent: $42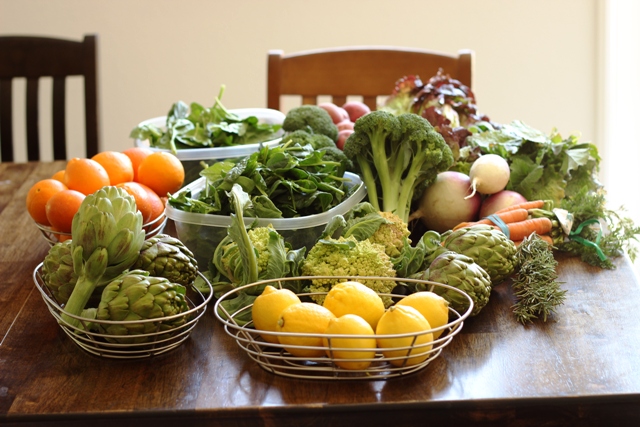 Abundant Harvest Organics
Despite our drought conditions, the box looked beautiful. I even got 20 pounds of apples and 10 pounds of oranges. The apples were mostly gone within the week — without baking anything. I just cannot buy enough apples.
I need to get in a better practice of prepping things to freeze on Wednesdays when the box comes. All too often, I have good intentions, but those don't get the crisper drawer emptied. I want to work on that….
Total spent: $74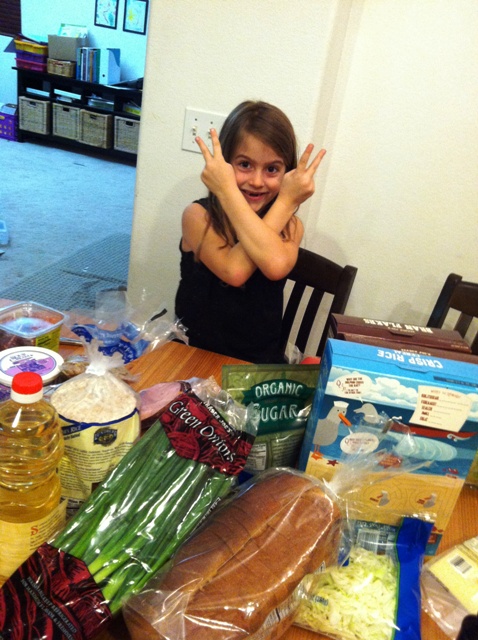 Trader Joe's
The day I went to Trader Joe's was a not-so-good, horrible, very bad day. I was too tired to take a picture, so the girls lined up the groceries and did their best. I didn't ask. They volunteered. Pretty cute all the same.
This trip involved quite a few ingredients for recipe testing. My parents came last weekend, so I had guinea pigs to test on.
Total spent: $140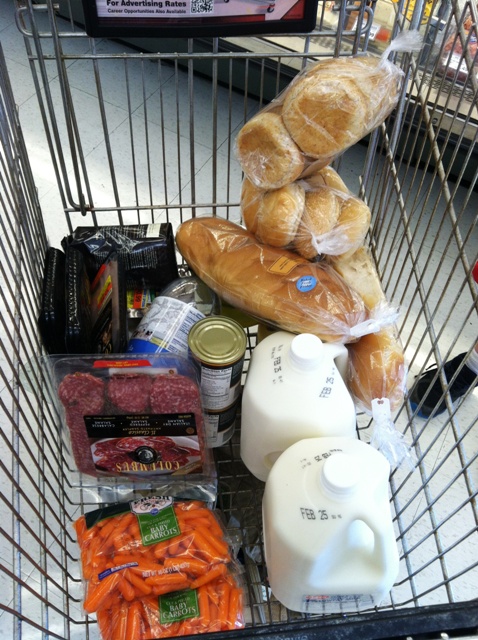 Ralphs
I went to Ralphs on a Friday afternoon, looking to grab fast food for our weekend lunches with my parents. The deli department did not disappoint as there were lots of great Columbus meats marked down to $2.50 a package with plenty of time to eat them before the "best by" date.
Total spent: $64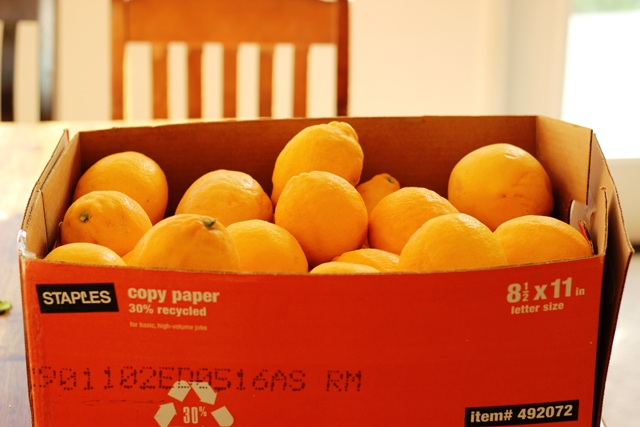 My dad's tree
My dad came on Saturday morning lugging two big boxes of lemons. He picked over 100 Meyer lemons off his 40+ year old tree. I juiced most of them. Look: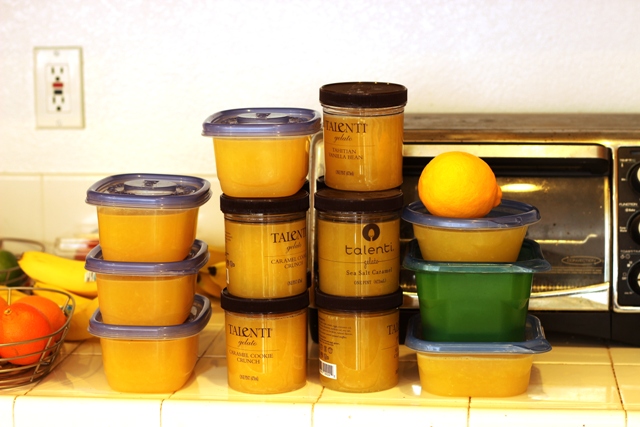 This is about 2/3 of the juice that went into our freezer this weekend. Yay for lemonade!
Total spent: $0
Trader Joe's
And here's our aforementioned date night haul from Trader Joe's. I'm doing lots of recipe testing this weekend, so I threw in a lot of stuff.
Total spent: $172
Two weeks totalled: $507
Monthly spending to date: $723
I feel like we've been living pretty high on the hog, so the fact that we're under the $900 budgeted is a good thing. I've got a ton of recipes that need testing, so hopefully $900 is a doable figure.
For those just tuning in, this is the post each week where I report real live grocery numbers. According to the most recent food cost data from the USDA says we should be spending between $1211 (thrifty) and $2422 (liberal) for a family of our size and composition. My current target is $900 for meals prepared and eaten at home. My husband eats some meals out for lunches on work days. We eat one meal out for date night as a couple. And our family eats about one meal out per week.
We are accommodating one child's nut allergies as well as one mom's aversion to processed foods. It's an interesting mix.
Since I'm currently working on another cookbook, there are some ingredients that I buy that I wouldn't necessarily be buying this particular week. I typically buy things at rock-bottom prices and stock up. But because recipe development calls for a more generous pantry, I have to supplement from time to time. I'm reporting most of those purchases in this weekly post so it does jack up our monthly spending a little bit.
That's the grocery geek report!