This month I'm doing a Pantry Challenge. For two weeks, I'm focusing on using up what we have to save money and time and to reduce waste.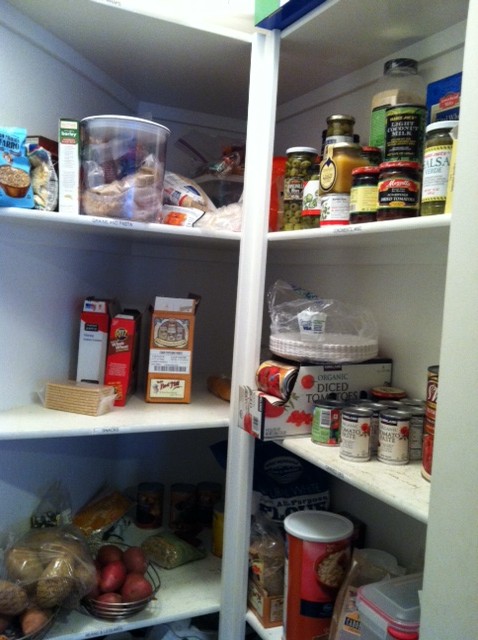 I am starting to feel like Old Mother Hubbard. I know that in the big scheme of the whole wide world, this is not true. We probably still have more actual food in our possession than many folks worldwide. I am thankful for that.
That said, the cupboards are getting bare. I am very close to being able to unplug the freezer. If push came to shove it all in the fridge freezer, I could. I've got meat thawing for tomorrow, so maybe….
The snack department is dwindling. Today I concocted what I'm calling Lemon Drop Scones. They were a quick and easy snack to prep this afternoon since there was nothing else. Cheese is almost gone. Crackers, sunbutter, and fruit are almost gone. It's gonna get interesting these next two days. We've got carrots, but they need to be peeled and cut. Work?!
For breakfast I cooked up a 10-grain cereal that Bob's Red Mill sent me to review. I really liked it. FishBoy9, the picky one, opted for standard oatmeal. He says the grain cereals taste like couscous of which he is not a fan. The others had one or the other. I didn't keep track.
Lunch was grilled cheese and tuna sandwiches as well as apples and leftovers.
For dinner the kids had pancakes and fruit salad while hubs and I had our date night. We brought home leftover pizza so the kids are thrilled to share that tomorrow.
I definitely need to go do some more baking so we can eek out the next two days. Wednesday cannot come fast enough!
Breakfast: Hot Cereal and Oatmeal

Lunch: Leftovers, Apples, Grilled Cheese Sandwiches, Tuna Sandwiches

Dinner: Pancakes and Fruit Salad for the kids, Date night for the parents

Snacks: Popcorn, Scones, Apples, Oranges
This post is a part of the Pantry Challenge where we're trying to save money on food by using up what we have. I'll be posting daily updates on how the challenge is going.