This month I'm doing a Pantry Challenge. For two weeks, I'm focusing on using up what we have to save money and time and to reduce waste.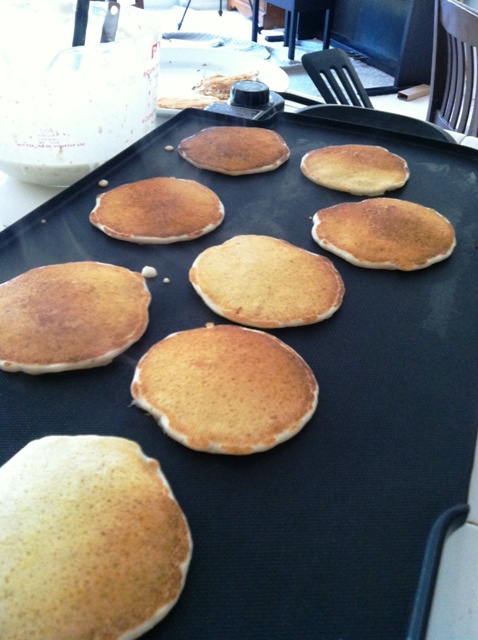 Today was our first day back to real life. And it was okay! I didn't pull myself out of bed quite as early as planned, but I did get to the gym this am which was good. I'm shooting for a 5 days at the gym, take weekends off kind of schedule. So far, so good since last Monday. Ha!
While I found another partial carton of eggs in the fridge, I still went ahead with my plan to use flax meal instead of eggs in the pancakes this morning. I also used dry milk. Between the two and mixing both with water, I think I miscalculated something. The pancakes were much thinner than normal. But, the kids gobbled them down anyway, dubbing them "pancrepes".
FishBoy16 sauteed some mushrooms and ham, too. That was yummy.
I thought I was pretty hot stuff that I had the seasoned beef thawed and the beans in the crockpots for dinner. Until I saw that I forgot to add water to one pot of beans. Several hours later. Ugh. I added the water and cooked them anyway. I think/hope the worst that could happen would be that they are gassy. We shall see, eh?
I cooked up all the pinto beans we had in the cupboard and will freeze the leftover beans once they're chilled. While it seems odd to be adding to the freezer supply, I'm doing it without spending money and also making the most of what we have. Having cooked beans on hand will be a great convenience as the pantry challenge marches on.
I had three crockpots going at once earlier as I put a bag of meatballs and some red sauce in a third pot for lunch. The kids had that along with pasta and spaghetti squash.
I used the leftover quinoa from Friday on a salad. The neighbors gave us some beautiful, ginormous avocados from their tree. They are a meal a piece. So good! Needless to say, I had half on my salad today.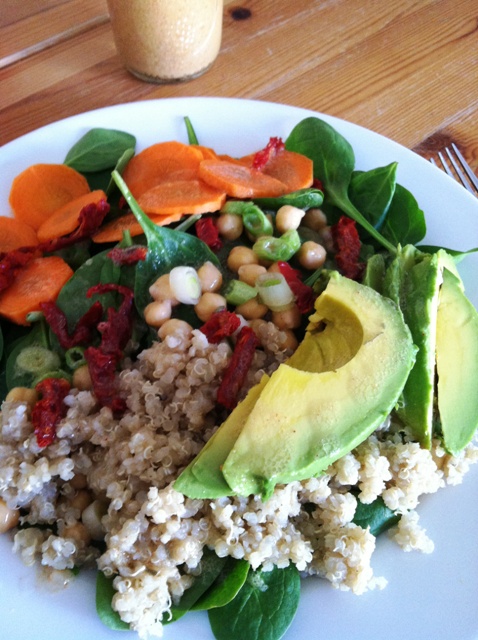 Dinner was burritos and quesadillas for the kids, which they love. Hubs and I switched date night to Mondays, so we headed out for a bit.
Overall, the challenge is going well. I'm being more mindful of what we have and how much I have left to spend. I'm not sure how to translate some of these things to next month when I need to do some hefty recipe testing, but I feel good about how I'm stewarding our resources right now.
I'm also trying to improve our family's diet, so this clean out is good for us. Gives us a clean slate without throwing things away.
The kids are thinking outside the box, too, and dreaming up things to cook. Today's creation was Homemade Chocolate Syrup so they can make iced mochas at home.
Breakfast: Pancakes and Milk, ham and mushrooms.

Lunch: Meatballs and Pasta with Red Sauce, Spaghetti Squash, Salad, Cookies for dessert

Dinner: Burritos and Quesdillas for kids; date night for parents.
This post is a part of the Pantry Challenge where we're trying to save money on food by using up what we have. I'll be posting daily updates on how the challenge is going.