This month I'm doing a Pantry Challenge. For two weeks, I'm focusing on using up what we have to save money and time and to reduce waste.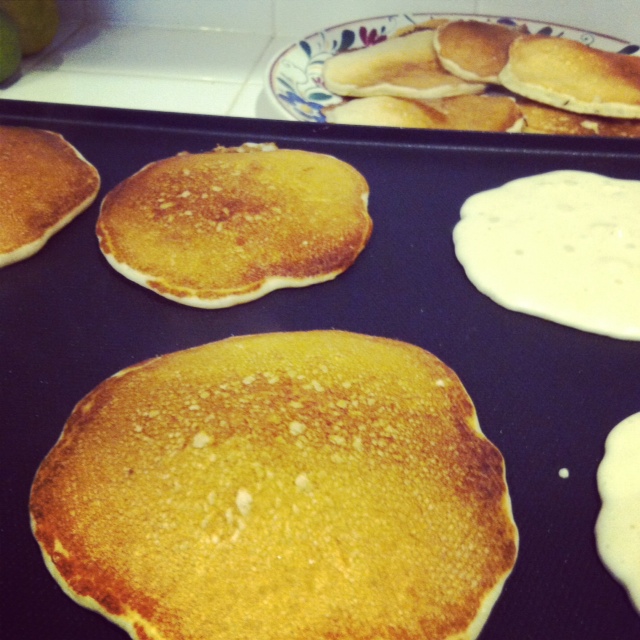 I love Saturdays. No school. No gym. And if hubs is working, I have a chance to work, too. I really have to figure out that work schedule thing. What's going on now is not going to get the assignments done.
Today was a lovely day foodwise. Breakfast: Pancakes from a mix I made late last month. My kids can go through a mega batch of pancakes all on their own, so I didn't eat that many. However, about 10:30 I ate leftover pizza on the sly.
Lunch: I pulled a fast one on my kids. There were two different kinds of beans in the fridge (black and pinto) and A LOT of that vegetable sauce from the other day. I combined them in a pot with a fair amount of chili powder and some taco meat. They gobbled this impromptu chili right up, unknowingly consuming a lot of eggplant and squash. Ha!
In the afternoon, I knew my people were going to want to snack on something. So I made Magic Bars. They really can be made with all kinds of crazy substitutions. I subbed coconut oil for the butter, used Ritz and graham crackers for the crust, and then topped it with coconut chips, chocolate chips, and slivered almonds as well as an organic condensed milk from Trader Joe's. I really like that condensed milk – only two ingredients! I hope they still have it when I go back. Last year it was a seasonal item.
Dinner was later as I was working in the office and not really sure of an idea. I ended up concocting a Lemon Marsala Chicken with Shallots and a new Rice Pilaf. They weren't fabulous together, but they worked individually. That means a little more tweaking and I'll have great recipes to share with you. Someday.
The milk is dwindling, so I know I need to stock up tomorrow. Only $26 left! My husband just about choked when I told him. But then I explained how we've saved $200 and the people in my midst started to perk up. They really haven't suffered one single bit, but they tease me that their freedom begins Wednesday night. This is in part because I'm resistant to eating out during a challenge.
Breakfast: Pancakes and fruit

Lunch: Chili with cheese, salsa, and sour cream

Dinner: Lemon Marsala Chicken with Shallots, Rice Pilaf

Snacks: leftover pizza, carrots, oranges, and Magic Bars
This post is a part of the Pantry Challenge where we're trying to save money on food by using up what we have. I'll be posting daily updates on how the challenge is going.