This month I'm doing a Pantry Challenge. For two weeks, I'm focusing on using up what we have to save money and time and to reduce waste.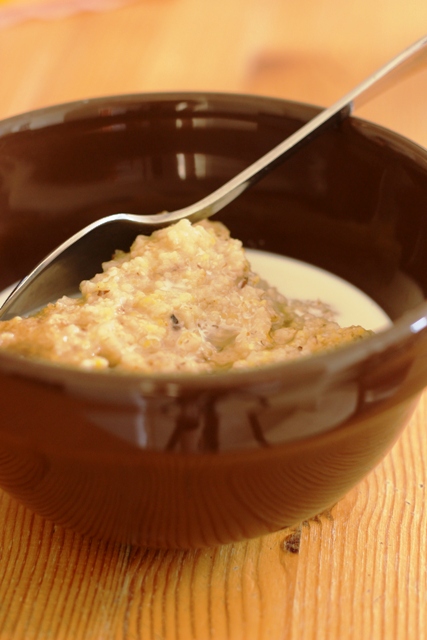 This is gonna have to be quick. There's a new episode of Marvel's Agents of SHIELD to watch tonight….
School days seem so incredibly busy, but we've done really well staying on task and being done at a decent time each afternoon. Still the day is full. FishBoy11 had his first karate class today. I think it was good.
This morning when I got home from the gym, I mixed up a big pot of 8-Grain Cereal that Bob's Red Mill sent us to try. I didn't like oatmeal until I was an adult, so part of me was skeptical that I would like it, but I loved it. The kids all ate it without complaint, so I think we're good to go.
I spent about an hour this morning in the kitchen prepping stuff: I got hot dog bun dough started in the bread machine for lunch. The kids had hot dogs for lunch while I had a couple sausages and the leftover roast vegetables from last night.
This morning I tossed two containers of Ratatouille from the freezer into the slow cooker with a can of tomatoes. That simmered most of the day, then I blended it with my immersion blender and tossed in a bag of meatballs from the freezer. That, with pasta and a salad was our dinner. The sauce was so full of veg, but no one complained.
Snacks included a banana cake that I made this morning (from a mix and two very ripe bananas) and a lot of fruit and baby carrots.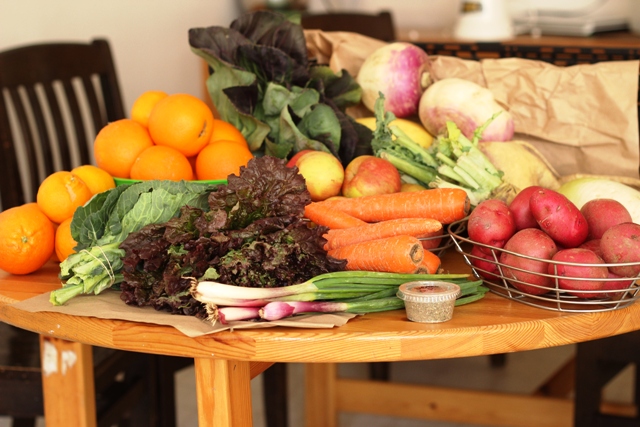 The produce box came today. It was kind of disappointing. There are many things that will be work to use up (collards, turnips, rutabagas). In their defense, the low temps (20's) have hurt the winter crops. Plus, I should have waited on going to the store yesterday. I bought oranges yesterday and we got a ton of oranges today.
Breakfast: Hot Cereal with Cream and Sugar

Snacks: oranges, carrots, Banana Cake

Lunch: Hot Dogs with Homemade Buns, Apple Slices, Carrots

Dinner: Spaghetti and Meatballs in Vegetable Sauce, Salad
This post is a part of the Pantry Challenge where we're trying to save money on food by using up what we have. I'll be posting daily updates on how the challenge is going.