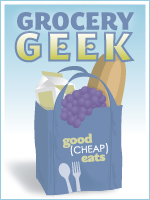 Late last week, the kids and I went on a restock mission. They had been such good sports during the pantry challenge and my rationing of eggs and milk, that I didn't want to make them wait longer. I even found some screaming deals on meat that I will need in recipe testing, so I stocked up.
We were set for the coming week, with a balance of some leftover to get us through the end of the month.
And then….
FishChick5 and FishBoy13 got sick on Friday. It seemed that it was just them who were ill. Until Tuesday when four more of us got sick. It's the head cold of the century.
And of course, we were out of things that I would consider "comfort foods", particularly orange juice. I went shopping even if it meant we would eat up our pantry savings. Part of me felt like a great big failure. Part of me realized that it was just part of a providential plan: I had savings to use up.
Here's how the shopping's shook down in the last ten days:
Sprouts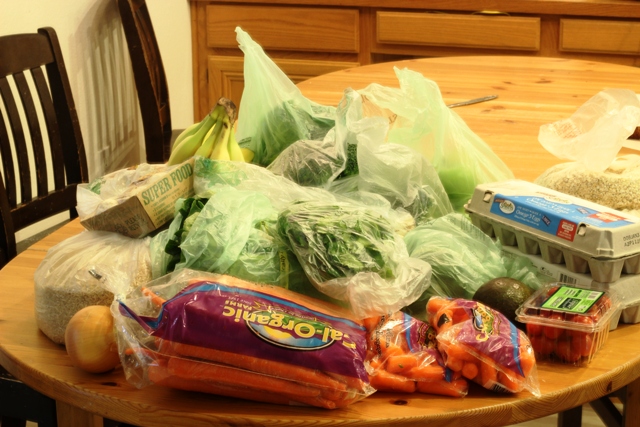 The littles and I went to Sprouts to catch double-ad day. Wednesdays, the ad from the previous week and the current week overlap so you can get all the deals. All the deals.
milk $3.29
cilantro $0.50
green onions $0.50
carrots $3.99/5#bag; 2 for $3 (baby)
tomatoes $2.50
xl avocado $1.88
onion $0.69/lb
lettuce $0.98 ea
brown rice – $0.69/lb
oats – $0.69/lb
bananas $0.69/lb
eggs $3.00/dozen
broccoli $0.33/lb
mushrooms $1.69
organic apples $1.48/lb
Total spent: $54
Costco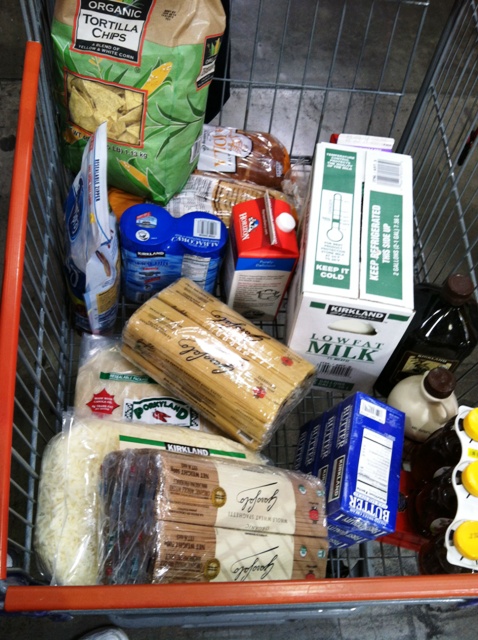 At Costco, we got mostly the basics that we were out of:
mozzarella cheese $12.89/5 pounds
spaghetti $9.39/9 pounds
butter $7.49/4 pounds
milk $6.35/2 gallons
cream $7.29/half-gallon
half and half $4.29/half-gallon
honey $11.69/3 bears
sourdough bread $3.39/2# loaf
tortillas $3.49/2 dozen
tuna $14.49/8 cans
craisins $7.79/big bag
tortilla chips $4.59/ginormous bag
olive oil $14.99/2 liters
maple syrup $12.99/liter
Obviously, many of these are bulk items that will last us several weeks, like the oil, pasta, honey, maple syrup. Others, like the bread and milk were gone in a blink of an eye.
Total spent: $155
Sprouts 2
Sprouts had a short term sale where they had boneless, skinless chicken breast on sale for $1.69. That's pretty much the lowest it goes here. I bought many packages for recipe development and testing that I know has to get done in the next couple months.
Total spent: $40
Ralphs
I headed to Ralphs for some odds and ends and a bunch of throat drops and vitamin C (not included in groceries). At this point only two kids were sick and they appeared to be on the mend,
Orange juice $2.99
coffee $5.99 after coupon
cheese $2.50
avocados $2
Total spent: $14
Trader Joe's
On date night we headed to TJ's for the basics and some things for a recipe I'm retesting.
milk $3.29
white whole wheat flour $2.99
bread $1.99/loaf
salsa verde $1.99
cheddar $2.99/12 ounce pkg
eggs $1.69/dozen
almonds $5.99
sunflower seed butter $4.99
black beans $0.89
Clif bars (for hubs) $0.99 each
baking powder $2.29
vinegar $1.99
Total spent: $60
Produce Box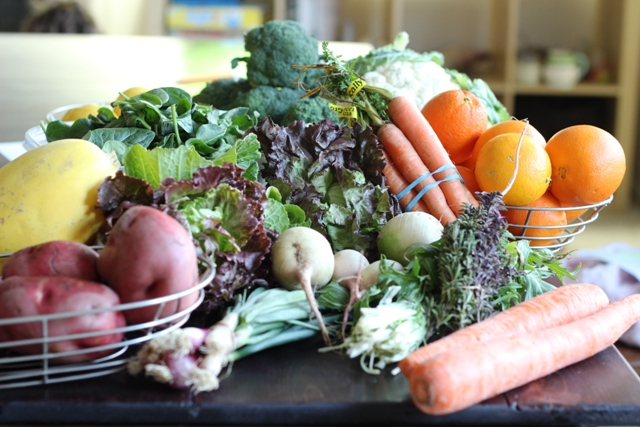 We get a regular delivery from Abundant Harvest Organics. I think this is our third winter or is it our fourth? Regardless, we love getting fresh from the farm produce.
This week's box held mostly things that we love and use: carrots, oranges, green onions, mizuna, watermelon radishes, broccoli, cauliflower, spinach, lettuce, potatoes, spaghetti squash, lemons, and savory.
I'm not sure what to do with the savory, but everything else is covered.
Total spent: $39
Sprouts 3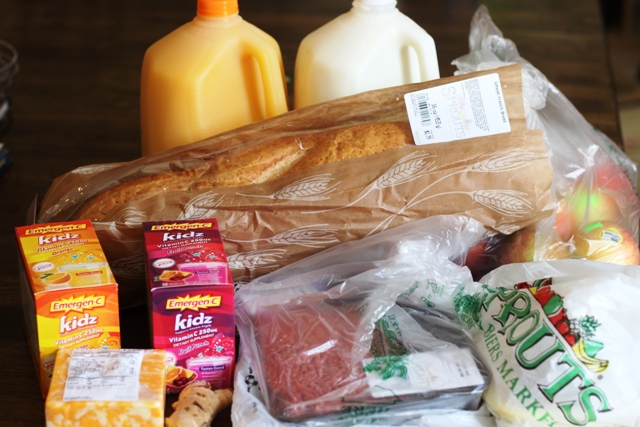 I went back to Sprouts again for more Vitamin C, orange juice, and ingredients for comfort foods. This was my low moment health-wise. I had no idea how much was left in the kitty. Quite frankly, I didn't care, either.
French bread – $1.79
milk – $3.29
orange juice $5.79
cheese $2.63
ground beef $4.99/pound (yes, really)
chicken tenders $2.99/pound
ginger root $2.99/pound
organic apples $1.69/pound
Total spent: $28
Spent in this shopping period: $390
Month to date: $591
I had originally planned to spend only $600 this month. I don't think that is going to happen, particularly with hubs' birthday next week. But, this isn't as horrible as I feared. Once I started spending blindly, I was sure that I had gone over. But, we won't be able to brag on a full $200 savings for the pantry challenge.
If I got well, it's possible we could eek out another 6 days of challenge behavior, but I just don't think I can do it. I'm sure we'll be under our regular budget though, so that's a good thing, right?