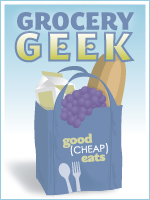 Today marks Day 11 of our Pantry Challenge. I've had to be a little creative with things, but we've still got some money left to last us to the 2-week mark. I've kept up on the inventory and made a meal plan for the next week.
I'd characterize the challenge this way: it makes me very thankful. I'm so thankful that I don't normally have to count how much milk and butter are left or fend kids off a certain ingredient because it's destined for a certain meal. Even though we eat very frugally in comparison to the national averages, we eat very well.
A fringe benefit of the challenge, one that I hadn't counted on, is thankfulness.
I did one shop this week and received the produce box. Here's how it went down:
Ralphs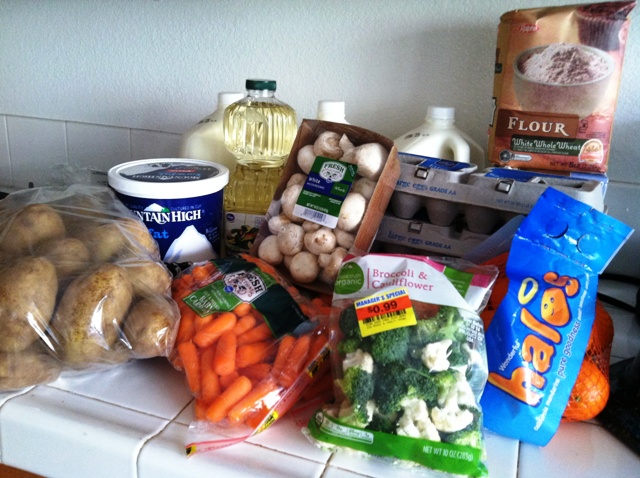 By Tuesday we were out of milk and eggs. I also got a $5 off $45 coupon at Ralphs so I decided to make the most of it. It was really hard to force myself to spend that much! But, I tried to prioritize and make sure I got things that would carry us through the challenge well.
potatoes $3.49
2# bags of carrots $2.49
organic broccoli and cauliflower $0.99 manager's special
GMO-free clementines $3.49 after coupon
mushrooms $3.50
eggs $1.99
milk $3.29
ginormous container of yogurt $5.49
sunflower oil $3.99
unbleached flour  $2.99
white whole wheat flour $3.99
I'm thrilled that Kroger, Ralph's mother company,  is working to expand their organic line. Ralphs has been my favorite store out of the true old school grocery stores for the last five years. And they're making it easier for me to fit better food into our budget. Love it.
Total spent: $44
Abundant Harvest Organics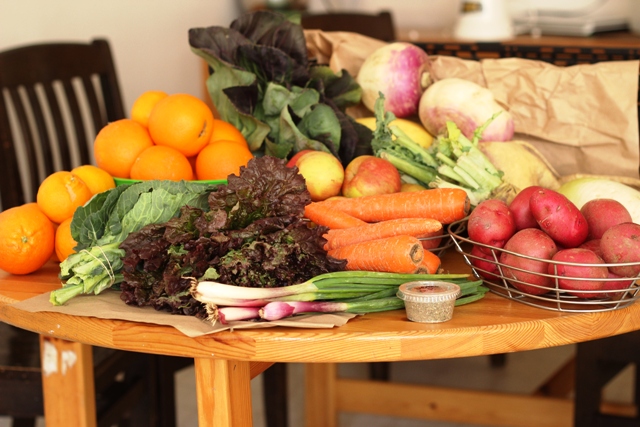 Due to lower temps, our produce box suppliers weren't able to include some of the crops they normally would have. The lettuce was sad and small. And honestly? I don't love collards, bok choy, rutabagas, and turnips. Yes, I know how to use them, but I don't love 'em.
The box also included herbs de provence, green onions, red leaf lettuce, clementines, oranges, apples, red potatoes, daikon, and spaghetti squash. I'm glad the box is on vacation next week because it will take me awhile to use up some of these items.
Total spent: $43
Spent this month to date: $174
This means that I have $26 to spend between now and the end of the challenge next Wednesday. I wrote out a meal plan for next week (will post tomorrow) and made a list of priorities to get from the store. We're cutting it close on the butter and milk, but we'll be fine. Then I'll have $400 to spend for the balance of the month. That will feel like we've hit the big time, won't it?
Edited to add: I spent $27 in the last days of the challenge, bringing our Challenge total to $201.