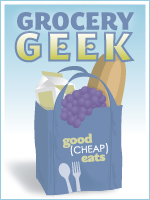 Hey y'all! Did you miss me? I know that the weekly Grocery Geek feature here is a favorite for many readers. Sorry for the long absence.
I took a hiatus for the fall months. There was so much on my plate that I really had to delegate more things around here. That meant hubs did more shopping, the kids did more unloading, and I did less of everything.
It seems like we've been in survival mode for months with book deadlines, bad backs, illness, and now holidays. There is always something, but I'm ready for things to slow down.
So, with the start of the month, here's the report on the shopping I did to feed our family of 8. Remember that there are two middle-aged adults, a 16-year old boy, a 13-year old boy, an 11-year old boy, a 9-year old boy, a 7-year old girl, and a 5-year old girl.
It's been awhile since I really crunched our grocery costs. Remember, survival mode? According to the USDA Food Cost Report for the year's average, the thrifty plan to feed our particular family, considering age and sex of each, should cost $1455.30.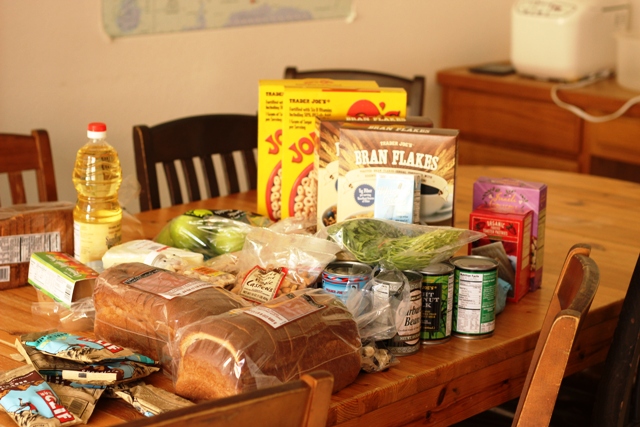 Trader Joes
I picked up some basics at Trader Joe's on Sunday.
whole wheat bread $1.99/loaf
Cliff Bars for hubs $0.99 ea
sunflower oil $3.99
cilantro $0.99
organic apples $2.49
canned light coconut milk $0.99 each
garbanzo beans $0.89
black beans $0.89
applesauce $1.99
crushed garlic $1.99
sundried tomatoes $1.99
cashews $6.99
almonds $3.69
vitamins $4.99
cabbage $1.29
Brie $3.71
pop tarts (feeling like a yes mom) $2.49
cereal bars $2.99
Israeli couscous $1.99
farro $1.79
cereal $1.99/box
whipping cream $1.29
baking powder $2.29
green onions $0.99
feta cheese $2.79
Total spent: $84
Target
For some reason the Target picture wasn't in focus. Picture three packages of Starbucks coffee ($6.99), 4 large cans of chopped green chiles ($0.67/can), large can of hominy ($1.37), and a package of hummus ($2.99).
Total spent: $26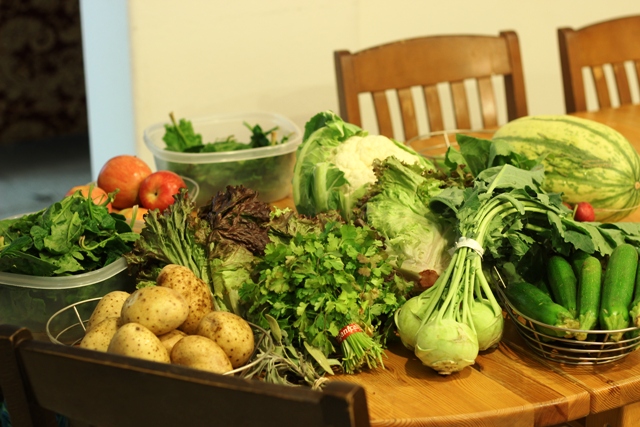 This week's box included: spinach, potatoes, apples, lettuce, cilantro, zucchini, cauliflower, kohlrabi, spaghetti squash, sage, collards, and radishes. I promptly gave the collards, radishes, and kohlrabi to my neighbor. We have a lot of veg backing up and I need to share the wealth.
Total spent $38
Ralphs
We splurged on sushi at Ralphs on Friday, just to try it. I also got a few other items. Sorry, no pic.
Total spent $12
Recipe Project
In the past, what I reported each week did not include some special ingredients that I bought for recipe testing. I am currently developing recipes for a large project due in June, so there are some things I just "have to buy", whether the price is right or not. I've debated back and forth with myself whether or not I should include those purchases in my weekly reports. My purpose in sharing my purchases is to give you examples of what things cost here in San Diego, how to buy them economically, and generally how to feed a large family on a budget. Would it be helpful for me to share those ingredient purchases as well? I'm not convinced that it would serve the purpose of this series, so I've waffled back and worth.
However, in the name of full disclosure, I'll share the dollar number, if not the picture and full run-down. This week I was too tired to take a picture. When I was at Ralphs, I found that a lot of ingredients for The Project were on manager's special, so I snatched them up to store in the freezer for now. Even if those items aren't already regular favorites — they are EXPERIMENTS — we will eat them instead of other meals on a particular night, so I'm going to include these in my reports.
Total spent on cookbook ingredients: $74
Spent this week: $234
If the USDA average costs are correct we are still well under our weekly allowance for grocery money. (We ate two meals out this week, totalling about $65.)