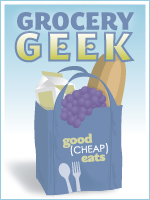 Sunday morning, I shuffled through my receipts to see how much I'd spent on groceries during our staycation. This involved hunting down some receipts from hubby's wallet as well. We paid cash, but it came from one big envelope of spending money instead of a designated grocery envelope. Oops.
The Target debacle is convincing me more and more to be more diligent about paying cash (as in greenbacks) for everything. No one can steal financial information if you pay in cash. Plus, you'll spend less. More on that at a different date. I digress….
Instead of hunting for receipts, I should have scrolled through my pictures. I found one shopping trip that I seemed to have forgotten: Christmas Dinner. Oops again. That means I overspent my $800 budget for the month. Oh well, I tried. Plus it was the holidays.
Anyway, here's how it shook down: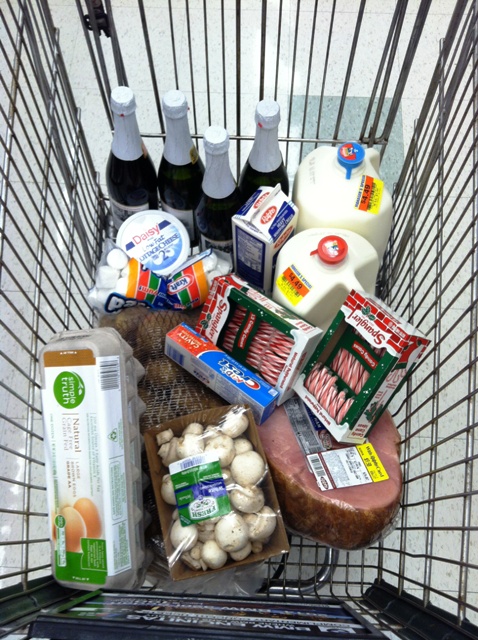 Ralphs
I got our Christmas groceries at Ralphs. I probably could have gotten a lot of this cheaper elsewhere, but I wasn't in the mood to shop around after spending all day Sunday carting children back and forth to Target so they could buy presents in secret. It was all good, but I was done with shopping.
whipping cream $5.99 (I know! Shoulda got it at Costco.)
cottage cheese $3.29
marshmallows $1.25
mushrooms $3.69
potatoes $2.99 (these were so green, it was a bummer. We had to peel half the potato away, making them expensive!)
cider $2.50
organic milk $4.49 (my people flipped that I spent that much. I was testing the waters. Ha!)
eggs $3.29
large ham $0.89/pound
candy canes $0.99
Total spent: $54
Sprouts
I have no recollection of going to Sprouts. Well, vaguely. But, I have no picture, so that must mean it didn't happen? I bought a bunch of meats to freeze and did a one-hour protein power cooking session. That was pretty cool.
rice $0.99/lb
carne asada $3.99/lb (it was way too sweet; we didn't like it. Therefore, rip off)
ground beef $2.99/lb
chicken tenders $1.99/lb or maybe $2.99, receipt doesn't say
cilantro $0.34
avocado $1.88
limes $0.25/each
onions $0.50/lb
Total spent: $64
Trader Joe's
Hubs went shopping with the girls on Christmas Eve, while I wrapped and the boys cleaned house. He brought home snacks, milk, and eggs. These items are pretty much all luxury items, but seeing as I had planned for us to go out to eat last week and we only did that once, I figure it's a win. We gained more than we lots, plus it was fun food.
crackers $2.29
chips $2.99
pita chips $1.99
bread $3.29
baguette $2.49
milk $3.19
eggs $1.49
jarlsberg $4.94
salami $2.99 to $3.99
hummus $1.99 to $3.49
cookies $4.49
Brie $4.15
string cheese $3.49
bars $0.99
Total spent: $59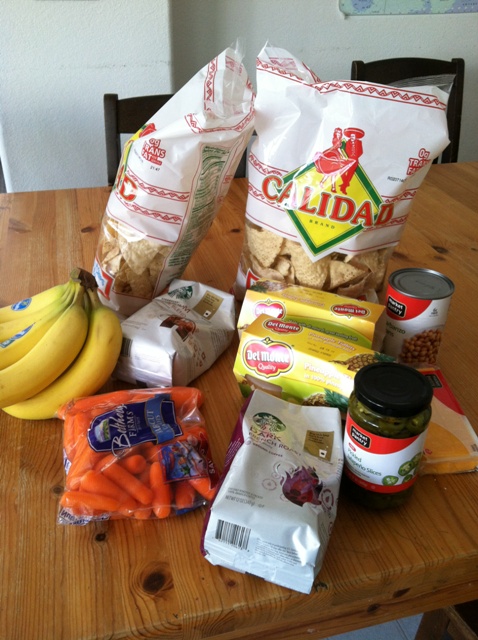 Target
I did after Christmas shopping and grabbed some random things from the grocery aisles. We went on an outing later that day, so I grabbed a few things to round out a picnic lunch, again avoiding eating out.
chips $1.99
bottled water for outings $4.70 (that includes the fee for the plastic bottles. Ouch!)
carrots $1.22
jalapenos $1.47
coffee $6.99
beans $0.72
fruit cups $2.29
bananas $0.24/each
cheese $2.49
Total spent: $35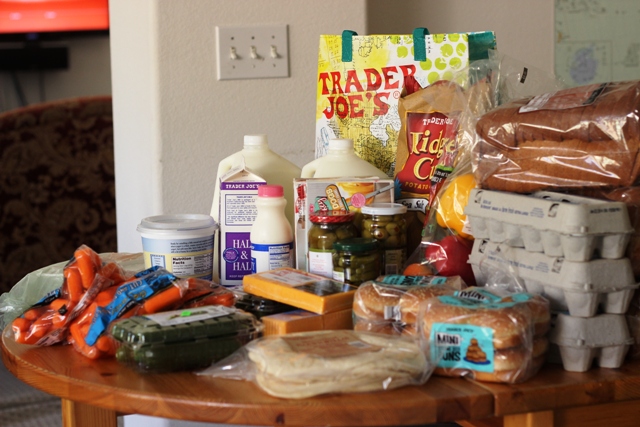 Trader Joe's
FishBoy13 went shopping with me. Each of the kids is going to prepare an hors'doeuvres for New Year's Eve (linked below). He hadn't made his decision yet, so he went along to choose on the spot. He chose corn dogs. Ha!
jalapenos $1.29 (for poppers)
chips $2.99 (to go with Homemade Onion Dip)
shrimp (for Shrimp Cocktail) $12.99
tortillas $2.69
milk $3.19
mini burger buns (for sliders) $1.49
bread $1.99
olives and pickles (for relish tray) $2.69 to $3.49
greek yogurt $4.99
organic cucumbers $2.49
organic carrots $1.49
half and half $2.19 (I know, Costco)
ground turkey $2.99/pound
cream $2.99
eggs $1.49
corn dogs too much
cheddar $5 for two packages
Total spent: $84
Weekly total: $296
Total spent for the month: $923
So, considering that at least $100 of that was for recipe testing, I guess we didn't do too badly, especially considering the holidays and not eating out much this week.
According to the USDA Food Cost Report for the year's average, the thrifty plan to feed our particular family, considering age and sex of each, should cost $1455.30. My target is $800. We went over that Target, but I feel okay with it since we have the cash.
As you know, the Pantry Challenge is coming up later this week. I'm still formulating my plan and my goals, but will be sharing those in a few days. I'll be posting daily what we eat and how we're working to save a little extra money in January.
How are YOU grocery geeking this week?