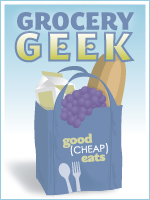 We spent the early part of this week in Santa Barbara, eating our friends' food. It was a little hard to get back into the swing of regular kitchen work. I'll be honest, when I'm overwhelmed with my work load, it's a little hard for me to think straight. That's been this week.
But, I did manage to hit double ad day at Sprouts on Wednesday. I bought some things for my next cookbook and some things just for us. But, it's all mish-mashed in the pictures, so I'll just give you the grand totals and we'll just call it good. Okay?
I put asterisks by those items so you'd know why in the world I was buying it. I also decided to annotate my price lists so that you can see what I consider a good versus okay versus stinky price.
Produce
Since I put the produce box on hold this week, I bought a fair amount of fruits and vegetables at Sprouts: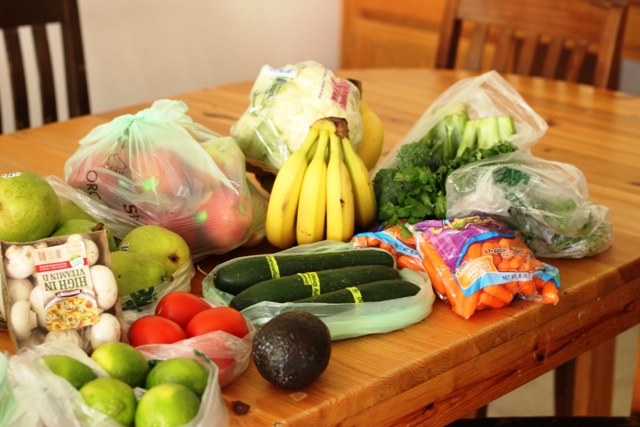 Here's how the pricing worked out on these things:
organic baby carrots $1.50/lb (my kids ate 2 lbs on our car ride, it's worth it)
D'anjou pears $0.88/lb (stock up price)
roma tomatoes $0.88/lb (okay)
bananas $0.67/lb (okay)
organic cucumbers $0.99 ea (okay)
x-large avocado $1.88 ea (okay)
limes 5/$1 (good)
broccoli crowns $0.49/lb (good)
cauliflower $0.49/lb (good)
organic Braeburn apples $0.99/lb (the best I've seen all year)
8 oz. mushrooms $1.69 (okay)
My total for produce only was $28.87, about ten dollars less than what I pay for the produce box. I didn't get all organic items or as much produce as I would in a normal box, but it would be interesting to compare the two and see what I could get for $38 at the store versus what's in the box.
Other stuff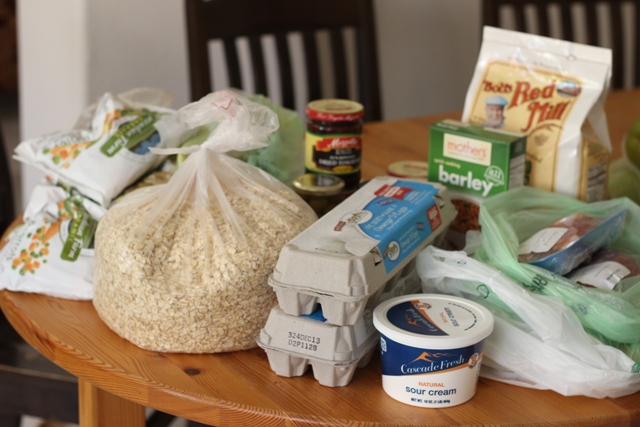 This is where I ended up getting some things because we needed them or they were great deals or I needed to buy them for recipe testing. Or all of the above.
rolled oats $0.69/lb (lowest price – stock up time)
RBST-free milk $3.29 (better to get at Costco, but Costco?! Ugh.)
eggs $2/dozen (okay)
sour cream $1.99 (okay)
Bob's Red Mill flour $3 (okay. In years past the price on this has been about $2.50)
frozen vegetables, from $2 to $2.79*
quick barley $1.59*
capote capers $1.79*
olives $1.99*
organic paprika $3.79
sundried tomatoes (a luxury, but it was being discontinued, so it was cheap!) $2.39/jar*
pork tenderloin $2.99/lb*
chicken breast and chicken tenders $1.99/lb
My grand total for all the groceries, whether cookbook or not, was $101.88.
Month to date total: $336
I guess we're doing pretty well this month so far. According to the USDA Food Cost Report for the year's average, the thrifty plan to feed our particular family, considering age and sex of each, should cost $1455.30. Even if we count the meals out we've eaten this month, we're doing okay.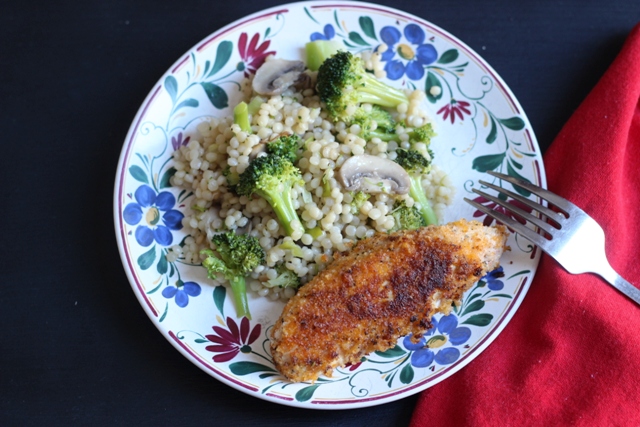 I really need to inventory the freezers and clean up the pantry. Things are getting a little out of hand. I'd love to do a big freezer cooking session — at least for breakfasts and lunches. I need to do that!
I have a large cookbook project due at the end of May, so many meals will be devoted to recipe development and retesting. But, we need quick meals for the other times.
One other thing to keep in mind as you look at our grocery spending…. we live, I mean, love to eat. This is a family hobby. We have no debts, no car payments, no cable, no fancy clothes, and no big expenses. If we splurge, we generally splurge on food or entertainment, so if you're comparing our costs to yours and think oh my word, please know that if food weren't a big deal around here, we might spend less.
As it is, I think we do an okay job of balancing quality, healthy foods with the high cost of living in San Diego. At least, I'm trying to.
So, there's the grocery geek report….