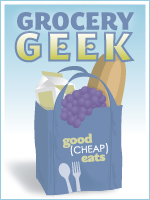 I did a lot of grocery shopping this past week. A lot. There were sales I didn't want to miss; we were out of key items from stores that are a bit of a drive from home; and I mostly want to stay OUT of the stores next week. I have a quick run to make this weekend for the ham and rib roast for Christmas and New Year's respectively, and of course, more MILK, but then, I hope to stay the heck home.
I'm writing next week's posts in advance, so that I can unplug for a week. I haven't done that in four years. Last Christmas Day I drafted a cookbook chapter. We were home and everyone was playing quietly, so I had no interruptions. Yeah, weird, I know.
All that to say, I hope to have a bonafide break, so the year end Grocery Geek report will be sometime in the following week.
Here's this week's report:
Ralphs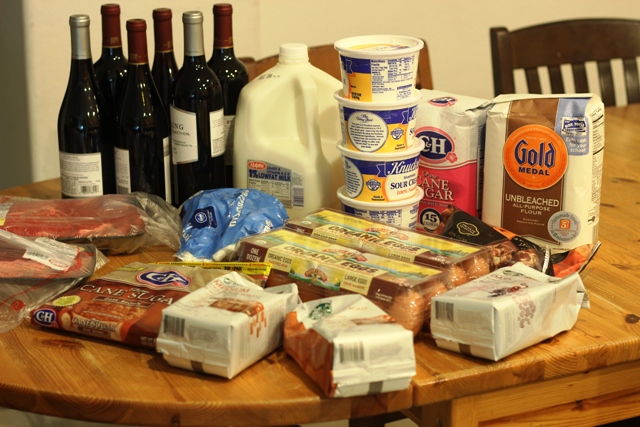 I don't typically post my wine purchases; those come out of our luxury/spending money fund, but this wine purchase from Ralphs last week was relevant. Sterling and BV Coastal Estates offered a special deal, not only did you get 30% off a purchase of six wines, but you also got $40 off your grocery bill. How could I pass that up?
Hubs and I both enjoy a glass of wine with dinner every once in awhile. The wine totaled just a little over $40, so it seemed like a no-brainer proposition. I decided to split my savings between the grocery fund and the luxury fund, giving a $20 savings to both.
I bought a few things on sale (like sour cream, baking ingredients, and beef), the other things like milk, eggs, and coffee were because those are staples in our house.
nbst-free sour cream $1.50/pint
frozen hashbrowns (not shown) $2.49 after coupons
marshmallows $1.00
rbst-free milk $3.29
nut-free chocolate chips $2.99
flour $2.00
sugar $2.00
organic eggs $4.49 (yes, really. I'm trying to make the switch to gmo-free eggs. Ugh)
ground turkey $2.99
chuck roast $2.99/lb
Total spent on groceries, after coupons, etc = $31
Costco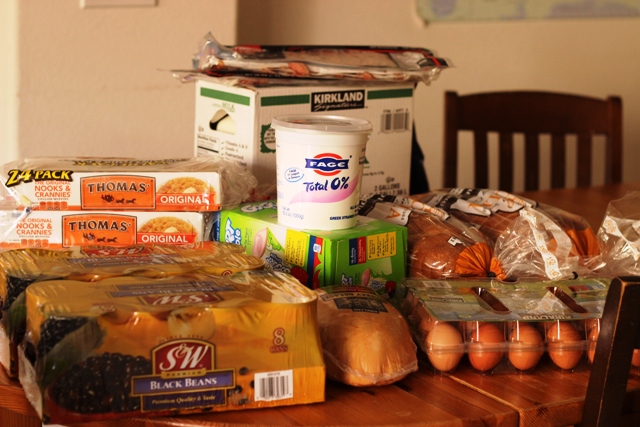 Hubs cruised by Costco for me, so I didn't have to do it. I can't remember what I desperately needed, but I forgot to add cheese to the list, so that will be a problem. He only came home with one extra thing: the go-gurts. I don't love the ingredients list, even if it is the "healthier" version, but my kids' week was made.
flour tortillas $3.49/2 dozens
Fage $4.99
sourdough bread $3.39
English muffins $6.79
organic eggs $7.29/18-count (looks like Ralphs'expensive eggs were cheaper! Who knew?)
large nitrate/nitrite-free turkey breast $16.12
Hormel cooked bacon $13.39 (don't knock it until you try it)
go-gurts $7.89
black beans $5.79/8-can pack
rbst-free milk $5.99/2 gallons
Total spent $101
Abundant Harvest Organics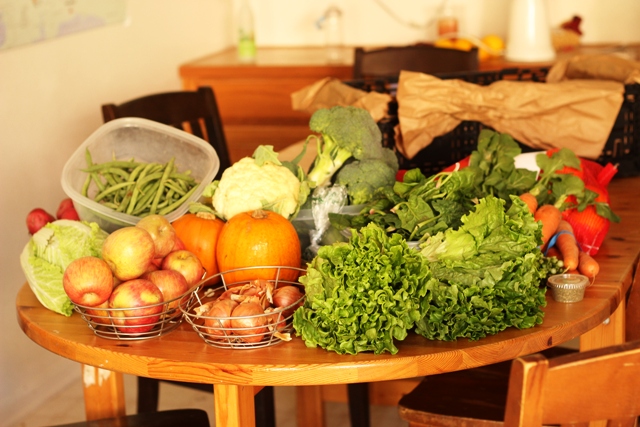 This was our last box for the month. It included potatoes, green beans, LOTS of broccoli, sugar pumpkins, shallots, lettuce, Napa cabbage, cauliflower, apples, oregano, carrots, spinach, daikon radish, and arugula. I ordered an add-on of oranges.
Total spent $53
Sprouts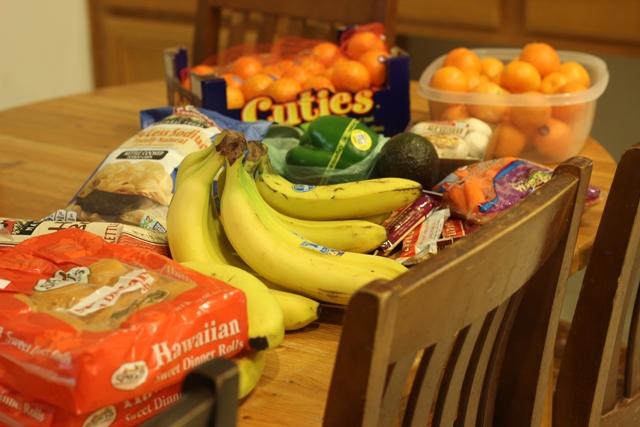 Sprouts is my go-to place for produce that doesn't come in the box, plus certain items they have on sale. I grabbed this:
hawaiian sweet rolls $2/pkg
cheddar cheese $2.99/lb
potato chips $1.50/bag
larabars $1.25 each
clementines $3.98/5#
xl avocados $1.88
organic baby carrots $1.50
organic green pepper $0.79
organic cucumbers $0.99
roma tomatoes $0.88/lb
mushrooms $1.69
bananas $0.48/lb
Total spent $43
Trader Joe's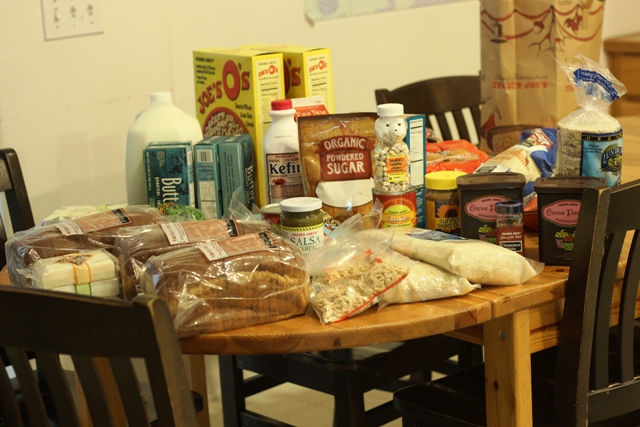 We had date night over by Trader Joe's. Since it's not close to home, it was worth going in. Those items in the back were my Sprouts purchases, so ignore those.
nbst-free butter $2.79/lb
cocoa $2.49
jasmine rice $3.29
basmati rice $2.99
powdered sugar $2.99
tomato sauce $1.49
snow and snap pease $2.29/$2.49
salsa verde $1.99
slivered almonds $3.69
cinnamon sticks $1.99
harvest bread $1.99
crackers $2.49
rice cakes $2.49
egg nog $2.69
kefir $2.99 (no, I'm not going to make it)
fun yogurts $2.99
sunflower seed butter $4.99
Joe's O's $1.99
cliff bars $.99/each
Total spent $113
My grand total for all the groceries, whether cookbook or not, was $291.
Month to date total: $627
According to the USDA Food Cost Report for the year's average, the thrifty plan to feed our particular family, considering age and sex of each, should cost $1455.30. My target is $800. We should be able to fall under that amount for the month.
As you know, the Pantry Challenge is coming up next month. I'll be honest, I'm not really looking forward to it. I also don't have a ginormous stockpile. But, I organized the big freezer this week, and I know we could go a few weeks with what we have, so it could be okay.
I'll be sharing about the Pantry Challenge near the end of the month, so stay tuned.