Looking for an easy cake recipe? This pumpkin cake comes together easily and quickly, just in time for fall.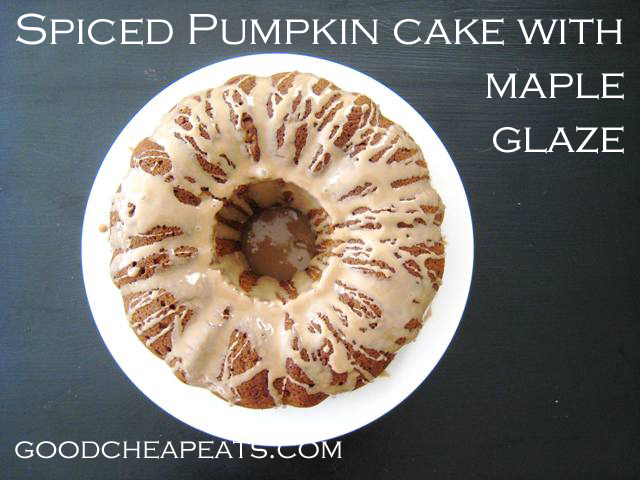 Fall is almost here! I know, it's still hot in lots of places. But, fall foods are heading our way. I've got the apples that the love of my life brought back, and I've been experimenting with pumpkin recipes. Yum!
The first new pumpkin item of the season got devoured pretty quickly at our house: Spiced Pumpkin Cake with Maple Glaze.
The cake comes together quickly and easily; so does the glaze. It's not overly sweet, so without the glaze, it's more like a bread. The glaze makes it dessert. Do with it what you will.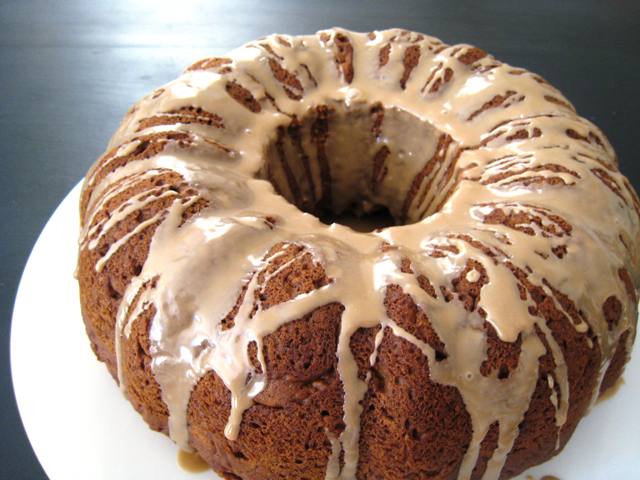 I love bundt pans. They remind me of the bake sales and the Cake Walk back at Rosedell Elementary where I attended first through sixth grades. I won a lemon cake once. I was thrilled.
Anyone you make this cake for will be thrilled, too.
Recipe: Spiced Pumpkin Cake with Maple Glaze
Ingredients
3/4 cup oil
1 cup dark brown sugar
2 eggs
15-ounce can pumpkin puree
1 teaspoon vanilla extract
3 cups unbleached, all-purpose flour
2 1/2 teaspoons baking powder
1 1/2 teaspoon baking soda
1 teaspoon salt
1 teaspoon ground cinnamon
1/2 teaspoon ground ginger
1/2 teaspoon ground nutmeg
1/4 teaspoon ground cloves
1 cup powdered sugar
1 tablespoon maple syrup
1 tablespoon milk
1/2 teaspoon maple extract
Instructions
Preheat the oven to 325&deg. Spray a bundt pan with non-stick cooking spray.
In a large mixing bowl, combine the oil and sugar. Beat in the eggs, one at a time. Mix in the pumpkin and vanilla extract.
Sift together the flour, baking soda, baking powder, salt, and spices. Add the dry ingredients to the pumpkin mixture, folding just until combined.
Spoon the batter into the prepared baking pan. Bake for 30 minutes or until a tester inserted comes out with a few crumbs attached.
Allow the cake to rest for 10 minutes and then remove it from the pan. Let it cool completely on a wire rack.
Meanwhile, combine the powdered sugar, maple syrup, milk, and maple extract. Drizzle the glaze over the cooled cake.
Preparation time: 10 minute(s)
Cooking time: 30 minute(s)
Number of servings (yield): 12