The following content is sponsored by FoodSaver The giveaway is now closed. Congrats to the winner: the3diggs@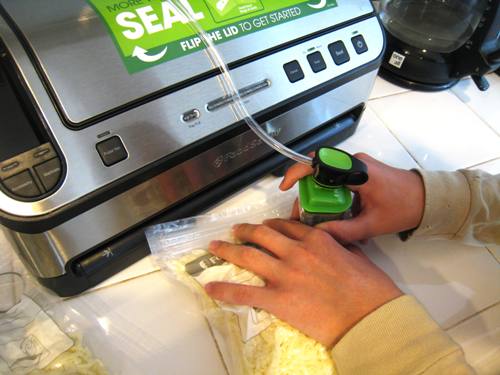 As you know by now, my life has been colored by freezer cooking for over 16 years now. I was very pregnant with our first child when I read the grandmother of all freezer cooking books and set out to fill my freezer. It became an addiction of sorts, this bulk cooking thing. Not only did I have a variety of meals to choose from, but I could also relax a bit at suppertime, knowing that most of the work was done for me.
Over the years, I've used a variety of freezer packaging, mostly ziptop freezer bags, aluminum foil, plastic containers with lids, and glass baking dishes with or without nice lids. I'd never had any experience with a food vacuum sealer, but I'd eyed them at Cabela's years ago. Earlier this summer, FoodSaver contacted me to see if I'd be interested in reviewing the new FoodSaver G3H Vacuum Sealer.
I've always been skeptical of these vacuum sealing machines. I'd heard complaints about liquids getting in the seal and plastic overuse. I wasn't convinced that it would be that useful.
Until now.
Consider the conversation I had with a friend yesterday:
Friend: You've never tried the FoodSaver before? My husband bought me one many years ago, but I don't use it very often. I love it, but it's hard to do liquids.Me: Well, this one has a drip tray to catch any juices that seem through.
Friend: Oh, mine doesn't have that.
Me: Yeah, and there are these bags with a liquid barrier cloth, like what they put at the bottom of a package of meat at the store. It catches the juices before they get to the seal.
Friend: Oh, they didn't have that when I got it.
Me: I really like the ziptop bags. I can put food in them, suck the air out with the machine, and then open the bag and continue using it for food storage if I haven't used up all the food inside.
Friend: Oh, that must be new.
Clearly, FoodSaver has been listening to folks' wants and desires and has worked to upgrade the product over the years since my friend first got her machine. Any objections she might have had with her older model are pretty much put to rest by this new baby.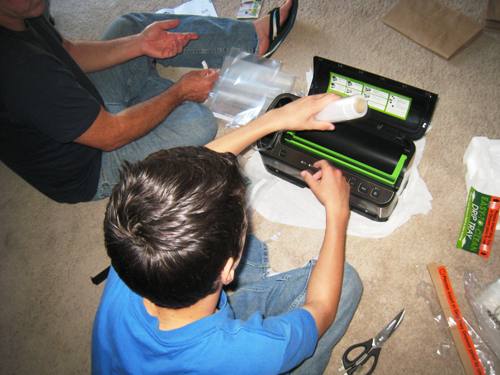 I'll admit, I was a little intimidated by the package when it first arrived. Thanks to my resident techies, hubs and FishBoy12, it was up and running in no time, even though I was up to my arms in freezer cooking the day we took it out of the box. The three of us had a great time exploring the different packaging and which foods would work best with what wrappers.
Here's just a bit of what I did this week with the latest model FoodSaver:
I'm most pleasantly surprised with the G3H Vacuum Sealer. The literature that came with it goes into great detail about the best ways to package things and how to watch out for food safety. I really appreciate that.
Honestly? I love this machine. Not only does it seal the food airtight to help prevent freezer burn, it packs food more tightly than I could so that I save space in the freezer.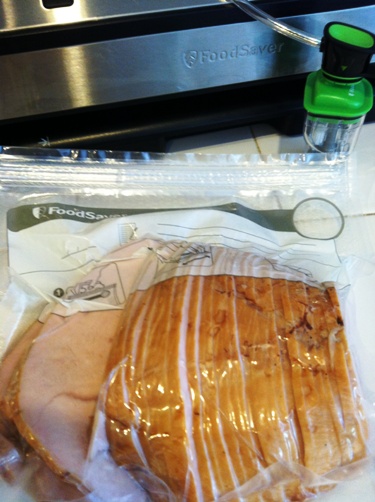 Obviously, I'm using this machine for freezer cooking, but it can also be used to help store food longer in the refrigerator. I really like this since we try to use ingredients with few preservatives. If I can package it well for refrigeration, like that turkey breast, it will last longer. It's a nitrate-free roasted turkey breast that is a great price at Costco, but I've often tossed the ends of it because it just loses its fresh color and smell.
The FoodSaver literature explains also how you can save money by not wasting food. While I haven't tested it myself, I can totally see this.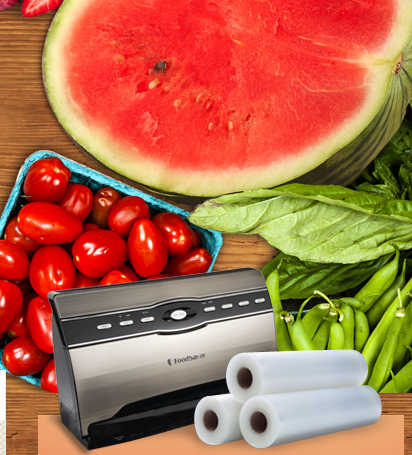 Host a FoodSaver Party
FoodSaver is currently looking for fans who are passionate about savoring the season's freshest ingredients to apply to host a $aver Sunday party in their home (think Tupperware party). As a host, fans will turn the chore of saving seasonal produce into a social event and introduce friends, family and co-workers to experience the FoodSaver difference.
$aver Sunday hosts will receive a party pack that contains everything you need to throw your own Save the Season party, including bags and accessories, coupons to distribute to guests, a Walmart giftcard for party supplies and favors, delicious seasonal recipes, party planning tips and more!
If you're interested in applying to be a host, head on over to the FoodSaver website!
Win a New FoodSaver G3H Vacuum Sealer
This week one Good Cheap Eats reader will win a  New FoodSaver G3H Vacuum Sealer from Food Saver.
To Enter:
Simply complete the information on this form. Please know that the information is only being gathered for the purposes of mailing you your prize in the event that you are chosen as the winner. This information will not be sold, traded, or given away.
This promotion is open until Sunday, August 11, at 8 pm PST and is limited to US residents, 18 years or older. Friends and family of Jessica Fisher and Good Cheap Eats are ineligible for entry. Please enter only once. The winners will be chosen randomly. This post will be updated with the beginning of the winner's email address. The prize for this promotion is provided by and shipped by FoodSaver and/or its representatives. Jessica Fisher and Good Cheap Eats will not be held responsible for unclaimed or undelivered prizes.
Disclosure: I have received financial compensation and review product from FoodSaver. All opinions are my own. I really am smitten with this new machine and am so glad that one of you will get to win one as well.