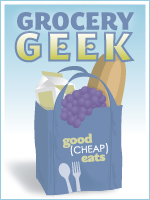 So the fridge is a little full. A little too full. I'm not sure why. I need to work on that this week.
I think it's because the produce is piling up. It's not that the box has been superb in quality or quantity. Unfortunately, it's been kinda sad looking these day. I just am not loving squash, eggplant, and peaches this summer. So, they pile up.
It's on my list this weekend to clean the fridge, organize the pantry, and use up all the zucchini and eggplant. Booyah!
Here's how I shopped this week for better or for worse:
Abundant Harvest Organics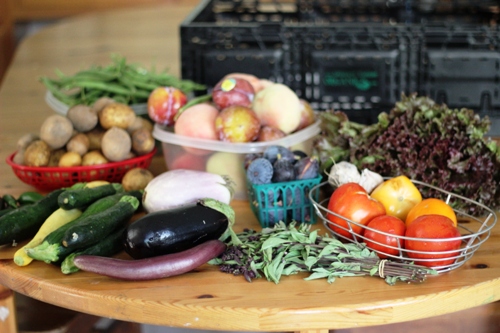 I didn't do a good job scheduling vacation weeks for the box this month, thus the aforementioned vegetable pileup. (You have to schedule a vacation week ten days in advance and I kept forgetting. It's on break next month and several weeks in September, too.)
I'm also thinking about giving up the box.The price is $43.30 after the delivery fee. I'm wondering how much sale produce I could buy for that price. Maybe I'll do some experiments on the upcoming vacation weeks and see what I can do.
As you can tell, Sprouts and Ralphs have some pretty good sales around here, especially on conventional produce. So, it's a question of the organics. I suppose I can do an experiment with the stores' organic prices, too. Hmmm….
Don't get me wrong. I love getting the box. But, the quality has been sad this summer. And wasting things that I don't like or can't use fast enough depresses me. I'll keep you posted, of course.
Total spent: $38 (that extra amount is for the delivery charge, not the food itself)
Trader Joe's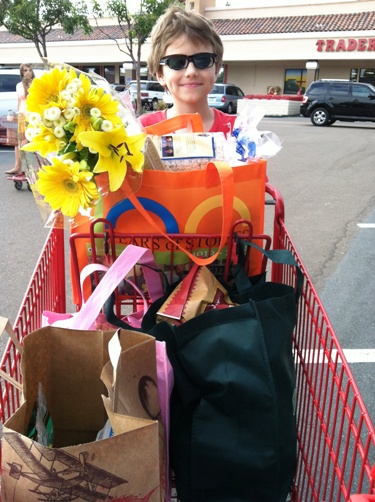 After his eye appointment this week, FishBoy11 and I went to Trader Joe's. Since I've got a lot on my plate in the next 45 days, I caved and bought some comfort/convenience foods, like chips and hummus, but it was generally the basics: nuts, fish, kiefer, salad greens, rice cakes, almond meal, bagels, sunbutter, bread, rice cakes, eggs, tuna, and crackers.
Total spent: $100
Sprouts
(not pictured)
At Sprouts I stocked up on the sale berries and yogurt.
Total spent: $20
Weekly expenditures: $158
Month-to-date expenses: $727
Yeah, we'll probably go over this month. I need to pay for milk, produce, and all those chickens I want to buy at Ralphs.