Ever wonder how to save money on food costs? A pantry challenge, cooking from what's already in your fridge, freezer, or pantry, is a a great way of eating on the cheap as well as wasting less.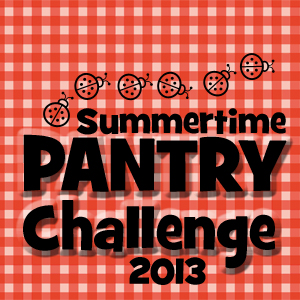 It's that time again. Pantry Challenge time! Are ya ready?
For years upon years, I've spent a couple months a year eating down the kitchen storage, also known as "cooking from the pantry." Each January and July, I spend time using up what we have and hopefully saving money in the process.
The challenge has taken several different forms over the years. You can read about past challenges here: Jan 11, July 11, Jan 12, July 12, Jan 13. Over the years I've also written a fair number of articles to illuminate the ideas of a pantry challenge.
What is a pantry challenge?
Here's my working definition of a pantry challenge:
A pantry challenge is a focused, but limited, time to "eat from the pantry." Rather than buying groceries like I normally would, I focus on what we already have. I build my menus around the ingredients I've been avoiding using. Sometimes this is something that is cumbersome to prepare or something that I've been too lazy to be creative with. The pantry challenge helps me deal with those items — and teaches me not to buy it again. I end up saving money because I'm not buying more; I'm using up what I've already purchased.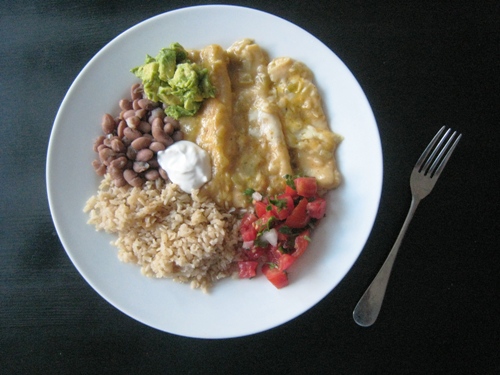 The meal pictured above? It was created from randomness last summer. The enchiladas are cheese and green chiles with a sauce I made myself with a few pantry staples. It was a meatless meal that cost a few bucks to feed our family. And it was delicious!
Over the years, I've seen great results from this bi-yearly practice. Not only do I save money on food, but I also use up things that are just annoying me in the freezer and cupboards.
A 2-Week Challenge
This summer, I'm doing it a little differently. I'm only going to do a 2-week challenge. Two weeks is long enough to make a dent in the grocery bill (I hope) without burning me out. Summer is full of outings and opportunities for "fun food" so I don't want to exasperate my family with too many experiments in the kitchen.
Are you along for the ride?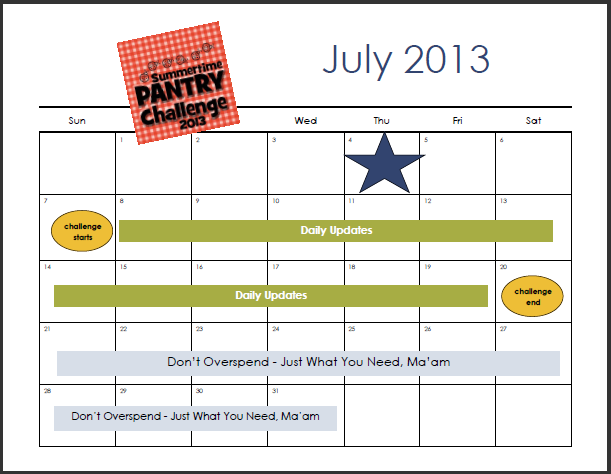 I'm starting on Sunday the 7th. July is a pretty long month, so it's going to be "a challenge" to cut our costs, especially when I've been used to overbuying. I'm hoping this will break me of that.
This week is business as usual, sort of. I assigned $200 for this week's grocery shopping since I'm doing some freezer cooking to make dinners easier. Then we'll spend two concentrated weeks, trying to keep costs down, using up what we have. I'm hoping to keep those weeks under $100. That means going without a produce box for a couple weeks this month — I chose weeks 1 and 3 to put the box on vacation. Then in the last two weeks, I'll hope that I can buy just what we need (or take advantage of sales if the numbers crunch appropriately).
Short story for the month:
week 1: $200
week 2: $100
week 3: $100
week 4: $150
week 5: $150 ($75 of this will count toward August's spending since the week ends in the middle)
Projected total for July: $625
I walked through Costco today, calculator in hand. I only bought the things that I really felt would add to our meals this week. I put back a few extras. It was still more than I thought it would be. But, I also bought olive oil and romano cheese that will last for two months. It will even out in the end, but hopefully, July won't take too much of the hit.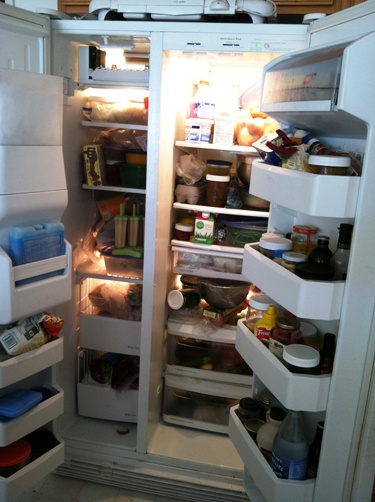 Make a goal for the pantry challenge.
Here are my plans for the challenge:
1. Spend less.
See above rational.
2. Get the refrigerator in order.
Our fridge and freezer have been unwieldy for several months. Too much randomness being shoved in there and then forgotten. I function better in the kitchen — and so does my family — when I can see white space in the side-by-side. I'd like to cut down on the randomness and clear some space.
3. Do some maintenance on the appliances.
Our refrigerator is now 11 years old. The deep freeze is about 16. Who knows when they will kick the bucket? I'd like to make sense of what's in them and make sure that they are running efficiently.
We finally yanked the soda pop shelves from the door of the fridge. We don't stock bottles, so they were useless. Hubs just ordered a new shelf to replace it so we can make better use of the door space. The ice maker shelf needs some help, too. Might be time for a replacement.
I bought an energy meter last year and then never really figured out how much energy the freezer was using. Time to get serious about that, too.
I'll be defrosting the deep freeze as well.
4. Get perspective on my shopping habits.
Years ago I got in the habit of buying as much as I could at one time so I wouldn't have to go back to the store. I had lots and lots of little people; I was in survival mode!
In theory, this is good. The fewer times you go to the store, the less money you spend. Inevitably, you buy something that you don't need and therefore, overspend. So, stay out of the stores.
I'm trying to figure out if I am truly buying what I need or if more impulse purchases are sneaking in. I'm hoping that this challenge will give me some perspective on that. Keeping my calculator in hand and paying careful attention to purchases should help.
So, there you have it. There are my goals for the pantry challenge. Feel free to join me or just watch from afar. Over the month, I'll be sharing different ideas on how to make your food storage work for you and save you money.
Are you in?