I'm taking the Pantry Challenge, eating what's in the fridge, freezer, and pantry, and trying to save some cash.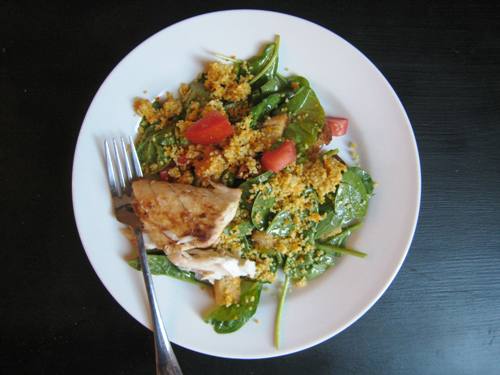 Today I spent two hours cleaning and sanitizing my kitchen thanks to an insect invasion. It wasn't pretty. It also wasn't what I planned to do. I had already been to the gym, but I got a second workout later.
The big boys were off at camp, so they couldn't help. The younger set, minus the youngest, did a great job filling their shoes. I hurried them through their breakfasts of cereal and bagels so they could help me.
As a reward we went to Subway and used the last of a gift card. We even got chips. Whoohoo.
For dinner, I mixed up CousCous and a Spinach Salad with Homemade Croutons. I served that with Cranberry-Zucchini Bread and White Sea Bass that FishPapa grilled. Super yum!
Breakfast: Cereal, Bagels
Lunch: Subway with Gift card
Dinner: White Sea Bass, CousCous, Spinach Salad, Homemade Croutons, Cranberry-Zucchini Bread
This post is a part of the Summertime Pantry Challenge where we're trying to save money on food by using up what we have. You can read more about it here.

I'll be posting daily updates on how the challenge is going. You can read through the PC archives here.