I'm taking the Pantry Challenge, eating what's in the fridge, freezer, and pantry, and trying to save some cash.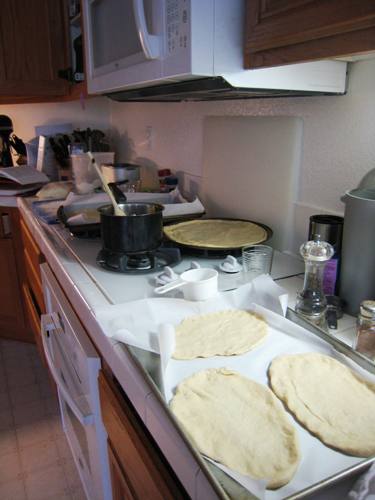 As I type, I'm prepping tonight's dinner. It's been a day. We canceled an out of town trip so that I could catch up on my writing projects. FishPapa has rode herd with the kids. I know he wanted to go get fun food, but he humored me and my Pantry Challenge.
So, I'm multitasking right now so that as soon as I hit publish, I can clock out for the day, enjoy Pizza Night with my people and watch another movie. Tonight it's The King's Speech.
Anywho, the day's meals were a little less exciting than many. If all the stores in the world closed tomorrow, we could still eek out an existence on random stuff in the pantry and our Emergency supply in the garage, but for most purposes, we're striking the bottom of the barrel.
Breakfast was Cinnamon Toast, Cereal, and Melon. No big.
Lunch? Two different, but similar chilis from the freezer thrown together in a pot with the leftover rice from the other day. Hubs thought it was a cookbook recipe and said it needed to go back to the drawing board. Ha! Once I explained it was using up what we had, he said, "Oh, it's fine for that."
The cornbread I made to go on the side was a major fail. I have no idea what happened. That WAS a cookbook recipe. Back to the drawing board….
Dinner is pizza: Homemade Dough, Homemade Sauce. Salad on the side. Yum! Can't wait!
Breakfast: Cinnamon Toast, Cereal, and Melon
Lunch: Chili, Cornbread
Dinner: Pizza Night
How did the Challenge go for YOU?
I've created a page for those of you still doing the challenge to leave comments and help each other out. I'll be reading and commenting as well. Go here for Pantry Challenge Chatter.
This post is a part of the Summertime Pantry Challenge where we're trying to save money on food by using up what we have. You can read more about it here.

I'll be posting daily updates on how the challenge is going. You can read through the PC archives here.