I'm taking the Pantry Challenge, eating what's in the fridge, freezer, and pantry, and trying to save some cash.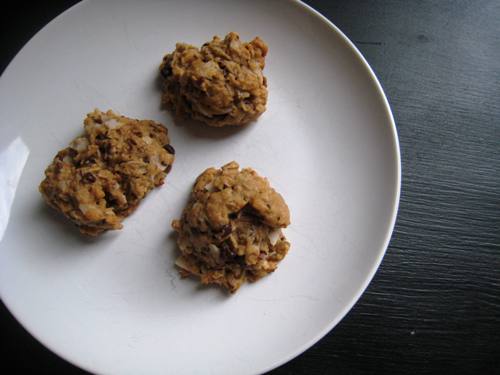 Today went by in a flash! I'm not really sure what all we did. My sister and I both had office work to do, so I guess that's what we did. The kids played amazingly well. And the food? Well, here's the report for Day Four:
Last night I made a big batch of granola as well as a batch of breakfast cookies. I took my regular recipe and then tweaked it. We're going to make it again tomorrow before I post it. I want to make a few changes.
Before the gym, I had a couple cookies and a glass of milk. I left a Breakfast Bar of cookies, yogurt and fruit for the gang. When I came home I had cottage cheese and melon as a post workout snack.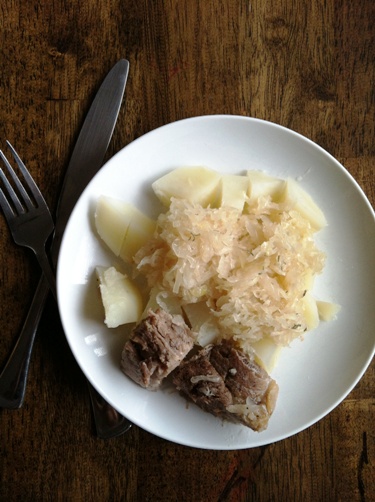 For lunch, we had a family favorite: Sauerkraut and Pork with Boiled Potatoes. I used the pork shoulder I had in the freezer. Worked really well. Janel and I grew up eating this dish, so it's fun to see if we can get our kids to like it. I'm 5/6ths of the way there. She's halfway.
No, sauerkraut is not photogenic, but it's really yummy.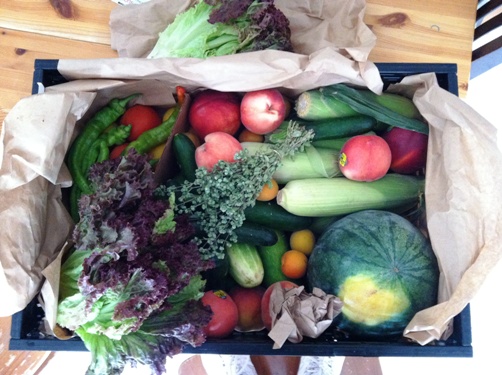 The produce box was beautiful. More on that on Saturday.
For dinner, I pulled out all the leftovers from last night's taco dinner. We made burritos with the beans, rice, taco meat, and other toppings.
Breakfast: Breakfast Bar with Granola and Breakfast Cookies
Lunch: Sauerkraut and Pork, Boiled Potatoes
Dinner: Burrito Bar with Mexican Rice, Seasoned Pinto Beans, and Seasoned Taco Meat
This post is a part of the Summertime Pantry Challenge where we're trying to save money on food by using up what we have. You can read more about it here.

I'll be posting daily updates on how the challenge is going. You can read through the PC archives here.