I'm taking the Pantry Challenge, eating what's in the fridge, freezer, and pantry, and trying to save some cash.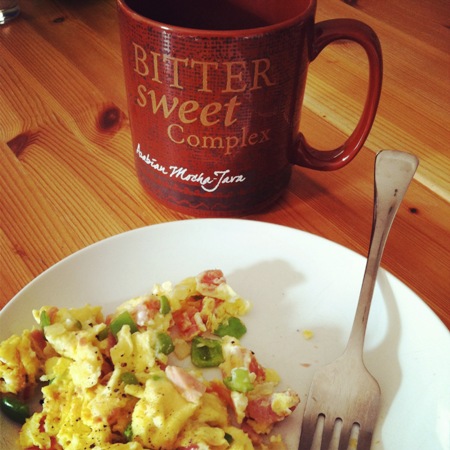 It's getting to be slim pickings around here. All the "easy food" is gone. The proteins have now dwindled to leftover Easter ham, a little ground meat, and a pot roast. Oh, and some shrimp and a single sausage. It could get interesting in the next couple days.
Today I had my sunbutter rice cake before the gym, followed by a Denver Scramble when I came home. I shared it with the only child awake. The others had canteloupe and muffins that FishBoy11 baked yesterday. (I also baked some Cranberry Zucchini Bread last night and a Chocolate Zucchini Cake.)
Some of the kids and I ran errands today while the bigger ones were at camp. We grabbed lunch with hubs, using some free gift cards we had. The campers had meatballs and french fries from the freezer.
For dinner, I made the kids Hamburger Gravy, rice, green beans, and leftover corn. Hubs and I had a date night. We swung by Trader Joe's and used the rest of the grocery money on cereal, milk, and apples.
Breakfast: Sunbutter Rice Cake, Denver Scramble, Mix and Match Muffins, Canteloupe
Lunch: Lunch out; Meatballs, French Fries
Dinner: Hamburger Gravy, Rice, Green Beans, Corn; Date night
How's the Challenge going for YOU?
This post is a part of the Summertime Pantry Challenge where we're trying to save money on food by using up what we have. You can read more about it here.

I'll be posting daily updates on how the challenge is going. You can read through the PC archives here.