I'm taking the Pantry Challenge, eating what's in the fridge, freezer, and pantry, and trying to save some cash.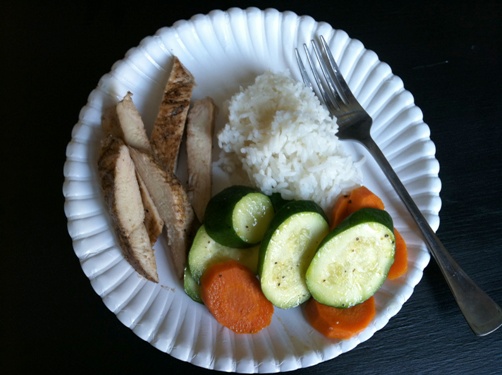 We enjoyed a fairly lazy day today. The gym doesn't open until nine on weekends, so I didn't need to get up too early. As it was, we were out of milk and bread and eggs, so I ran to Sprouts early to grab milk, eggs, and a few fruits and veg they had on special.
I had a bowl of cereal before I left for the gym. The kids made eggs on their own. Hubs did auto repair.
When I got back, I had an egg; FishPapa made himself oatmeal, and the kids had second breakfast of both. All that didn't wrap up until 11.
For lunch at 2 pm we grilled some chicken breasts and rounded it out with veggies and rice. And yes, we ate on paper plates. Better than take-out, I always say. 😉
After lunch I took the three younger kids to Trader Joe's, not the best move during a Pantry Challenge. I felt bad saying no to so many requests, but I had a good talk about it with FishBoy9 and he was (eventually) okay with it.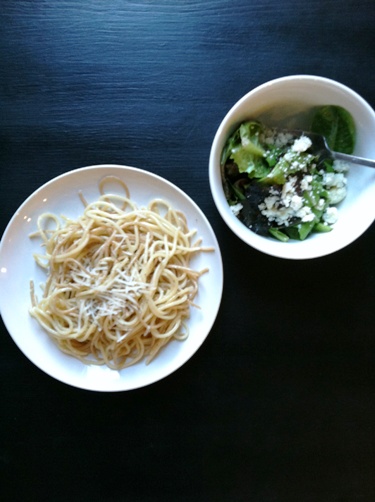 Dinner was late since every other meal was late. We had Alfredo noodles with a side salad. I didn't get around to baking, hoping to get there still tonight.
Breakfast: Cereal, Milk, Eggs, Oatmeal
Lunch: Grilled Chicken, Steamed Vegetables, Rice
Dinner: Alfredo Noodles, Salad
This post is a part of the Summertime Pantry Challenge where we're trying to save money on food by using up what we have. You can read more about it here.

I'll be posting daily updates on how the challenge is going. You can read through the PC archives here.