It's the start of a new week. Preparing a meal plan helps me save money and time. And that's a very good thing.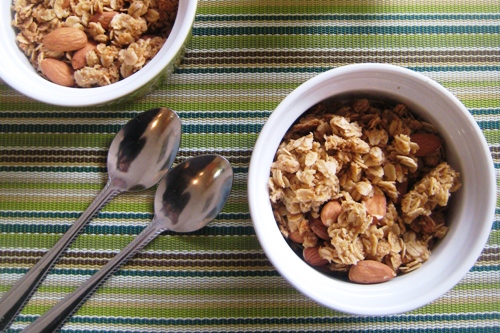 So, while the Pantry Challenge may be over, I'm still trying to make the most of what we have. I'm almost completely exhausted the bits of random in the freezer. I'm hoping to take care of those this week.
I'll confess, though, I'm getting a little panicky. I have a cookbook due in 70 days. I want to retest all those recipes one more time to be super sure that they are fab. That makes me want to go grocery shopping.
Instead, I've canvassed the recipes to find the ones* that will use what I already have. Maybe this week I can kill two birds with one stone.
Here's the meal plan for the week:
Sunday
Granola and Strawberries
Jambalaya Rice with Sausage and Shrimp, Cajun Green Beans, Banana Walnut Mini Muffins*
Monday
Cinnamon Oatmeal Coffeecake*
Ham and Cheese Noodle Bake, Pumpkin Onion Rolls, Sweet Cherry Crumble*
Chile Verde Pork Tacos*

Tuesday
SBJ Sandwiches, Veggie Dippers, Hummus
Black Bean Tostadas, Chipotle Salsa, Lemon Cream Pie*
Wednesday
Pumpkin Pancakes
Corn and Potato Chowder, Cloverleaf Rolls, Baked Apples
Quesadillas, Fruit Kabobs
Thursday
Homemade Shake and Bake Chicken, Alfredo Noodles, Seasoned Vegetable Stirfry
Grilled Fish, Rice, Vegetables
Friday
Soup from the freezer
Pasta with Roasted Tomato Sauce, Salad, Breadsticks
Saturday
That's our meal plan for the week. What's yours?