The following content is sponsored by Lifetime and A&E Television Networks. This post originally appeared on July 22, 2013. The giveaways are closed. Congrats to the winners: ariana8407@ and amylannon@
In the summer of 2010, I wrote a book proposal for a cookbook idea I'd been simmering for the previous year. I remember walking through Barnes and Noble with my husband one night, drifting toward the food section. I sat amongst the cookbooks and half cried, half prayed that my name would someday be on those shelves.
I was lucky/blessed enough to secure an agent in the fall, and within two weeks the book idea sold to a publisher. You could have knocked me over with a feather.
Last fall I had the opportunity to see my first cookbook on those very same B&N shelves. Wow. That was kind of unreal to see a long-kept dream come to fruition.
This next year has me working feverishly on more than one NEW cookbook, so I guess it wasn't just a flash in the pan. Hit me with a frying pan and call me a cookbook author.
How did I get here?
I can understand the anxiety and excitement involved in getting your idea out of your head and into the marketplace. It's no easy feat.
So, I find it fascinating to consider the new TV program that starts tonight on Lifetime.
I'm not a huge TV watcher, but when I do it's food reality shows. Just call me the Most Interesting Woman in the World. 😉
Seriously, I love watching food TV. So, I'm really curious about the new show starting tonight.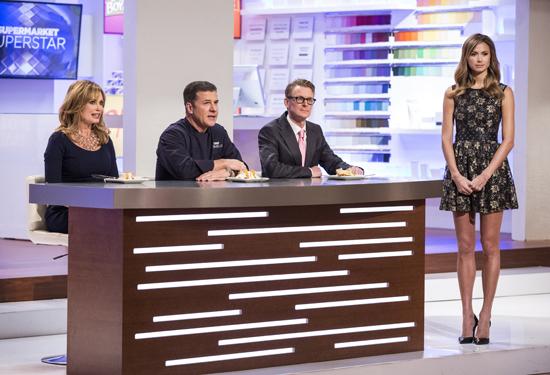 Premiering Monday, July 22, at 10 ET/PT and hosted by Stacy Keibler, "Supermarket Superstar" gives undiscovered food entrepreneurs their chance to shine among the big brands in the highly competitive food industry. Almost anyone can cook a great meal, but this is the first food competition show that provides a platform for individuals that can change the way millions of Americans shop and eat.
The premise of the show is to feature folks who have a packaged food idea that they want to bring to market. Seeing as there's a lot of junk on the market, I'd love to see product concepts that feature few ingredients, real foods, and honest labeling. Here's hoping there are folks out there with these great ideas.
Win a $50 Giftcard.
This week, A&E Television Networks is offering a $50 gift card giveaway to another Good Cheap Eater.
Last week you had a chance to win. This week you get a second chance to win. Two gift cards will be given away in total.
To Enter:
Simply complete the information on this form. Please know that the information is only being gathered for the purposes of mailing you your prize in the event that you are chosen as the winner. This information will not be sold, traded, or given away.
This promotion is open until Sunday, July 28, 2013 Sunday, August 4, at 8 pm PST and is limited to US residents, 18 years or older. Friends and family of Jessica Fisher and Good Cheap Eats are ineligible for entry. The winners will be chosen randomly. This post will be updated with the beginning of the winner's email address. The prize for this promotion is provided by and shipped by A&E Television Networks and/or its representatives. Jessica Fisher and Good Cheap Eats will not be held responsible for unclaimed or undelivered prizes.
Disclosure: I have received promotional consideration from A&E Television Networks, LLC ("AETN") and/or AETN's third-party advertisers. All opinions are my own.