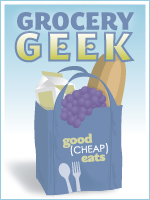 So, this ends the first official week of the Pantry Challenge. However, in order not to invalidate the challenge, I needed to put governors on the other weeks in the month. You'll remember that I divided the month up and gave this week a $100 allowance.
I realized that I go to the store many times in the week, so it was okay to wean myself from the "we might need X" syndrome. There were several items that I bought last week that weren't on a particular stock up sale, but I bought them "just in case" and didn't end up using them.
I guess that's how I end up with randomness in my food storage.
Here's how the week's shopping played out:
Ralphs
Like last week and like the days when money was super tight, I walked the stores with a calculator. This was such an eye-opening experience. Usually, I just keep mental notes. This week I even weighed my produce.
Interestingly enough, Ralphs scales didn't jive. I paid more at the check stand than the scales in produce predicted. It wasn't grossly over, but I realized this could make or break someone's budget. The produce scale could very well have been wrong, but it probably shouldn't be. Why have it otherwise?
Anyway, here's what I bought:
milk $2.99/gallon
sour cream $1.99/16 oz
Peets Coffee $5.99 after coupon
eggs $1.99/dozen
organic kale $0.99/bunch
mushrooms $0.52
Total spent $17.46
Sprouts
I knew what was coming in the produce box later in the week, and I had a detailed meal plan for the week, so I was fairly specific in my purchases at Sprouts. I wanted to buy more avocados and more canteloupe, but we didn't really need them.
cottage cheese $2.00/16 oz.
yogurt $2.50/32 oz.
cheddar cheese $2.99/lb
organic cereal FREE after coupon
potatoes $1.99/5lb
broccoli crowns $0.88/lb
melons $0.88/ea
cilantro $0.33/ea
seedless grapes that weren't really seedless (boo) $0.58/lb
extra large avocados $1.50/ea
organic carrots $3.99/5lb bag
onions $0.50/lb
Total spent $23.38
Ralphs, again
We ran out of eggs. Again. So, I went back to Ralphs, hoping for markdowns. But, no.
egggs $1.99/dozen
canned tomatoes $0.79
bananas $0.69/lb
limes 3/$1
Total spent $7.89
Abundant Harvest Organics
The AHO produce box this week held the following:
peaches
nectarines
eggplants
apricots
sweet frying peppers
tomatoes
lettuce
melon
zucchini
cucumbers
corn
marjoram
Total spent $38
Walmart
Out of milk and bananas, I headed to Walmart with a few dollars left to go.
pepperoni (for pizza night!) $2.98
butter $3.18
bananas $0.59/lb
milk $2.80
Walmart's where it's at, apparently, for milk and bananas.
Total spent: $12.96
That brings the week's total to $99.69. In under budget! Yay!
Last week I spent $200.33, so the month's total to date is $300.02, almost on schedule. I have another $100 week next week. I'm not sure how that will go since we're running out of proteins.
Since hubs and I are both trying to watch our diets, proteins are taking priority over carbs, but they're more expensive. Gah! It should be interesting, to say the least….
Weekly total $99.69
Month to date total $300.02