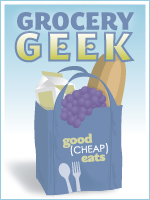 This rounds out the grocery shopping for the month of July. As you know, we took two weeks to try to chip away at the supplies. I think we did pretty well.
I was able to completely empty the deep freeze, transfer what was left to the refrigerator, and then thaw it out. It's sitting empty for the moment until I get a chance to fill it with freezer meals.
Or rather, my husband and boys have a chance to fill it. They're game to do it, we just need to make the plans.
So, here's how the grocery shopping ended this month: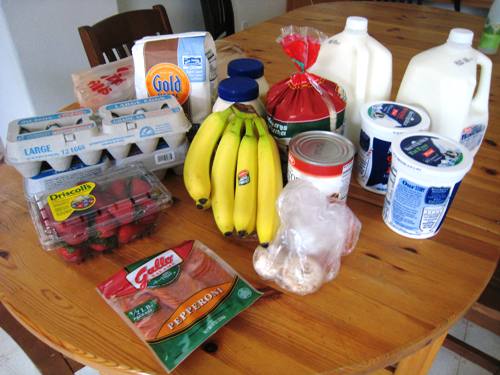 Ralphs
At Ralphs I picked up eggs, milk, some produce, pepperoni, yogurt, tortillas, and yes, mayonnaise. Best Foods (Hellman's) was on sale.
And even though I can make my own mayonnaise, I found that we weren't able to use even those small batches up before they went bad. So, we've gone back to the good old standby for now. But, I'm glad that I know how to make the real deal!
Total spent: $39.93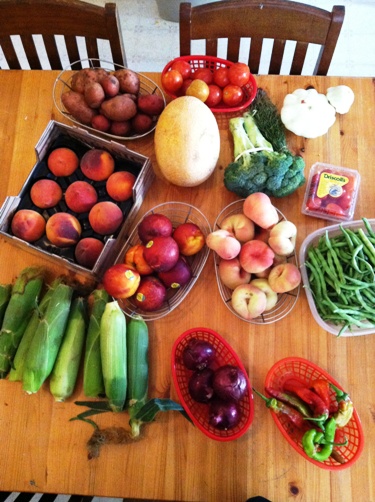 Abundant Harvest Organics
I only purchased two produce boxes this month. This is the second. It had peppers, corn, onions, melon, beans, peaches, nectarines, broccoli, squash, tomatoes, and rosemary.
Total spent: $38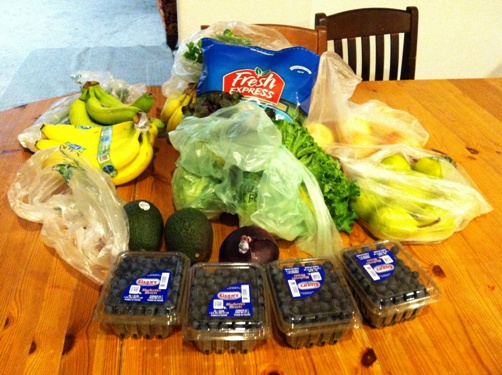 Sprouts
At Sprouts I grabbed lots of fresh produce, including blueberries that were on a great sale.
Total spent: $25.08
Ralphs again
Sorry, no picture. I went back at the end of the ten days for coffee, chicken, milk, eggs, oh and ice cream. 😉
Total spent: $48.34
Weekly/10day total = $151.35
Monthly total= $546.22
Let's look at the year as a whole:
January $451
February $1028
March $954
April $799
May $798
June $907
July $546
Monthly average = $783.29
For those of you just tuning in, my monthly target is $800/month.
$783.28 is what we're currently averaging. That's what we're spending on regular meals on average each month. Keep in mind: We have a separate dining out budget. Toiletries and cleaning supplies don't go toward this total. I don't count the delivery charge for the produce box, either. (And sometimes when I develop recipes for cookbooks or other projects, I don't use grocery money to do that. What if it's a bomb?)
We're feeding eight people, aged 4, 6, 9, 11, 12, 16, 41, and 50. We live in San Diego. And we don't buy much in the way of processed foods. My youngest daughter is allergic to peanuts.