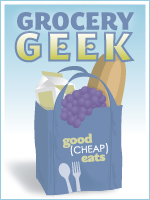 So, this is Pantry Challenge month. I've already established some of my goals for the challenge and my particular budget.
I had to do some serious thinking about that whole budget thing. If I was going to do the challenge for only two weeks, it seems I had to make rules for the other two and a half weeks in the month. It makes no sense to scrimp for two weeks but then splurge in the balance of the month. That would undo my hard work.
By creating a weekly budget for the whole month, I found that I could have a plan for grocery shopping each week. That, my friends, has been hard. It makes it really a pantry challenge MONTH, instead of two weeks after all.
By Wednesday, the allotted $200 grocery money was gone. And there was an egg shortage afoot. I haven't found eggs on clearance lately, so that has made my egg stock less than we all like it. The kids and I talked about it when they couldn't understand my running out for more. We'll just make do. And we have. And it's been fine.
Here's how we shopped this week: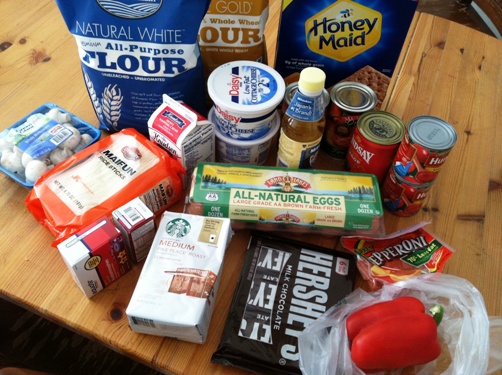 Walmart
At Walmart I bought some regular staples. Turns out I didn't "need" them all this week (like the smores fixings and Asian ingredients), which means that I could have diverted some of those funds toward eggs. Live and learn, eh?
Total spent: $44.60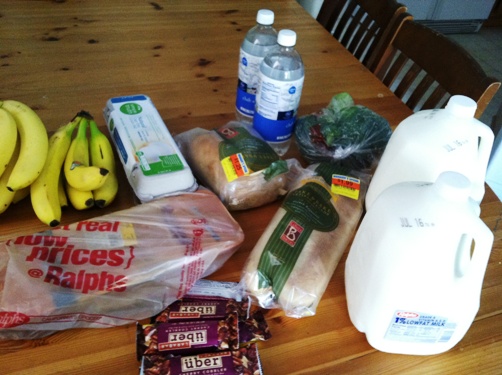 Ralphs
Ralphs had some good sales and some good mark downs, but no clearance eggs. I made two trips in the hopes of finding eggs with these prices, but no. And again, I bought things (like those bars) which were a great price, but not necessarily needed. Nor were they that good, actually. Hmmm….
Not pictured: two MORE gallons of milk, a pound of butter, and a dozen eggs.
Total spent on both stops: $42.42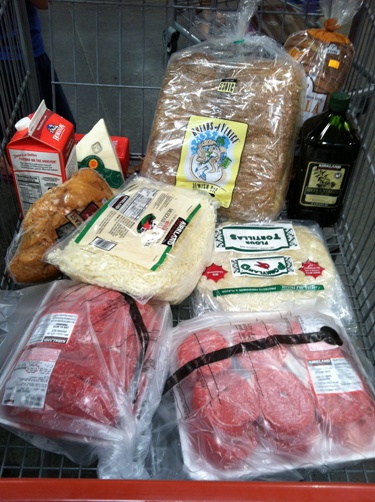 Costco
I did a little freezer cooking with all that meat this week, thus a stock-up of sorts at Costco. I made taco meat (3 meals reached the freezer), meatballs (1 supper's worth) and hamburgers (1 meal worth). That sets us up for some proteins along with what's already in the freezer.
We were out of poorman's parmesan (romano cheese), olive oil, and pizza cheese. Turns out I forgot I had just bought whipping cream at Walmart, so I didn't really need to buy the whipping cream. Again, live and learn.
This week was a great warm-up for the real challenge next week.
Total spent: $113.31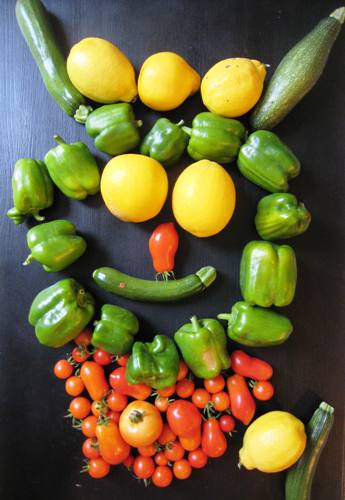 The Produce Box
You'll remember that I put the produce box on vacation this week. That allowed me to use those funds in other ways as well as catch up on what was already on hand and use it up before it went back.
Thankfully for me, my dad is an avid gardener. And he came to visit this weekend. So, I got a produce box from a different source this week. And it was FREE!
We've got lots of delicious, homegrown tomatoes, peppers, squash, and lemons to fill out our meals until next week's box arrives. Yay, Grampa Jack!
Total spent: FREE
I planned to spend $200 this week and I came in pretty close to the wire. My grand total was $200.33.
July Week 1: $200.33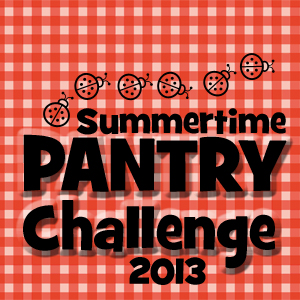 The Plan for Week 2
Next week, I've got the produce box coming in at a whopping $38. That leaves $62 to buy eggs, milk, cheese, and whatever else we think we need. That might be a challenge. We'll see what we can do. We're out of — or will be soon — eggs, milk, yogurt, cottage cheese, sour cream, fruit.
I've brainstormed a few ways how I can save money:
baking our bread
making more meatless meals
using dry milk in baking recipes
doing a little more freezer cooking
take a full inventory so I know what we have
I've also considered where to save money, in terms of my shopping: I probably won't go back to Costco since buying in bulk ties up funds. I think it's a great practice, but not if you don't have the cash on hand. Walmart, while cheap, doesn't really have rock bottom pricing on everything. It can be a slippery slope. I'll probably focus on whatever's on sale at Sprouts or Ralphs.
There are plenty of ways to save on groceries. The trick is to find what works for your locale and situation in life. It used to be that clipping printable coupons really helped me. The availability and time investment just doesn't work for me anymore. So, I'm finding other ways of saving money on food costs.
That's it for the Grocery Geek Report. 😉